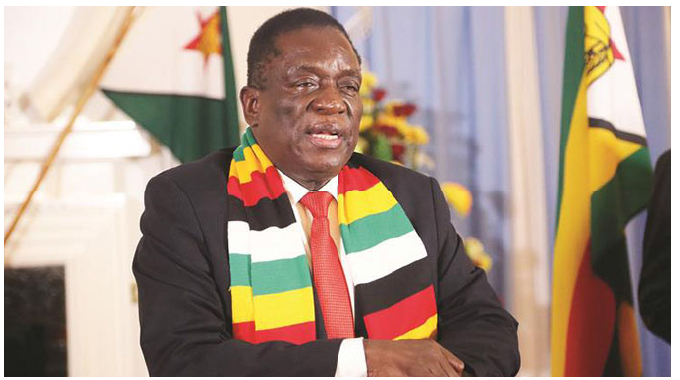 The Sunday News
Limukani Ncube , Editor
PRESIDENT Mnangagwa is on record as saying Government is committed to protecting all vulnerable Zimbabweans through social safety nets that will leave no one behind. In addition, Government has also come up with policies meant to give every citizen an opportunity to participate in socio-economic activities to ensure a better living.
Government initiated and funded agricultural programmes like Intwasa/Pfumvudza, Presidential Inputs Scheme, Presidential Livestock Scheme, Zimbabwe Women's Microfinance Bank meant to afford loans to women in business, support to Small and Medium Enterprises (SMEs), small-scale miners as well as building and repairing of roads in both rural and urban centres, among others, with the sole aim to ensure Zimbabweans experience improved livehoods.
In addition, the Government has over the years been purchasing buses for public transport to capacitate Zupco so that citizens have access to safe and affordable transport. While there have been policies to improve the quality of lives, the Government, since President Mnangagwa took over, has also gone a step further to implement the concept of Devolution, which is part of the provisions of the Constitution but had not been implemented since 2013.
Guyana (2002), says Devolution enables each region to take initiatives for their own development, as they see fit. In doing so, they will know of the opportunities, indigenous resources and comparative advantages on which development can be based. Development is therefore, driven locally, rather than by external agents who are pre-occupied with many other priorities, and know little about local potential for development.
The implementation of Devolution was supported by the establishment of the Devolution Fund, whereby Central Government disburses money to all provinces, which then cascades down to districts to fund building of infrastructural and social projects.
According to the National Public Infrastructure Investment Programme for 2021 document crafted by the Finance and Economic Development Ministry, Government provides the framework for building all the critical public infrastructure services required for the country's socio-economic development. The funds are being shared based on factors such as poverty levels, quality of infrastructure and population.
Finance and Economic Development Minister Professor Mthuli Ncube is on record as saying consistent with Constitutional provisions, the 2021 Budget has an allocation of $19,5 billion to be distributed to provincial or metropolitan councils and local authorities in line with the agreed formulas.
"Government launched the policy on devolution and decentralisation, giving impetus to the promotion of inclusive and balanced socio-economic development in the country, as enshrined in the Constitution and Vision 2030," he was quoted as saying by the media.
T
he concept of Devolution has not only helped to uplift people's lives, but has also gone a step further to ensure that everyone feels part and parcel of the country's economic revival journey. It has also enhanced national cohesion and unity, which are part of the core principles of the Second Republic.
Through such all-inclusive policies and programmes, which the Government has implemented across the country, those communities that felt disadvantaged or marginalised in the past now have the opportunity to "Re-member" their status or standing in the "club of life" of the country.
Such communities now have new possibilities and new opportunities, and if they viewed themselves as disadvantaged in the past, the Second Republic has given them the chance like any other Zimbabwean through Devolution and other empowerment programmes to attain a new status and become a different member all together.
The term "re-membering," was originally coined by Barbara Myerhoff (1982, 1986), an anthropologist who worked in a number of different contexts, including with elderly Jewish communities of Southern California. Myerhoff used the term re-membering to describe a "special type of recollection": To signify (a) special type of recollection, the term "Re-membering" may be used, calling attention to the re-aggregation of members, the figures who belong to one's life story . . . (Myerhoff 1982, p.111)
"Michael White (1997) then introduced the term 're-membering' into narrative therapy by developing the idea that people's identities are shaped by what can be referred to as a 'club of life'. This 'club of life' metaphor introduced the idea that for all of us there are members to our club of life who have had particular parts to play in how we have come to experience ourselves.
These members of our 'club of life' have often had different ranks or status within the 'club'. For instance, we pay more attention or give more credibility to what one person thinks about us than another.
The person or persons whose views matter most to us, who influence our identities the most significantly, can be seen to have highly regarded and respected membership status within our 'club of life'. Those to whom we don't give so much credibility can be seen to have low or less significant membership status. Thinking about one's life as a 'club with members' offers new possibilities for therapeutic conversations.
Re-membering practices provide a context for people to revise or re-organise the 'membership' of their 'club of life'. The hyphen is all important in thinking about the distinctions between re-membering and remembering, as it draws our attention to this notion of membership rather than to a simple recalling of history," says Shona Russell and Maggie Carey.
The implementation of Devolution by Government therefore, gives all Zimbabweans a chance to move up the ladder in the "club of life", and even decide what is most important in their lives and not. It gives them an opportunity to take control of their destiny economically and socially, and therefore, change their standing. In addition, it also gives every Zimbabwean an opportunity to reflect on the past, and make a bold decision that "the past belongs to the past" and then focus on the future with a renewed vigor of positivity that makes them feel good, wanted and appreciated.
Through Devolution, locals are able to influence the kind of development they want by giving feedback to their elected political leaders, traditional leadership, local government offices or local rural and urban authorities.
Under Devolution each province and local council should become a dynamic economic hub, able to attract investments in their own right and taking advantage of their rich natural endowments. Devolution also seeks to ensure that provinces harness resources in their respective regions to have above US$3 000 Gross Domestic Product.
There is already evidence on the ground that Devolution Funds have changed the lives of people countrywide for the better. Binga Rural District Council channeled $26 million towards rehabilitating roads at Lusulu Business Centre, water and sewer reticulation at Binga Centre and the construction of clinics and classroom blocks in several parts of the district. Some of the funds were used to roof classroom blocks at 13 schools after their roofs had been blown away by strong winds.
The Bulawayo City Council is on record as saying it managed to construct two classroom blocks, ablution block, caretaker's house, fencing of the site, and procurement of bulk materials for the classroom blocks at Tategulu primary school in Cowdray park since October 2019 using Devolution Funds, among other road projects.
Midlands province has so far received over $288 million as Devolution funds with several projects having been completed. Midlands Provincial Development Coordinator, Mr Abiot Maronge is on record as saying each district and local authority in the province has received a fair share of the funds with notable developmental projects on the ground. He said the funds which were disbursed since the coming in of the Second Republic have started bearing fruit and changing lives for the better in rural communities.
In Masvingo, Minister of State for Provincial Affairs and Devolution Ezra Chadzamira, is on record as saying the province has made great strides in the socio-economic sphere because of the Devolution programme.
"We are grateful to President Mnangagwa for making sure the entire Chivi Turn-Off-Mhandamabwe highway has been upgraded after Bitumen World completed the outstanding 12km up to Mhandamabwe Growth point. This will speed up the movement of goods and people thereby contributing to overall economic growth in our province.
Completion of Chibi turn off-Mhandamabwe highway shows that the Second Republic walks the talk on its goal to propel Zimbabwe into an upper-middle-income society by 2030," Minister Chadzamira told the media.
In Matabeleland South, Devolution funds have been used to procure service delivery equipment and infrastructure development projects in the area. Beitbridge District development coordinator Mrs Sikhangazile Mafu-Moyo is on record as saying Beitbridge Municipality received a cumulative $11, 280 339 while the rural council received $11, 120 000 in the last two years.
"So far Beitbridge Municipality has procured a refuse compactor truck for $2,9 million, backhoe loader (TLB) for $1,1 million, and a water and sanitation vehicle for $2,2 million. In addition, they made more payments for a sewer jetting machine ($19 million) and a water and sanitation vehicle," Mrs Mafu Moyo told the media.
She added that the rural council had used its share to build, Tshabili, Mazunga and Dumba Clinics, repairs to Shashe Clinic, and the construction of Nhovhe Primary School in Beitbridge West, the repair of roofs at Chabeta Primary and Tshituripasi Secondary School which were extensively damaged by tropical storms.
According to the country's economic blue print, the National Development Strategy 1, Devolution is one of the values espoused in Vision 2030, upholding the tenetsenshrined in the Constitution of providing for the devolvement of powers and responsibilities to competent Provincial/Metropolitan Councils and Local Authorities.
Furthermore, Devolution seeks to make the system of governance community based and people centred by enhancing community participation in making decisions on local development issues that affect them and in the exercise of governmental powers, while upholding the preservation of national unity.
This signifies a new way of governance in the Second Republic where, decentralisation is a key feature and strategy for non-discriminatory and just governance as well as inclusive and transformative socio-economic development.