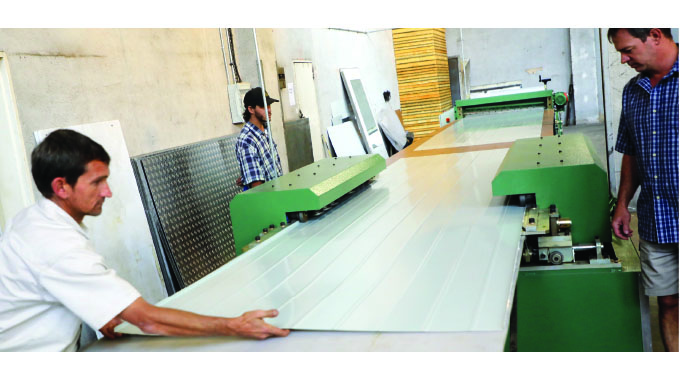 The Sunday News
Rutendo Nyeve, Sunday News Reporter
BULAWAYO-based specialists in Refrigeration and Air Conditioning design, supply, installation, service and repair, Ref-Air has commended the establishment of the Reserve Bank of Zimbabwe foreign currency auction system, among other initiatives instituted by the Second Republic for enabling them to grow as a company.
Companies in the country's second largest city have over the years faced a number of viability challenges which have seen them either closing or relocating to the capital, Harare. That saw Bulawayo being grossly affected by deindustrialisation.
However, the coming in of the Second Republic has seen a number of companies not only in Bulawayo but all over the country having their operations turning for the better.
One such company is Ref-Air which has since managed to purchase three state-of-the-art machines that have inspired a better finished product and increased their production.
Last week, the Ministry of Industry and Commerce released 13 formerly distressed companies that have been brought back to life, riding on improved ease of doing business and facilitation brought about by the Second Republic led by President Mnangagwa.
The revitalised firms are now beefing up their production capacity through retooling and technology absorption in order to supply both domestic and export markets, in the process substituting imports while creating more employment opportunities for locals.
Established in 1982 by Mr Clive Oxden-Willows with himself and a borrowed vehicle as the company, Ref-Air is one of the companies that has seen massive retooling and technology absorption through purchasing machinery. Responding to questions from Sunday News, Ref-Air General Manager Ms Karen Mirtle said it has not been an easy road being in manufacturing, especially being based in Bulawayo.
"Access to foreign currency has been the most critical aspect as the raw materials used for manufacturing are imported. We have also experienced a regular loss in trained personnel who are now all scattered around the world.
Zimbabwe has been an expensive country to manufacture in with many taxes and licences required that are not necessary as well as duties being charged on some inputs.
The devaluation of the Zimbabwe dollar has also had a negative impact. With this instability in the currency we have been unable to access long term low interest finance to take loans for retooling and upgrading our plant and machinery.
Interest rates have been too high and loan tenure too short to enable us to use this avenue to grow and develop," she said.
However, the coming in of the Second Republic saw the establishment of various initiatives that have created a conducive environment for the manufacturing sector.
"The foreign currency auction system has enabled us to access the foreign currency for imports of raw materials and to slowly pay off and purchase the machinery we have brought in.
Last year we managed to bring in an automated decoiling line which decoils, measures, cuts and grooves our panels in one motion — it allows us to programme in the cutting list and leave the machine to run.
This has increased production in this area tenfold as it was done manually before. Early this year we also brought in two machines, namely a splitter which splits the steel into specific sizes or strips.
This then goes through the bender which bends the flat strips into cover strips and shoes for the installation of the panels as they are produced in a knock down tongue and groove form," Ms Mirtle said.
She said the new equipment is much more accurate and allows for a better finished product, as well as being produced to specifications much quicker than when it was done manually.
The company is working on finalising the next phase which is the automated press.
Ms Mirtle further revealed that the company was working on attaining low interest long-term loans to facilitate the rest of the retooling and plant machinery upgrade with the hope that Government will invest in their manufacturing industry as it will help develop the country.
"We trust that the Government will look at what is manufactured in Zimbabwe first before allowing items to be brought in duty free from South Africa as this does not develop our economy or filter down the value chain and improve the lives of Zimbabweans but rather develops and grows the South African economy," she said.–@nyeve1