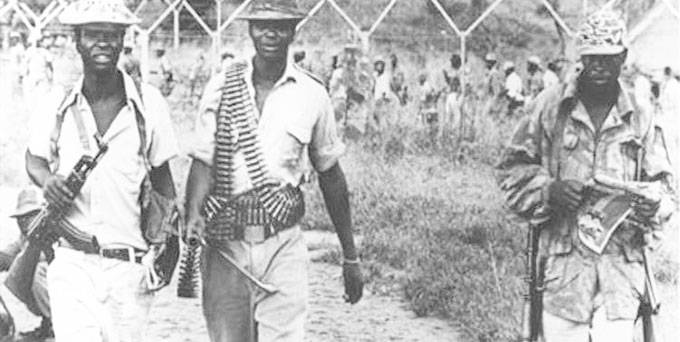 The Sunday News
Pathisa Nyathi
THEY look frail now with a majority of them walking on three legs. This is a rare gathering of some of the pioneers of both nationalist politics and the armed liberation struggle. None of them is below 80 years of age. Many nurse aches from torture that they were subjected to following capture by agents of the colonial regime. 
"We were political soldiers. We were determined to sacrifice all for the liberation of the motherland. We understood clearly what we were into and why. There was voluntarism on our part. We found it better to die than to live under repressive and oppressive conditions created by the colonial administration," says John Maluzo Ndlovu who is one of those gathered both to reminisce and narrate their war experiences.
Gathered at a house in Bulawayo's Lobengula West are the following: John Robert Mzimela who was one of those that established the first truly nation-wide nationalist movement, the Southern Rhodesia African National Congress(SRANC) which was created on 12 September 1957 at the Mai Musodzi Hall in Mbare, Harare. He certainly is one of the very few that survive to this day. Aaron Ndlovu the trade unionist is one other.
There is also Misheck Ntunduzakovelaphi Velaphi Ncube who is the first Zimbabwean to undergo military training in Egypt in 1962 together with what has come to be referred to as the Group of 12. Their training started in March and lasted till September of the same year. His house is the venue for the get together. There is Thomas Ngwenya better known to some as "Menu." This article will give a snippet of his escape from Southern Rhodesia in 1963, eventually to undergo military training in Ghana alongside the likes of Sikhwili Moyo, Walter Mthimkhulu and Gamanya. Sadly, he has forgotten the names of the other two who constituted the Group of 6.
Clark Mpofu, who like Maluzo hails from Nkayi District, did initial rudimentary military training in 1962 outside Lusaka in Zambia where Umkhonto we Sizwe (MK) cadres trained them. In the following year, 1963, he together with others in a Group of 4 travelled to China to do military training. The other three were Mbhejela Moyo, James Chatagwe from Hope Fountain and Gordon Butshe from Plumtree. The Group of 4 left Lusaka for China in January 1963.
In China the Group of 4 was joined by more cadres, namely, Maluzo, Stone Nkomazana, Johnson Ndebele, Benson Maphosa, John Mondiya Ndlovu from Binga, Luke Mhlanga, Charles Dauramanzi, Lloyd Gundu, George Mudukuti and Felix Rice. The combined group were initially introduced to agriculture before doing military training. It was at the time when Mao Ze Dong and the Red Army were doing military training which culminated in their takeover of the state.
We now render the promised excerpts from Thomas Ngwenya who was to end up in Zipra's High Command. He and Velaphi are related. Their mothers are Nyathi sisters, both hailing from Matobo District. Velaphi is credited with smuggling the first consignment of weapons obtained from Congo, now DRC. The driver of the car laden with contraband was Abraham Nkiwane, Bro Nki. Kennias Mlalazi was also in the car.
The weapons passed through the hands of several cadres who operated within the underground movement. 
The weapons were transported by car by Thomas Ngwenya. Finally, the consignment was taken by Bobbylock Manyonga who too had undergone military training in Egypt alongside Velaphi. Manyonga, as a precautionary measure, decided to use the Shabani (now Zvishavane)-Salisbury(now Harare) Road. Unfortunately, what Manyonga had reckoned to be a relatively safe route turned out to be otherwise. His car was stopped by Rhodesian security and an assortment of weapons of war was discovered in the car he was driving. He was arrested, tried and imprisoned. During interrogation Manyonga succumbed and released information that incriminated Thomas Ngwenya.
The Criminal Investigation Department's officers were up and about looking for Thomas Ngwenya. While trying to avoid arrest, Ngwenya sought shelter in a house in Matshobana Township where his girlfriend, one MaNdlovu, lived. When he caught the wind the net was closing on him, he left the Matshobana Township house hideout and got a lift to Luveve Township. He was, however, arrested by Detective Mkhethwa Ncube from Ntabazinduna.
He was thrown into the Grey Prison where Velaphi was already languishing following his arrest in yet another trip to smuggle weapons into Southern Rhodesia. This time he was with Amon Ndukwana Ncube. At the Grey Prison the two met. " What brings you here?" asked Velaphi. "It's the weapons. Bobbylock has cracked," responded Ngwenya "You just have to get out of here and run away!" 
Very quickly some toilet tissue was obtained on which a note was addressed to lawyer Leo Baron. The idea was to get Baron into action so that Ngwenya would be arraigned before a court , hopefully to be granted bail out of custody.
Indeed, the note was smuggled out of Grey Prison by Ngwenya's girlfriend who took it to Ethan Dube a member of Zapu's underground movement. He lived in Makokoba. 
The note, as expected, was duly received by Baron. Ngwenya was released on bail. His story appeared in the Sunday News. Meanwhile, Ngwenya went to Pharaoh's house in Luveve. He was determined to get out of the country. Indeed, he boarded a passenger train bound for Victoria Falls and onward to Lusaka.
He chose to travel in a 3rd class compartment which had sleeping arrangements. He was keen to hide his face from the ticket guard. He extended his arm to show his ticket while hiding his face. He was not sure if the CID officers would get on the train and identify him. He got to Livingstone in the morning. Back then there was no need to get a passport to travel to Northern Rhodesia(now Zambia) as it was during time of the Federation of Rhodesia and Nyasaland. At Livingstone he disembarked and bought himself a loaf of bread and some syrup. He proceeded to Lusaka where, at the lowly-rated Bwacha Hotel, he met Sikhwili Moyo and Luke Mhlanga.
Soon information was received that there were CID operatives looking for Ngwenya. Luke Mhlanga was then advised by Moyo to take Ngwenya to the railway station so that he would board a train to Ndola in the Copperbelt. From Ndola he boarded a bus on a rainy day. The bus was overloaded and Ngwenya managed to be taken on board when he claimed he was going to attend some funeral. The bus took him to Kapirimposhi and further to Tunduma at the border with Tanganyika(now Tanzania).
He proceeded to Mbeya where he spent a few days prior to moving on to Dar-es-Salaam where he found Zapu Party Representative, Benjamin Madlela. He assisted him with office work and driving the Party's landrover. 
There he found Beatrice Ncube, one of the Zapu girls who already were in Dar-es-Salaam. She and colleagues lived in central down town while men lived at Mtoni at a house bought when Zapu relocated its office from Cairo to Tanganyika when the latter gained her independence in 1962.
From Dar-es-Salaam he flew via Nigeria to do military training in Ghana. Ngwenya now complains about some excruciating pain on his back. 
He thinks it was the long distance he travelled nonstop from Dar-es-Salaam to Lusaka transporting weapons of war which were offloaded at Zimbabwe House(ZH) in Lusaka.
This was one of several stories of self sacrifice by men who were prepared to risk life and limb to free Zimbabwe. "And what are we today? Imigodoyi!" The scum of the earth, says Maluzo with colleagues in full agreement with him.