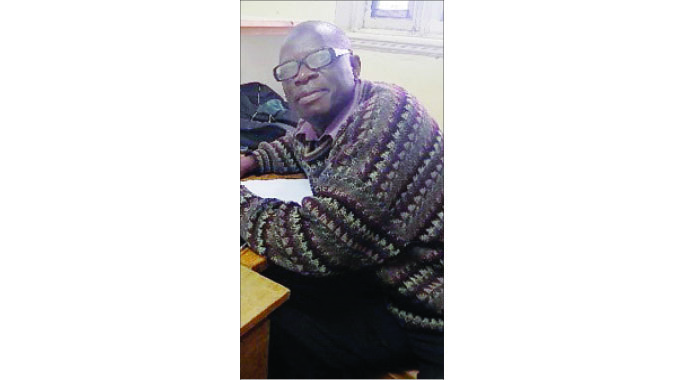 The Sunday News
Masukume Nelson Nhlalo, Sunday News Correspondent
A long serving and decorated education administrator, a firebrand unionist and liberation war trained soldier, Tapson Nganunu Sibanda has resigned from the Public Service after serving the Ministry of Primary and Secondary Education for nearly three decades.
The last valedictory message posted by the Zimbabwe Teachers Association (ZIMTA) that Mr Nganunu Sibanda has taken retirement broke the hearts of many in the education sector who still thought that Mr Nganunu Sibanda still had a lot to offer to his colleagues in both social and professional circles.
A man of diminutive stature, but yet endowed with so much professional wits, dignity and humility. Mr Sibanda's footprints can be traced right from the heart of the thick jungles of Tsholotsho where he was born ,bred and carved his professional niche, rising through the professional ladder from being a junior teacher to be one of the revered education administrators and passionate scholars. Most people know him as Tapson Nganunu Sibanda the head of Mbalibali Primary School in Tsholotsho ,in Matabeleland North Province.
His close acquaintances call him 'TN' while others who enjoy more closer social proximity with him simply call him Tapson. He recently earned the title 'The General' ,a title bestowed upon him in recognition of his unwavering and unassuming resilience in dealing with brain teasing situations especially in his leadership career as both Head of school and National Secretary General of the oldest and largest teacher organization; the Zimbabwe Teachers Association (Zimta).
In order to gain more insight on Mr Tapson Sibanda (TN), Sunday News Correspondent Mr Nelson Masukume (NM) recently tracked down Mr Sibanda and had this interview with him:
NM: Briefly tell us, who is Tapson
Nganunu Sibanda?
TN: Tapson Nganunu Sibanda is a trained teacher , liberation war aspiring soldier,father,passionate farmer and son of a Chefunye based Nganunu Sibanda . I was born sometime in 1964 I could be a little older than that due to inaccuracies that manifested then in the documents. My home area is in Tsholotsho where my early life started. My home,. Chefunye, is an arid, communal village that ironically was an adequate sanctuary and springboard for the brave and risk taking young liberation war fighters.. My father was polygamist who had four wives with over 20 children.
NM: When did you go to school and what later made you leave school and go to Zambia?
TN: I and my siblings went to Chefunye Primary School in the village. Like thousands of other war victims, I failed to proceed with my education as the war intensified, forcing the closure of our schools Schools were the targets as guerillas destroyed and set ablaze thousands of schools as the liberation blitzing swept across the whole country. The Smith Regime soldiers harassed both young and old in the village.
I was in Grade Seven at that time when Chefunye Primary school was closed down by the liberation war guerillas (obhudi).
My education was prematurely stopped in 1977, and ,together with two friends who were also my cousins escaped to Zambia via Botswana in order to join the war.. The road to Zambia was not rosy as the escape to Zambia via Botswana was arduous and painfully blistering We had many days of the dangerous walk in the sandy plains in the heart of the jungle .
As the journey thickened, both my cousins failed to endure the long escape and deserted back home in Zimbabwe one by one . One disappeared while we were at Nyele in Bulilima in Plumtree. He escaped and went to his motherland in Bulilima in Plumtree which was not very far .My elder cousin continued their long ,dangerous and energy sapping expedition when we were towards Zambia from Francis town. Life was unbearable . News that
Rhodesian forces would way-lay, intercept and torture youths fleeing to Zambia had reached us.
The most heart breaking incident happened when this other cousin also deserted and returned back to the Chefunye Village in Tsholotsho leaving me to join others we had joined with on the way.
NM: How did you arrive in Zambia and what are your memorable experiences there. ?
TN: Through corroborated efforts, we eventually arrived in Zambia safely and we were ushered in refugee camps. Some refugee camps were JZ 1 west of Lusaka and ,JZ 2 and JZ3 both in Solwezi near D.R.C. (formerly Zaire ) I was fascinated at the sight of thousands of other refugees from across the country in these camps.
At these camps , the risk of bombing by the Rhodesian forces was high .Apart from instilling discipline, the camp instructors took us through rigorous physical exercises. We were taught on survival skills preparing us for life during and after the war. We further underwent compulsory daily lessons on the Marxist – Socialist ideology brought by the Commissariat of the Zimbabwe African People's Union (ZAPU).
NM: Who were some of your trainers in Zambia and what happened later.?
TN: We were placed on organized learning towards the end of the war . The Education Programme came through the likes of Matshaka,( former head of J..Z Moyo High in West Nicholson ),Mr Matjalaga,(former Member of Parliament for Zvishavane) and the long serving post war cabinet Minister and Mpopoma M.P the late.Dr. Sikhanyiso Duke Ndlovu.
We had had massive political education too. The first man who inspired me in the ZAPU hierarchy was the Chief commander himself, General" Josh" (Cde Joshua Mqabuko Nkomo).He was an interesting and inspiring character.
No matter how much hungry and frustrated we were, when he came everyone would become strong and excited, dozens of truckloads would arrive to deliver food, medication, clothing and other useful materials for the refugees.
We also marvelled at the charismatic deposition of army commander ,the late hero Nikita Mangena .Like other leaders, Mangena inspired many youths in both training and in camps due to his rare leadership wits and bravery.
Makhathini Guduza ,another role model ,was a no nonsense man too. Hailing from Bubude in Tsholotsho, Guduza was a tough, shrewd tactician and respected member of ZAPU Central Committee at that time . There were many more role models that inspired refugees and among them the late Welshman Mabhena and Sydney Malunga who tirelessly continued to coordinate the war back home.
NM: Mr Sibanda, when did you finally come back home and what were some of the notable post -independence challences you recall.?
TN: In 1980 ,Zimbabwe got independence from the white minority rule. Earlier on, we had received the news that the country was liberated and we were supposed to go back home. Thousands of jubilant youths and freedom fighters trekked back home to celebrate black rule with their beloved ones.
Besides political transformation at independence, the new government was seized with a hoard of vicissitudes among them was the need to sanitize and domesticate the education system dogged by ballooning numbers of school leavers who all wished to be re admitted back into the former bottle neck riddled white education system.
I got an education scholarship to fulfill my burning insatiable quest for education. I was sent to Wanezi Secondary School in Insiza District in Matabeleland South where I completed my secondary education. On completion of the secondary education, I was recruited as a temporary teacher.
From 1985-1990, I taught at various secondary schools in Tsholotsho. Some of the schools I taught at include Jimila Secondary, Dinyane Secondary and Tshitatshawa Secondary Schools. I eventually enrolled at Gwanda Zintec Teacher's Training College where I trained as a teacher from 1991 to 1994.
NM: Can you tell us your experiences and leadership appetite in a free Zimbabwe, saying how the new system differed from the colonial system.?
TN: The college became a springboard to sharpen our leadership acumen as inspired in Zambia. College management was more open compared to the former system. I was elected president of the Student Representative Council (S.R.C.), in an institution characterized by teacher trainees coming from different backgrounds and orientations. In 1994 I was re -elected in the same post.
Some of the challenges among them was shortage of teachers ,infrastructure and teaching and learning materials, sometimes leading to sporadic protests by student teachers. It was in same year in 1994,when I was elected Secretary for Welfare in the Zimbabwe National Students Union(ZINASU) National Executive ,a post charged with ensuring that Students at all National colleges received quality education, decent accommodation and balanced diet.
At that time I had an opportunity to rub shoulders with the likes of Christopher Giwa ,Enock Chikweche ( later named Munyaradzi Gwisai) and Tendai Chikweche who was then NUST president and many more who came from different colleges and universities in the country.
NM: When did you finally became a trained teacher where did you serve?
TN: Armed with a four -year training Diploma in Education, I rejoined service back in Tsholotsho where I was deployed as a qualified teacher in 1995. While serving as a teacher, I joined Zimta in the same year and rose through the ranks to become Secretary of Lindabanye Branch. I later become the Secretary General of Zimta in Matabeleland North Province before meticulously rising up to be become the Provincial Chairman.
There are many cases and challenges that came to my executive at that time. I fondly recall then Provincial Education Director ,Mrs Botaimelo Nguni for her level headedness and numerous successes in dealing with conflict between the Ministry and union.
NM: Now you are leaving the posts as both Head of Mbalibali Primary School and National Secretary General of Zimta, what lies ahead of you?
TN: I want to finish my Doctorate degree and perhaps venture into different field altogether. However, I am not yet sure about my next destination.
NM: What message would you leave to your colleagues and those still serving the Ministry ?
TN: It's a difficult question but all I can say is that leaders at all levels must be dedicated , people- centered and honest in their dealings. The country must come first at all times.
NM: Thank you brother Tapson for having you in this interview.
TN: Thank you brother Nelson .