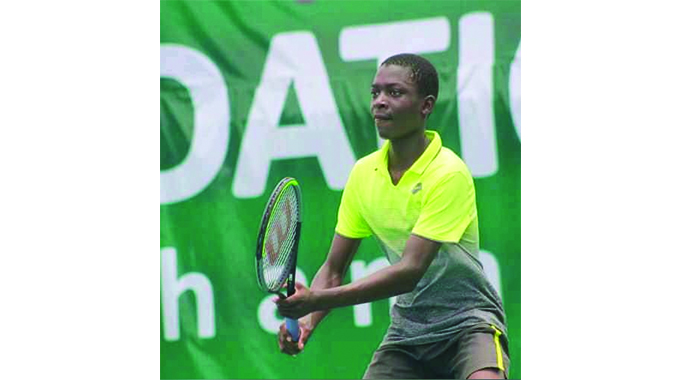 The Sunday News
Mehluli Sibanda, Senior Sports Reporter
BULAWAYO lad, Zamani Moyo is making waves in the United States of America college tennis scene where he has secured a top 50 ranking in the Intercollegiate Tennis Association as the 33rd best male player.
Over 500 male players play in the Intercollegiate Tennis Association. Moyo, on a tennis scholarship at the Iowa Central Community College has not taken time to settle since his arrival in the US at the start of August.
The 18-year-old arrived in the US at the beginning of August, enrolled for an associate degree at the Lewis and Clark Community College as well as pursue his tennis career. However, when Eric Sturgis, the man who recruited him to Lewis and Community Clark Community College moved over to Iowa Central Community College, he took Moyo with him.
Moyo's record is 8-2 on the season playing one singles and is 6-2 playing one and two doubles. He is ranked 15th in Region 3 and 33rd overall. He is one of the three Iowa Central Community players ranked in the top 50, with the others being Marketa Beladova, who is third in Region 3 and 11th overall in the nation, while Arthur Praud checks in at number 19 in the region and 49th overall.
The lad from Emakhandeni believes that the hard work he has put into his game is bearing fruits for him.
"I am very excited because I can see that the effort I put on the court all the time and the hard work, it's all now paying off,'' Moyo said.
Sturgis is pleased that Moyo, a freshman earned a top 50 national ranking in his first semester at Iowa Central Community College and the coach hopes the youngster can carry on getting better.
"I could not be more proud of Zamani and his hard work. As a freshman to come in and earn a top 50 national ranking in his first semester is outstanding. We hope to keep pushing,'' Sturgis said.
Witness Jiyane, the man who coached Moyo locally at Emakhandeni Tennis Club is not surprised that Moyo is doing well in the US since he knows how hard the lad works on improving his game. According to Jiyane, Moyo's dream is to play tennis professionally.
"That boy is a hard worker, the effort he puts in is just too much, he dreams of playing professional tennis so the effort he puts in is amazing,'' Jiyane said.
Jiyane recalled when Sturgis watched Moyo for the first time in an ITF tournament in Bulawayo how the American was mesmerised by the youngster's determination such that he made a decision to offer him the scholarship whether he won or lost that particular match.
"I remember when Eric watched him for the first time in an ITF tournament in Bulawayo, he declared that he has offered him a scholarship, whether he wins or loses, he is getting the scholarship, he said he had never seen such an effort,'' remembered Jiyane.
For the American fall, the Intercollegiate Tennis Association season came to an end on 15 November and runs from 11 January to 22 May next year for spring. Sturgis also recruited three other Zimbabwean tennis players, Mlungisi Mhlanga, James Makaranga and Kudakwashe Sandi to the US. The three remained at Lewis and Clark Community College. — @Mdawini_29