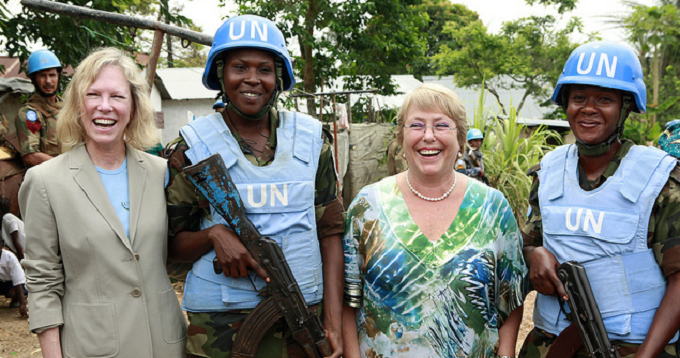 The Sunday News
Chido Manzini
OVER the century Africa has had its fair share of conflicts through mostly colonisation and these have presented numerous problems which are far from being abated. Conflicts in Africa have been caused by both external and internal factors which can be further subdivided into political, economic and social and have stretched for decades in the continent.
One can infer that conflict is inherent in every community or nation but distinctly varies in terms of its intensity. This has ultimately resulted in unfathomed suffering on communities and especially women and children as they are most vulnerable in times of conflict. Most African countries such as Zimbabwe, Rwanda, Burundi, South Africa and Sudan have had their equal share of these inevitable conflict trajectories since colonial era hitherto. Thus, it is with the scope of this analysis to scrutinise the effectiveness of the role played by women in conflict situations.
Conflict has taken immeasurable toll on human lives, leaving people dead or displaced either internally or in other countries as refugees. In such ruinous situations women and children are the most vulnerable to acts of violence and serious undermining of human rights. Conflict resolution as seen by Miller (2005) is a variety of approaches which are aimed at terminating conflicts through constructive problem solving distinct from management or transformation. Conflict resolution therefore needs to be deeply rooted in ensuring that the cause of the conflict is addressed and a sustainable solution is reached so as to avoid the reoccurrence of the problem.
Whilst the 1995 Beijing conference ushered a new era in terms of participation of women in the public fora, it should be noted that prior to this development women have always demonstrated great potential of excelling in the public domain as evidenced by the role played by Ambuya Nehanda Charwe during the First Chimurenga. Through her bravery and spiritual guidance, she was very instrumental in encouraging the blacks in resisting white occupation to the extent that she preferred to be executed than to be subjected to colonial oppression.
Women participation in conflict resolution and management is supported by the United Nations Security Council Resolution 1325 (UNSCR1325) which seeks to accelerate the incorporation of women in peace and security agenda as well as Sustainable Development Goal number 5 which encourages women and girl child empowerment in collaboration with Goal number 16 which emphasises on the need for inclusiveness in creating peaceful and sustainable societies. There are some widely accepted reasons why women are important to peace building processes as they constitute half of every community and the task of peace building must be done in partnership of both men and women (USAID;2007).
The role women took in the Burundi conflict resolution helped to interrogate gender equality in democratic governance and gave momentum to the peace building framework. The Hutu and Tutsi women from the two rival ethnic groups joined forces to forge a peace agreement amongst these ethnic tribes. This led to the formation of women associations such as the Dushirahawe (let us reconcile) network which has succeeded in bringing together displaced women (Agbalajobi, 2005). Modern day women in Burundi currently hold 44 seats in parliament and such magnitude has been a result of their aggressive participation in peace building platforms.
The way in which gender is integral to peace and conflict makes it clear that gendered analysis of peace building is essential to preventing new violent conflict whilst helping recover from the trauma perpetuated by it. At a societal level, one will realise that gender-based violence has affected a number of women and the society has lost lives of women at the hands of such conflicts which result in violence. Therefore, it is imperative that women be incorporated in all conflict resolution initiatives as peace building and reconciliation starts at a household level then gradually cascades to the nation as a whole. This is not to say that men are not also victims to domestic violence but if the peace building initiatives could be cascaded at a local level many women could also be able to educate their partners on better problem solving and join counseling session and impact knowledge on other conflict resolution alternatives other than opting for violence.
The pilgrim of the Beijing Conference on Women of 1995 stated that peace can only be attainable if there is a linkage with the advancement of women, meaning the more women are represented in political and social platforms the higher the chance peace initiatives can be advocated and spearheaded by women and have them sitting on round tables negotiating peace building. Women's role and status in society will determine best practices and the appropriate means of intervention in order to empower women. Women must be involved in conflict prevention, resolution and management efforts at all levels. When they are not active participants, the views, needs and interests of half of the population are not represented, and therefore interventions will not be as appropriate or enduring. (USAID, 2007)
In Zimbabwe a number of women have played a pivotal role be it pre and post conflict in order to try and drive peace building and reconciliation within their nation.(Manyeruke et al., 2018) cited a number of Zimbabwean women such as Priscilla Misihairabwi-Mushonga, Joyce Mujuru, Oppah Muchinguri to name a few who have played a significant role in conflict resolution.
These have played an active role in conflict as combatants during the war of liberation in the case of Oppah Muchinguri and Joyce Mujuru, and as well as influential advocates for women's rights such as Priscilla Misihairabwi-Mushonga. Oppah Muchinguri- the Minister of Defence and former Minister of Women Affairs is an example of women influence in pre and post conflict resolution. Mbuya Nehanda the spirit medium of Charwe spearheaded the liberation struggle, not forgetting Joyce Mujuru former first female Vice President of Zimbabwe were role models for women and leadership. Women have constituted significant proportions of combatants and combat support operations in conflicts in South Africa with the late Winnie Mandela and also in countries such as Rwanda.
It has been seen that women often play decisive roles in negotiating the peace process. And to do so they need to be empowered politically and economically, and must be adequately represented at all levels of decision-making. This is therefore to enable them to have a voice on these negotiations and not merely be observers but also implementers. The belief is that if women can be able to advance to more influential seats then their agendas can be heard and them being the majority population, they can reiterate the needs and the shortcomings that come with conflict be it, social and political as they are directly affected in their roles as care givers, spouses and mothers of the nation. In Liberia, the Women's Peace Initiative made major strides towards a peaceful resolution of the 14-year conflict by pushing for disarmament of the fighting factions before the signing of a peace accord.
In the Democratic Republic of Congo for example, the National Democratic Institute has developed a women's political party program called "Win with Women" that allows women to partake in roundtable discussions, attend campaign skills training for female candidates and conduct meetings with political party leaders.
The mentality that keeping peace is a male role has become archaic as this inhibits the role of women as the maternal side to peace negotiations is thrown out of the window hence some issues fail to be addressed. However, when women organise themselves for peace efforts, they can significantly impact the peace process.
Therefore, the purpose of this submission is to highlight the essence of women in terms of conflict resolution and future policies should ensure women are encouraged to take part in such initiatives as they represent the community and the nation at large. Thus, the major thrust of this discussion is to analyse the role of women in conflict resolution from the liberation struggle to the present-day societies with a special bias on the African continent.
The author is a social analyst and Lecturer at Midlands State University