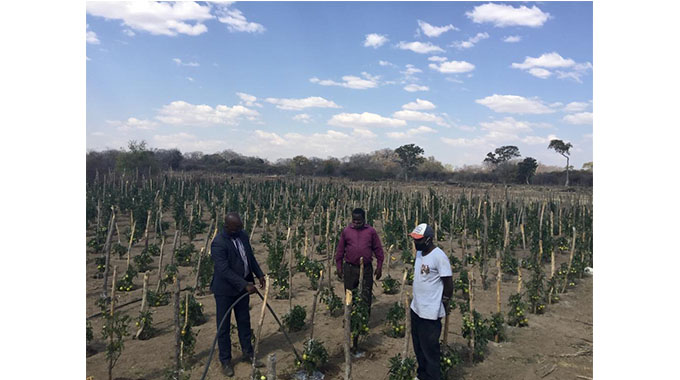 The Sunday News
Mthabisi Tshuma, Farming Correspondent
A FARMER based in Masendu in Bulilima, Mr Khuzani Dube, is in the process of increasing his banana and tomato farming and livestock rearing projects by clearing close to five acres of arable land.
Mr Dube with his wife Mrs Kagiso Ncube, eight family members and three employees are running a successful livestock and farming projects which started in 2018. The livestock rearing project has 28 cows, 43 sheep and 14 goats with the goats having surpassed 50 at one time before they were sold in order to grow the agriculture project into farming.
The farmer also has 200 banana plants and over 1600 tomato plants at the farm. In an interview on the projects after a familiarisation tour by Zanu-PF MP for Bulilima West Cde Dingumuzi Phuti, Mr Dube said he has started creating employment for the community through his projects.
"I have banana tree plants that are close to 200, tomato plants close to 1600 and a green vegetable garden. On a daily basis we sell close to 20 packs of tomatoes at R10 each and our market is mainly the local community.
"We have three workers and the garden is growing to an extent that we might need up to 10-15 employees who will be drawn from the community. We are clearing land close to five acres and in the process also creating employment," said Mr Dube.
He said fuel shortages have remained a challenge in the expansion drive.
"The problem l have is pumping water as diesel is scarce. If l can get a plan to be assisted then l am posed for growth.
"I am planning to open the garden next year where we will plant sugar beans and thereafter wheat. Goats, we started with six and at one point there were over 50 but we sold some to buy a water pump," he said. — @mthabisi_mthire.