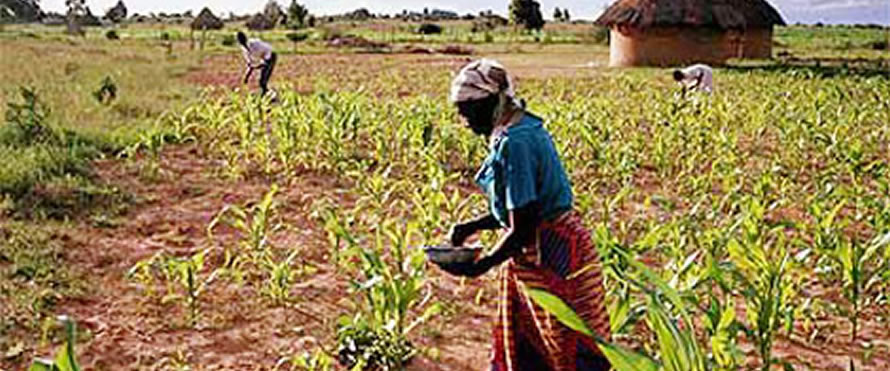 The Sunday News
Hazel Marimbiza, Features Correspondent
SOUTHERN African countries most of which have agriculture as part of their economic life-giving artery have been experiencing severe food insecurity primarily because of extreme weather events that are driven by climate change.
There has been low agricultural production whose corresponding impact on incomes and well-being of farmers can never be overemphasized with rural women farmers being the worst affected. Climate change has impacted negatively on the economies of so many countries. It has increased vulnerability through migration of the male population leaving women in charge of many homes doing all chores even those socially designed for men.
In Zimbabwe's Bulilima district in Matabeleland South province, many households have always been experiencing food and nutrition insecurity challenges partly because of recurrent droughts and women have been on the receiving end.
Touched by the plight of women, Oxfam International Zimbabwe, has intensified its climate change adaptation for rural livelihoods programme, aimed at helping communities improve food production through community irrigation gardens that are being set up.
One of the project beneficiaries, Mrs Sicatshisiwe Moyo, from Vuka Sizwe Garden in Ndolwane said the gardens have been their source of hope amid climate change.
"In the previous years it was very hard to sustain ourselves through farming because of effects of climate change but now we are grateful because we have been equipped with adaptation strategies. We now have gardens which we can water and we have managed to grow our household income by selling maize, tomatoes and other vegetables," said Mrs Moyo.
Extending adaptation and resilience mechanisms to women has been at the heart of Oxfam's work in Zimbabwe since the early 1980s either under humanitarian, livelihoods, or gender programming. Oxfam has always worked with rural women to access productive resources that help to build the requisite capacity to fight climate change.
Oxfam media and communications officer, Mr Lizwe Chitanganya told Sunday News that other interventions that benefited rural women farmers in the face of climate change include financial inclusion through village savings groups, entrepreneurship training and micro-enterprises, livelihoods diversification, market linkages, climate smart farming practices (for both crops and livestock), small scale irrigation, agroforestry, wood energy saving stoves, community gardens, small stock (mostly goats and road runner chickens), leadership training and gender training.
Mr Chitanganya highlighted that these projects were targeted at women because in agriculture, the adverse effects of climate change, together with unprecedented biodiversity loss and environmental degradation, pose serious threats to food security and nutrition.
"Women tend to be more dependent on the products of their local production systems for their food security, fuel and other products and services, and they are more vulnerable to the local-scale effects of climate change. They face widespread discrimination in the distribution of assets, services, and information — such as secure and adequate land, credit, training, employment opportunities, mobility, climate and market information services, inputs and technologies. Women also have limited decision-making power — and are often excluded or marginalized from governance institutions and policy-making processes," said Mr Chitanganya.
He added that the various programmes implemented by Oxfam have benefited women through ensuring that they have a voice in issues that affect them, economic empowerment, enhanced household food and nutrition security, reduced burden of work on women through introduction of various technologies, for example, solar water pumping systems have significantly reduced the amount of labour and time needed to water gardens.
Although Oxfam's adaption and resilience efforts in Bulilima and other rural areas plausible, experts say more still needs to be done to fight the effects of climate change in Zimbabwe and other countries in Southern Africa.
In a report, Oxfam's regional director for Southern Africa, Mrs Nellie Nyang'wa said across Southern Africa, there were several people facing acute hunger.
"Our region is losing its part of the United Nations' fight for 'zero hunger by 2030' — as described in its Sustainable Development Goals — because the subtropical region of Southern Africa is warming twice as fast as the rest of the world and being battered by repeated weather shocks," she said.
In the past years, Zimbabwe has experienced cyclones, floods, droughts characterised by the low rainfall, as well as record warm temperatures. These unusual and disruptive weather patterns have resulted in large-scale crop losses which affected the availability of maize, a staple food, and drive food prices up across the region.
"The cyclones, flash-floods and droughts that in the past used to be extreme are now being suffered as 'normal' by our farmers. The climate crisis is not just hitting people in sudden spikes of humanitarian emergencies, but it is undermining their ability to build up their reserves, assets and resilience day-by-day," said Mrs Nyang'wa.
"The climate crisis here is a permanent one, ripping away the coping mechanisms that people here have relied upon for generations to help see their communities and families through the lean times. This crisis is not an occasional headline — for the people of Southern Africa, it's now a profound way of life. This climate crisis is preying on people's poverty and worsening levels of inequality. And we see its effects now in these rocketing malnutrition rates. And as always it is the women and children who are hit first," Nyang'wa added.
With frequent droughts having a devastating impact on small scale farmers, in particular women who do the majority of agriculture in the Southern Africa region, advocates are calling on the Southern African leaders to increase investments in early warnings and early action systems on natural hazards which are accountable to communities.
Climate expert, Mr Lazarus Zhou said there was need to promote agro-ecological approaches to transition towards more just and sustainable food systems and increase farmers' resilience in the face of climate change. This is crucial to achieve a positive and sustainable transformation in agriculture. He also highlighted that there should be implementation of agricultural policies that enable people to feed themselves in line with the African Union's declaration's commitment of investing 10 percent of national budget to agriculture.
"We are also urging donors to increase their contributions to the humanitarian appeals, and demonstrate how climate finances promised to developing countries are being met," said Mr Zhou.
He says there is need to scale up adaptation finance in particular, which has been neglected to date and invest in long term programmes that will help build the people's ability to cope with future crises.