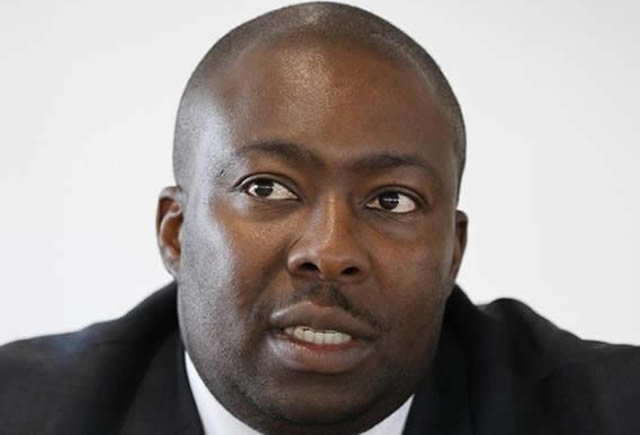 The Sunday News
Harare Bureau
SOUTH Africa's ruling ANC wants Zimbabwe to rein in Zanu-PF National Political Commissar Cde Saviour Kasukuwere over his alleged links with Mr Julius Malema, it has emerged.
Our Harare Bureau understands the ANC caught onto liaisons between Minister Kasukuwere and the South African opposition leader last year, and subsequently alerted Zanu-PF. Ruling African National Congress secretary-general Cde Gwede Mantashe is said to have also raised the issue with his Zanu-PF counterpart, Dr Ignatius Chombo, during their routine meetings.
Cde Mantashe could not be reached for comment while Cde Chombo had not responded to questions sent to him by our Harare Bureau by the time of printing. But impeccable sources on both sides of the Limpopo told our Harare Bureau that South Africa was worried that Cde Kasukuwere's ties to Economic Freedom Fighters leader Mr Malema could taint ANC-Zanu-PF relations.
A source in South Africa said, "The issue of the relations between your Kasukuwere and Malema is a tricky one that has the potential to strain relations between the ANC and Zanu-PF. I am aware that this matter has been raised a number of times, both at party and Government level. The secretary-general, Gwede, is very concerned about the issue. Last year, he briefed Dr Chombo of the ANC's concerns. He urged Zanu-PF to handle the matter internally because the ANC was concerned that any dealings between Malema's EFF and Zanu-PF could spell trouble."
Another source at ANC's Luthuli House headquarters added: "There is evidence showing that the Zimbabwean minister (of Local Government, Cde Kasukuwere) was subverting bilateral links between two friendly countries that have a revolutionary history.
"I cannot go into details of their liaisons, but it appears the two have been communicating from the time Malema was still with us before he went to front the EFF."
Following last week's story of the Kasukuwere-Malema alleged liaison, Zimbabwe National Liberation War Veterans Association chairman Ambassador Christopher Mutsvangwa visited our Harare Bureau and said he was happy Cde Kasukuwere was taking the matter to court because it would allow all evidence of the links to be exposed. Cde Kasukuwere is suing Mashonaland Central Minister of State Advocate Dinha and our Harare Bureau for publishing the allegations on 7 May 2017.
Ambassador Mutsvangwa said, "Kasukuwere and Malema's counter-revolutionary dalliance has been an obnoxious thorn in the flesh of the brotherly bonds of the two sisterly and neighbourly nations. Both infantile braggarts have been foolishly toying with the lion's tails of the two militant parties which share a tenacious and ferocious anti-colonial military pedigree.
"Cde Kasukuwere's correlation with Malema was based on the divide and rule principle as they used strategies to hoodwink people by attacking from the left, appearing to be leftists and faking radicalism and a false resource nationalist agenda."
Ambassador Mutsvangwa said Cde Kasukuwere and Mr Malema were "trying to grab power".
"I am confident there is enough evidence on both sides of the Limpopo to adduce to the nailing of Kasukuwere. I believe the SA intelligence services would relish the chance to avail such evidence. After all, Kasukuwere and Malema are tied together in a combustible web of avaricious greed and ambition for power. The ANC as a party and Government have enough gripes against the duo of infantile political pretenders. Lawyers will have a field day as Kasukuwere's braggadocio will turn into a nightmare in the self-incriminating lawsuit. ZNLWA and its MK (Umkhonto weSizwe, the ANC's anti-apartheid armed wing) allies will sure be part of the defence team of Minister Dinha. We will declare our interest in the legal proceedings from the onset. We will not watch akimbo while traitors and spies run amok."
Ambassador Mutsvangwa also said "we will comb through Kasukuwere's dealings in South Africa. We are confident we will strip him nude in preps for the new prison garb from Chikurubi Prison warders. A friend's enemy is your enemy too. Our message to him is that bring it on Kasukuwere. Typhoid Tyson tichamubvamburudza. Afterwards there will be no Saviour to save".
Meanwhile, Zanu's Politburo meets on Wednesday, with the high-level panel investigating allegations against National Political Commissar Cde Saviour Kasukuwere likely to present its report. Cde Kasukuwere is accused of creating parallel structures as part of a plot to topple President Mugabe through an Extraordinary Congress of the ruling party.
All 10 Zanu-PF provinces have submitted petitions to the national leadership calling for the Commissar's sacking. Zanu-PF Secretary for Administration Dr Ignatius Chombo confirmed the meeting, but would not be drawn into commenting further.
"The Politburo meets on Wednesday at 10 am at the usual place (Zanu-PF national headquarters). As is the norm, we do not publicise the agenda before the meeting," he said.
Sources told our Harare Bureau that the meeting would get feedback on Command Agriculture, the general economy, last week's Zanu-PF Masvingo provincial executive elections, and the report on Cde Kasukuwere.