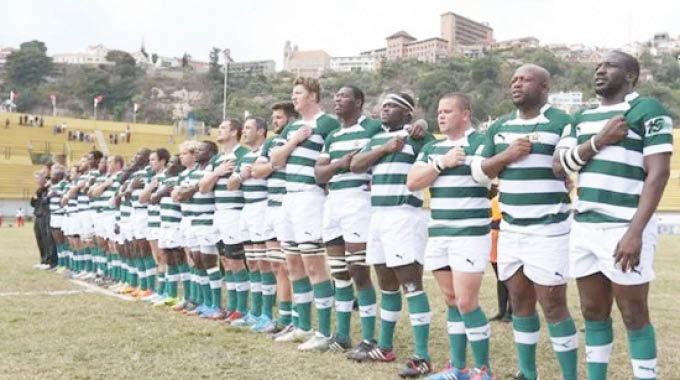 The Sunday News
Mehluli Sibanda, Senior Sports Reporter
ZIMBABWE men's fifteens rugby team, the Sables will know by end of day tomorrow if their proposed fixtures against Netherlands will go ahead.
Jason Maritz, the Sables team manager, together with the Zimbabwe Rugby Union chief executive officer Sifiso Made have a scheduled conference call with representatives from World Rugby and Rugby Netherlands to try push the tour to go ahead.
"I have a meeting scheduled on Zoom conference call with World Rugby and Rugby Netherlands on Monday to try get the tour over the line. The tour is planned to take place at the end of October to early November with two Test matches at this stage,'' Maritz said.
On the issues that need to be ironed out for the tour to go ahead, Maritz indicated they need approval of World Rugby to travel in light of coronavirus pandemic as well as financial assistance from the global governing body.
"We need the green light in accordance to World Rugby protocols as well as financial support. We are hoping World rugby will give us some funds to ensure game time. Other than that, both unions are in full support of the tour and given the green light. So, end of day on Monday we should have a clear indication,'' Maritz said.
Netherlands are ranked 25 in the World Rugby rankings while Zimbabwe are 10 places down. With the SuperSport Rugby Challenge cancelled and the Rugby Africa season voided due to Covid-19, the Netherlands tour, if it goes ahead would be the only piece of action for the Sables in 2020.
Maritz said he is in the process of creating a Sables auction with the aim of harnessing financial support for the country's flagship national team.
"I've started putting together a Sables auction to raise funds and support for the Sables players as well as in support of an NGO. We are finalising the launch soon."
The idea is to broaden the supporters base for the Sables from all over the world, get the fans registered to receive weekly updates on progress, teams and layers. Prizes ranging from all expenses paid weekends as well memorabilia will be part of the auction.
Meanwhile, 20 Plumtree Queens players recently benefited from the World Rugby Food and Medical Relief fund, with the females getting mealie-meal. World Rugby made available 5 000 euros to ZRU through Rugby Africa for the purchase of food and medical items.
ZRU used US$3 000 from those funds to purchase food hampers as well as mealie-meal with the rest to fund the procurement of medical necessities when rugby eventually resumes in the country.
Matabeleland South Rugby Board chairman Knowledge "Vos" Moyo and Dumisani Ncube, National Association of Primary School Heads in charge of rugby presented the players with their mealie-meal in the border town.
On why they chose only one club to benefit, Moyo said they opted for the girls since last year, they managed to send Beitbridge Raiders, a boys' team to a tournament in Victoria through assistance from Zimbabwe Rugby Union president, Aaron Jani. Matabeleland South has four clubs, namely Beitbridge Raiders, Plumtree Queens, Gwanda State University (based in Filabusi) and Gwanda Ramblers, which are all junior teams. – @Mdawini_29