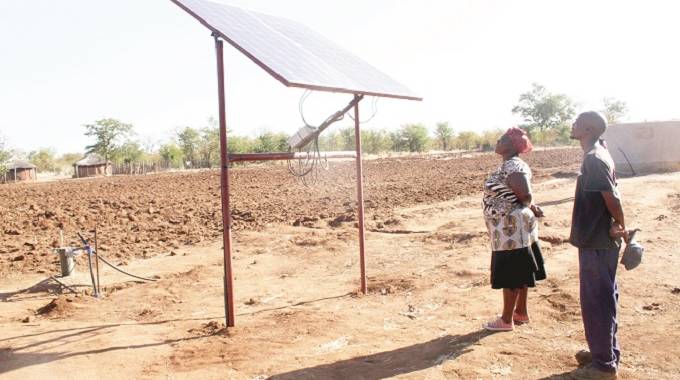 The Sunday News
Dumisani Nsingo recently in Bulilima
THE usually forgotten San community of Bulilima District in Matabeleland South Province says it is pinning its hopes of being rescued from the shackles of poverty and fight for social inclusion on the shoulders of the First Lady Auxillia Mnangagwa.
It is now 10 months since the First Lady Amai Mnangagwa visited the San community at their sprawling Twuaitwuai Village in the Makhulela area yet her trip there is still cherished by the small community, which consist of only 43 homesteads.
A visit by the Sunday News' crew at Makhulela revealed that prior to Amai Mnangagwa's visit most of the San people felt excluded from being recognised as an important component of what forms the Zimbabwean society. The visit by Amai Mnangagwa in July last year in the remote area bordering Botswana was to officially hand over a community borehole, a project she funded.
During the same occasion, The First Lady also donated blankets, food hampers and toys for children in the community.
A team of doctors from her foundation, Angel of Hope Foundation also gave free medical assistance to the community with several villagers being tested for high blood pressure, diabetes and dental problems.
"The visit by The First Lady will forever be embedded in our minds for a very long time because it was the first time we have ever had a high profile person visiting us. We are proud of her benevolence and we now firmly believe that she is our knight in shining armour sent to rescue us from poverty and to show that, she has lived up to her promise by ensuring that our nutritional garden was resuscitated," said one of the villagers, Mrs Sibangilizwe Ndlovu.
The half-a-hectare Twuaitwuai Nutritional Garden is expected to improve household food security as well as generate income for the San community.
"We started cropping at this garden in 2005 but stopped doing so about four years ago due to water challenges as the borehole was malfunctioning. The scheme used to have 50 members, these included seven from the neighbouring Kalanga communities but we are now 43 and we are all from the San community. The 43 are heads of families so this project caters for about 1 000 people.
"We hope to use this garden to prove to all and sundry that we are capable of producing food on our own. We have over the years suffered from various forms of discrimination including the stereotype that we are lazy. Apart from improving our household food security we intend to sell our produce to develop our homes, as you can see we live in squalor and shanty settlements," said Mrs Ndlovu.
The agricultural project would be irrigated using a solar-powered borehole system with planting expected to start this week.
"We have already put seeds of rape and tomatoes on the ground and we are planning to transplant the seedlings next week or a week after," said Mrs Ndlovu.
Another villager, Mr Knowledge Ndlovu, however, said to ensure the sustainability and viability of the project there was a need for them to get adequate input support.
"Our endeavour is to ensure the sustainability of this project as we envisage it to play a huge part in our livelihoods and such we are appealing once again to the First Lady or well wishers to assist us with inputs as well as implements such as wheelbarrows, hoes, shovels and picks. We also need draught power in the form of donkeys or cattle since we don't own any livestock.
"The First Lady promised to build a clinic for us as well as a primary school. The clinic will play a big part in eradicating perinatal mortality prevalence at homes, which is rife because of the long distance to the clinic. Most of the children are also not going to school due to the long distances and above all most of us can't afford paying school fees."
Mr Ndlovu reiterated the need for Government to sensitise the San community on the value of education.
"A number of us are now aware of the importance of education and how it can shape one's career path for the better. It's a pity that as a people failure to attain education is being passed from one generation to the other, which means the prospects of improving our livelihoods as a people is doomed," he said.
The San people, also known by various derogatory terms of bushmen, abathwa, amasili inhabit remote areas of southern Africa, particularly in Angola, Botswana, Namibia, South Africa, Zambia and Zimbabwe. In Zimbabwe, this group is mostly found in Tsholotsho, Matabeleland North Province as well as in Bulilima in Matabeleland South.
The San have over the past years resisted integration with neighbouring communities preferring to live their ancient way of life as hunter-gatherers. Bulilima Rural District Council chief executive officer Mr John Brown Ncube said most of the San's children were not going to school.
"Generally speaking their children are not going to school and I think it's more to do with their way of life because the school is three kilometres away from where they are," he said.
Mr Ncube said most of the San people in Makhulela eke out a living through engaging in menial jobs for other villagers in neighbouring communities.
"A few of them have started farming but most of them survive on piece jobs," he said.
Mr Ncube said the nutritional garden would play a big part in improving the San community's economic activities.
"The nutritional garden will be of great assistance to that community in that it will enable them to sell fresh produce as well play a part in improving household food security," he said.