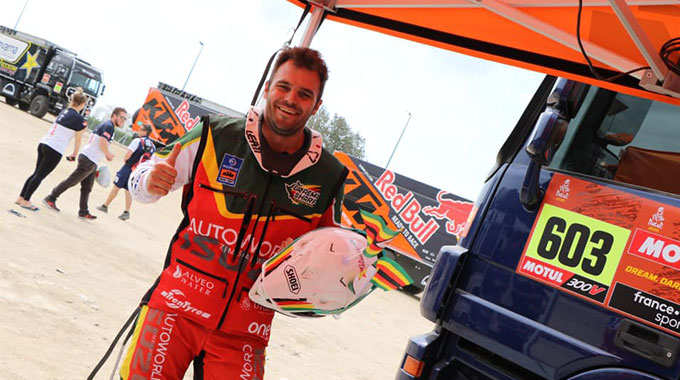 The Sunday News
Mehluli Sibanda, Senior Sports Reporter
HAVING become the first Zimbabwean to complete the gruelling Dakar Rally on a motorbike, Graeme Sharp does not want to be the last one from this country to achieve such a feat.
Sharp, who finished 74th in his category in Saudi Arabia from 5 to 17 January now wants to groom the next generation of bikers to take on that challenge. 
"To get to the finish is awesome, to be the first Zimbabwean on a bike to do it, I certainly don't want to be the last one, I will do my best to make sure that we can get the next crop of guys as soon as possible,'' Sharp said. 
He described the Dakar Rally as a tough race, seeing that only 48 percent of the bikers crossed the finishing line. 
"I was really relieved to get to the end of what was a really tough race, only 48 percent of us bikers finished. The dust, the navigation, the terrain was brutal, it certainly lived up to the hype of being a crazy Dakar, really just grateful, very humbled by the experience and the support shown by everyone,'' he said. 
Sharp was not the only Dakar Rally participant from this country to take part in the Dakar Rally with Conrad Rautenbach being the other Zimbabwean. Rautenbach competed in the side-by-side vehicle class. 
"It was really awesome, great to hang out with Conrad and share the experience with him, we had a lot of time together on the marathon stage, he really did a great job, he obviously has lots of talent in the tank, for someone who only had six weeks of preps to go to Dakar, he did really well,'' said Sharp. 
The 33-year-old Falcon College Old Boy is proud to have flown the Zimbabwean flag at the Dakar Rally at the same time fulfilling a personal dream. 
Now back in Harare where he is a manager at Padenga Holdings, Sharp is taking time to reflect on what he achieved at the Dakar Rally while looking for his next challenge. 
@Mdawini_29