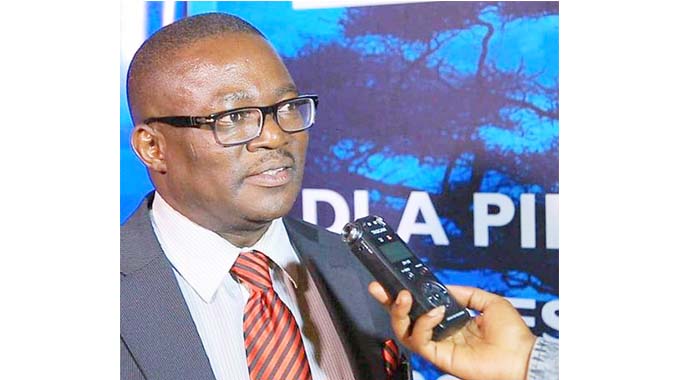 The Sunday News
The University of Zimbabwe of the bumpy 1990s was such a place. It was a forest of humanity where all sorts of brilliant characters from diverse origins met to perform their intelligence and insanity.
The line can be critically thin between brilliance and pure lunacy, I suspect. UZ was a mental asylum in that sense. Besides being the "academic blast furnace" where brilliant fellows came to translate their dreams to excellence and fruition, Mt Pleasant, as it was also called was a kind of Heroes Acre where some ambitious and legendary high school graduates came to bury their dreams as they failed and some sank into oblivion and became the debris of a clash of brains that happened at the varsity.
That is the kind of place where my miserable self met the titanic legal mind and game of tennis enthusiast, Sibangilizwe Ndlovu. Lizwe, born on 26 April 1976 in Gwanda died of complications related to Covid-19 in Bulawayo on 24 July 2020. The world is much poorer with the passing of a production and a spectacle of a human being that he was. Lizwe was a production because he lived his life like a real cinematic performance, colourfully and boldly.
From a brilliant student of Manama High school the fellow climbed not only to a monumental lawyer at a world scale but a respected Legal Officer of the United Nations whose focus was Juba, in South Sudan. He left a wife, children, friends, and colleagues that are all perplexed by the loss. Anyone that knew Lizwe will not but feel robbed by the loss. He was a spirited and effective individual that, if he could not inspire you he would at least scare you. I noted in Lizwe, early in my knowledge of the man that he somehow struggled to understand people that were not lawyers. That is how much a lawyer he was.
Machiavellians on campus
When one says "Machiavellian" most people think of political trickery and the gamesmanship of stratagems, plots and conspiracies of power. These are people that have read The Prince and collapsed Niccolo Machiavelli's entire philosophy to what was written as a letter not a philosophical treatise. Machiavelli was a monstrous reader, student and writer who worked mainly during the night. He concentrated mainly on ancient classics of history and philosophy.
When I refer to myself and my bunch of losers at UZ as Machiavellians on campus I mean that witchy habit of reading, writing and working hard at night on classics and other novel treatises.
I belonged to, not one, but many study groups at UZ. Bhekilizwe Dwayi Dube, Matshobana Ncube and I shared a love of Friedrich Nietzsche and African Literature at large. Dwayi in particular took Nietzsche to extremes to such an extent that Matshobana and I feared he was about to create a Nietzschean cult of thought. I encountered the name of Lizwe through another group of insane fellows.
Sindiso Mazibisa, Lucas Nkomo and Robert Ndlovu were students of the Laws. This bunch introduced me to the Philosophy of Law, Jurisprudence. Up to now I really don't know who, but I suspect Robert, converted to his personal use my copy of Michel Focault's Discipline and Punish. He used some "false pretences" to lift the copy from me I think.
I am still angry. Cicero's famous essay and speech; Against Verres, was one of our favourite classics. With this crew of bookworms and owls we discussed literature and philosophy through the nights until early hours of the mornings.
I remember us quarrelling over Richard Wright's Native Son and Fidel Castro's History Will Absolve Me legal defence. It was in one of our discussions that the name of Sibangilizwe popped up. He had won some competition, a Moot Court competition. The legal minds that were my reading mates described the performance of Lizwe at the Moot Court Competition in epic terms so much so that my curiosity was provoked. I wanted to see the monstrous lawyer with my own eyes and be witness to excellence that walked on two legs.
My curiosity grew to anxiety when Sinqobile Koboto Ndlovu, another son of Gwanda, whispered to me the legend of Lizwe. Nqo, a quiet and sober fellow, was not in the habit of exaggerating things. He spoke of how at Manama High School Lizwe used to scream out the truth that the University of Zimbabwe was waiting for him and that he was only passing through high school to the university where he belonged.
When he indeed was admitted at UZ he made it a point to send Nqo a letter in which was enclosed the then hefty amount of Five Zimbabwean Dollars. In the letter was a brief but telling exhortation that Nqo should quickly get done with high school and approach Mt Pleasant where a place was reserved for him; Lizwe could be that assured and assuming. I was with Nqo and Asere Ncube when we finally met the fellow in flesh and in blood.
He was short, dark and talkative, dressed all white from shoes to hat, dangling a tennis bag full of balls and a racket. The white kit on his very dark skin bespoke Highlanders Football Club itself, a team that he supported with fanaticism. The voice was loud with confidence and fearlessness signed on it. "If that fellow is the genius that you say he is," I said to Nqo, "then our future is bright, because it means that we are also there, man."
That is how inspiring and yet assuring Lizwe was, very ordinary but intelligent and rough. Even as an international lawyer, when he presented himself socially and spoke, one could still hear and see a good villager from Gwanda. He was deceivingly simple but amazingly sophisticated in thought and character. There was always that satiric tone in his speech that could easily make less successful people feel patronised and ridiculed.
And was his voice loud, when Lizwe addressed you all the passersby and bystanders were sure to hear whatever joke, or frequently the jibe, that was thrown at you. He had two nicknames whose origins and meanings I am still researching. One was "Ringo" and the other "Nsoyenyoni." My suspicion is that he most likely liked Ringo Madlingozi the musician, not that Lizwe could sing like Madlingozi, he had no voice for it. He a had a cracky and shrill voice of a Pentecostal preacher. Onika, Lizwe's daughter confirms that he loved music and played it loud, sometimes too loud. The Nsoyenyoni moniker is definitely from his razor-sharp wits. In Abaseguswini Lezothamlilo, the clever one, umvundla, was proverbially called Nsoyenyoni. Paradoxically Lizwe grew up to be a hefty and large fellow that could not physically compare to umvundla.
Catching Lizwe upon the Hip!
Some 15 years or so ago I last met Lizwe in Bulawayo. He had or was about to acquire a minibus to use as a taxi in the city. He wanted my wisdom as I was a proper Nkabi and a Somataxi of note.
He came in the company of his wife, a lady beautiful beyond repair with dimples that could keep water, in my view. Before I could finish my greetings he cut threw me for being a book prize-winning university graduate that wore overalls like a tout. I tried to defend myself with the explanation that mine was a designer Samson outfit but that could not rescue me.
The wife sat there and watched my misery, smiling politely. We spoke about the business loud and long. In the main it was Lizwe lecturing me about the taxi business not the other way round. I was not going to leave without my revenge. I went for the kill. I directly and matter of factly complimented the wife, poetically mentioning her dimples, height, chocolate skin and big eyes.
I know he was hurt but he skilfully hid it, thanked me and gave the wife a hug of ownership that all men know well. At that point he wanted to be gone with his wife but I had not achieved the injury I was looking for. "Yours is such a beautiful and brave wife," I sighed. "Bole, (one of my struggle names) utshoni?"
He barked. "Makoti, you deserve a medal, I added" before I Iaunched the missile, "you two are a true Beauty and the Beast couple!" I heartily thanked the wife for the mercy and charity of marrying my very dark and beastly brother that never had a girl at varsity. He laughed woundendly and sped off with his wife. I had been bruised and my weapon of the last resort was to go for his looks that were great but surely debatable, I guessed, at the time. The sight of that lady suppressing a laugh by his side was a victory I remained with.
Family Man, Man of the People
Onika correctly recalls that her father cannot be described in one word but in many as he was "everything in one, a great husband, father, son, brother and friend, to all." A story the kids will tell to their own kids is how Lizwe used to run from school to home with his end of term report screaming, "Mama ngipasile, Mama Ngipasile!" He spoke of his mother a lot, a true mama's baby he was. The fellow was not only intelligent but also industrious which made him a productive achiever. And he knew this about himself, he said it.
It is about Lizwe that I can say: If intelligence was a person! Rest in Power Mfowethu; your brilliant kids remain to advance your legendary legacy, Gatsheni, boya beNyathi.
Cetshwayo Zindabazezwe Mabhena writes from Gezina in Pretoria: [email protected]