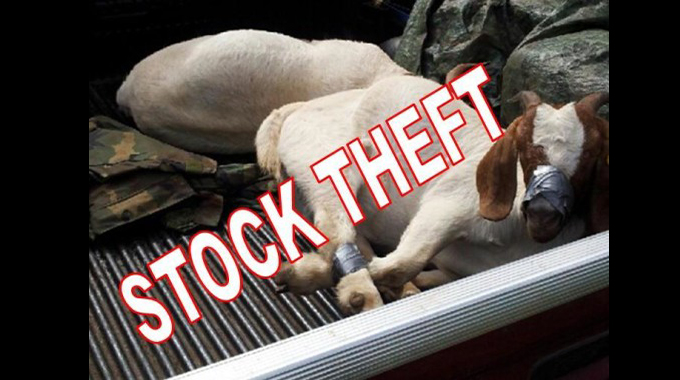 The Sunday News
Mhlupheki Dube
A STORY about cattle rustling in the media last week made for sad reading to every livestock farmer and anyone who respects private property. 
In case you missed the story, it was about abandoned cattle carcasses that had been found in one farm at Claremont on the outskirts of Bulawayo. 
It was self-evident that whoever had skinned those animals had been disturbed by probably unexpected people passing by and they fled and left part of their contraband. 
The two animals belonged to a farmer within the neighbouring Umzingwane District. 
I have written previously before on stocktheft and proffered suggestions towards curbing this scourge and it boils my blood to see farmers continuing to lose cattle to thieves that are supported by a careless market. 
It is my argument that for as long as the livestock market is not adequately policed stock theft will continue to be a problem. 
The market is there for stolen cattle or stolen meat that is why rustlers will continue to prowl the veld and kraals at night in search of cattle. 
I will repeat it herein that there ought to be strong punitive measures for any retailer who is found selling meat whose origin cannot be properly traced.
By the same token any restaurants who cannot account for the source of their meat should be fined heavily to discourage the proliferation of the illegal market. 
I am a livestock farmer and a livestock enthusiast and I know what kind of resources farmers spend investing on their farms. 
You spend over three to four years raising your animal paying for the labour that looks after the animals on daily basis, the drugs you use, purchasing of supplementary feeds and all those costs only for some cattle rustle to come under the cover of darkness and steal your animal! Its not fair. 
Farmers' unions and other relevant farmer representing bodies should lobby Government for a portion of the cattle levy to be channelled towards anti-stock theft activities. 
It is a public secret that rural district councils are mandated by their Act to collect 10,5 percent cattle levy from the buyer for any animal bought from their district. This amount is a compound percentage which is broken down into different fractions for the local authority, the auctioneer and the extension department. I suggest that a fraction of this levy be channelled say to the police anti-stock theft unit so that they can be capacitated resource wise to discharge their role. 
In addition to this, livestock farmers need to constitute themselves into a vibrant livestock producers union which will have among others a priority mandate to curb stock theft. 
If a union of livestock farmers can be produced and goes into a membership recruitment drive and uses the membership fees to help fight stock theft, change can be witnessed. 
Once farmers begin to witness the benefits coming from the work of the union it will become easier to recruit. 
A drive to curb stock theft needs a concerted effort and it can not only be left to a poorly resourced police force. 
What are the farmers' unions doing to help livestock farmers on this thorny issue? I have said it before that the tendency for farmer unions to convert themselves into non-governmental organisation and begin to survive on chasing donor funds around does not help the cause for farmers. 
Firstly, because you had no role in writing proposals that sought the funding you will have a stifled voice around the use of that money compared to the use of your membership contributions. Secondly the farmer union will begin to run around implementing non-core activities for the union simply because that is what is funded by the donor. You will begin to run around your membership implementing gender and HIV programmes which are non-core functions of the farmers union. 
This should not be read as undermining the programmes mentioned above but simply an illustration of a point. Let's get the farmers' union especially livestock producers union furiously lobbying and fighting against stock theft. This is hurting the farmers big time hence measures have to be found to deal with this. 
Uyabonga umntakaMaKhumalo. Feedback [email protected]/ cell 0772851275.