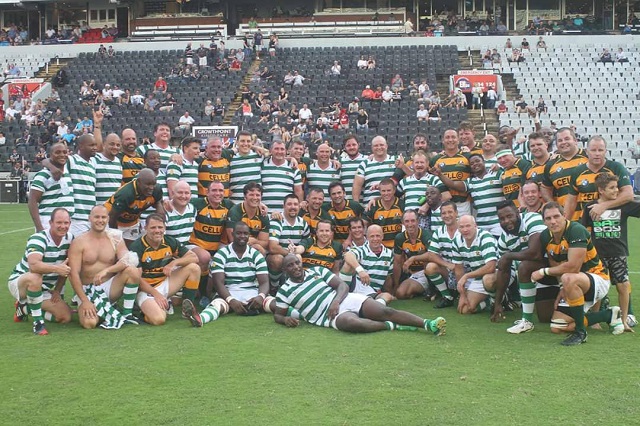 The Sunday News
Mehluli Sibanda, Senior Sports Reporter
FINAL squads have been announced for the Zimbo as well as South African Rugby Legends ahead of the two teams' clash at Falcon College in Esigodini on 21 July.
The match between the old-timers will be a curtain raiser to the eagerly anticipated schools rugby fixture between Falcon College and Peterhouse.
Some of the finest rugby talent to represent Zimbabwe and South Africa in international rugby over the years will be on display on Saturday. For the Zimbos, Paul Staak, Tafadzwa Chinyani, Lloyd Turner, Justin Buchanan, Dave Walters and Jafet Ndebele are some of the notable names of those who have represented the Sables over the years. David Walters, a member of Zimbabwe's squad at the 1991 Rugby World Cup take charge of the Zimbabwean team.
Henno Mentz, Willie Wepenaar and Lawrence Sephaka are some of the former South African players local rugby fans will be able to identify easily on the day. Zimbabwe born former Springboks coach Ian McIntosh will be in charge of the South African greats.
The South Africans will arrive in Bulawayo on Friday, will hold a training session at Christian Brothers College on the day of their arrival. As part of imparting their knowledge to the younger generation of players, the South Africans will conduct training sessions at Falcon College on Saturday morning. While in Zimbabwe, the South Africans will be hosted by Falcon College, Bulawayo Club and the Hartsfield Trust. Some of the sponsors for the match are Zapalala Supermarket, Carbon Processors and John Pocock.
Zimbabwe and South Africa rugby legends have been playing each other since 2013 with the first meeting at Hartsfield Rugby Ground in celebration of the stadium's 75 year anniversary. It was only last year that fixture did not take place with the last match in Zimbabwe having been played in Victoria Falls in 2015.
The Zimbabwean legends have lost all the four previous matches against the South Africans and will look for a positive outcome this time around.
Squads
Zimbo legends
Forwards
Tafadzwa Chinyani, Jonathan Davies, Adam York, Eustice Chinzo, Brian Sutherland-McLeod, Schalk Ferreira, Gerarde Potts, Leon van der Westhuizen, Willard Muchena, Tinotenda Gomiwa, Luke Rutter, Matthew Accorsi
Backs
Gregory Friend, Lloyd Turner, Paul Staak, Jeremy Roselt, Sean Walters, Sebastian Dequeno, Gordon Pangeti, Tyler Rowe, Ian Learmonth, Jafet Ndebele, Timothy Trombas, Tatenda Ngomasha
Coach -David Walters
Manager – Mathew Tambling
SA legends
Forwards
Ethienne Reynecke, Eugene Marx, Jacque Muller, Jacques Roux, Lawrence Sephaka, Quintin Geldenhuys, Adriaan Erwee, Roedolf van der Westhuizen, Wayne Munn, Willie Wepenaar 
Backs
Christiaan Snyman, Henno Mentz, Hentie Martens, Joe van den Berg, John Mametsa, MacDonald Masina, Marc Watson, Sacha Gerber, Brent Russell
Coach– Ian McIntosh
Manager – Sergio Giorgi