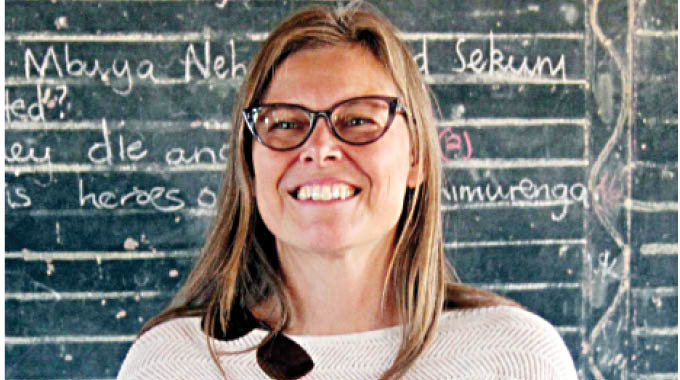 The Sunday News
Robin Muchetu, Senior Reporter
THE Swedish government has praised progress made by Zimbabwe in tackling Gender Based Violence (GBV) and also suggested that the affected people need to be empowered  in order to realise their full potential.
Speaking on the sidelines of a tour of GBV survivor self-help projects at Nhlambabaloyi Primary School in Ntabazinduna in Umguza District last week, Swedish Embassy Head of Development Co-operation Ms Mette Sunnergren said women were coming out empowered after training from local NGOs and support ministries.
"I am very impressed by what I have seen here. It is interesting to note where the women are coming from a very tough situation back home and realising through training that they can do something for themselves," she said.
Ms Sunnergren said it was great to note that the women in the district had managed to free themselves from abuse induced by poverty.
"Not only can they (women) now free themselves from abuse but they are getting health and GBV advice but also move even further and start producing things that can give them income," she added.
She said this would help the affected and their families to improve their livelihoods. 
Survivors of GBV trained under the Start Awareness Support and Action (SASA) in the district formed Survivor, a support group where they came together and identified women who were being abused and introduced them to projects where they are making liquid and powdered soaps, juices, school uniforms and a horticulture garden.
The garden is housed at the primary school where the survivors asked to use the land to produce vegetables, where surplus is donated to the school's feeding programme.  
Ms Sunnergren said the horticultural garden was a great show of the women's dedication.
"We saw the gardens and the surplus that is used to feed schoolchildren. Cooking for 800 children daily is not an easy task. 
"It is quite impressive that the women find time for community work and not only for themselves but for others too, that is a great show of awareness and strength and empowerment," she said.
The Survivor support group meets once a week as a way of sharing experiences and to inspire and empower each other through GBV messages.
Through collaborations, the group managed to acquire skills training which was done by the Ministry of Women Affairs, Gender and Community Development.  
The proceeds from vegetables sales are used to buy books and pay school fees for the members' children. Umguza Rural District Council through Gender Links, a non-governmental organisation is also assisting the group to buy chemicals for training in soap making.