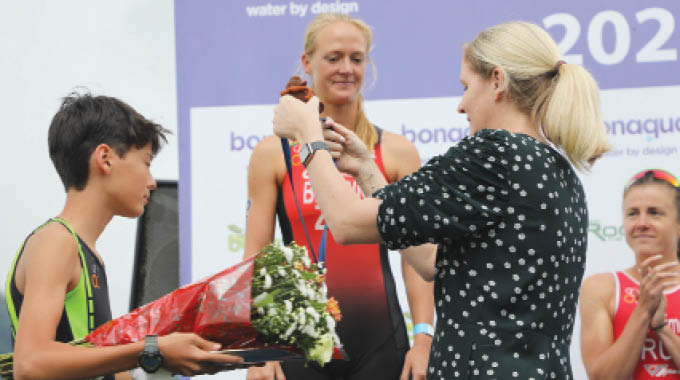 The Sunday News
Mehluli Sibanda in Nyanga
SWISS triathlete, Andrea Salvisberg was the winner of the 2020 edition of elite men at the Bonaqua Troutbeck Africa Triathlon Union Sprint Triathlon African Cup held at Troutbeck Resort in Nyanga yesterday.
Salvisberg crossed the finish line in one hour, one second with Russian Dmitry Polyansky claiming the silver when he came in 35 seconds later while Jammie Riddle of South Africa was third in one hour, one minute and 11 seconds.
Seeing that it was a rapidly paced race, Salvisberg was glad to be the fastest on what he described as a tough course.
"It was a great race, we had a fast swim, fast bike and fast run, in the end I managed to be the strongest out there so I am really happy. I have never raced on anything as hard as today, it was one of the toughest races I did,'' Salvisberg said.
Zimbabwean, Matthew Denslow, competing at Troutbeck for the first time as an elite managed to finish in eighth place out of the nine men who completed the race. South African Cameron MacNair failed to finish the race. The 18-year-old Denslow, winner of the junior elite men in 2019 feels that given that age is still on his side, he can only get better.
"It was hard, I was expecting it to be hard but I am happy, I can only learn, I am young and this is only the beginning,'' Denslow said.
Laurelle Brown of Zimbabwe secured second place in the women's elite which was won by Russian Olympian Anastasia Abrosimova and Ons Lajili of Tunisia finished third. The women elite was a small field made up of just three competitors.
Brown, participating in the women's elite at Troutbeck for the first time was delighted to finish second. The 25-year-old had to make good recovery on the bike and running seeing that her swimming was not as great. 
"I didn't expect the silver so to get it was an extra bonus but it's nice just to see how the rest of the competition was like, the Russian lady was flying, she was miles ahead of everyone, that's the level we all aim to be,'' Brown said.
Triathletes swam 750m, cycled three laps of 6,6 kilometres and then finished off with two rounds of 2,5km running. Winners of the men and women's elite pocketed US$750 each, US$450 was given to those in second place and bronze medallists got US$300. Minister of Youth, Arts and Recreation Kirsty Coventry presented the triathletes with their accolades.
In 2019, the Bonaqua Troutbeck ATU Sprint Triathlon African Cup was conquered by Germans. Justus Nieschlag romped to victory in the men's section while his fellow citizen, Nina Eim was the winner of the women's elite ahead of South African Amber Schlebusch and Carolyn Hayes of Ireland. 
@Mdawini_29