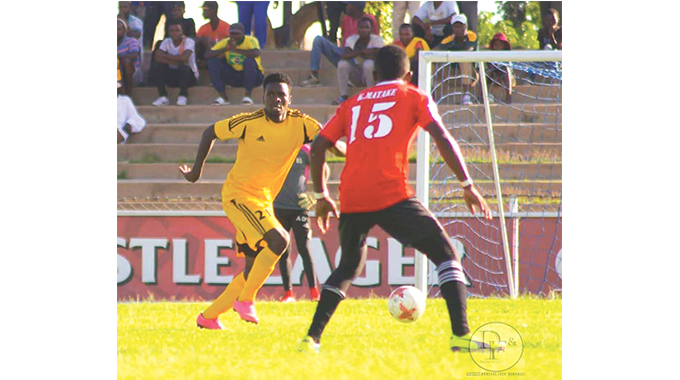 The Sunday News
Mehluli Sibanda, Senior Sports Reporter
TALEN Vision captain, Mongameli Ndlovu is making good recovery from the knee injury he suffered last year, with the defender recuperating in South Africa.
Ndlovu, who has been out of action for a full year underwent an operation in South Africa in December with the assistance of Talen Vision president Khumbulani Nkomo who is still looking after him as he recovers in the neighbouring country.
"I am better for now, compared to the first days. The knee pains a bit mostly when I overdo exercises,'' Ndlovu said.
Before the coronavirus forced South Africa to impose restrictions, the Talen Vision skipper was seeing a biokineticist but he is now doing workouts on his own while keeping in touch with the specialist.
"My recovery process has been disturbed by coronavirus lockdown. I was seeing a biokineticist before the lockdown was imposed in South Africa, now I am doing exercises on my own at home but still communicating with her. I am getting there, it's all about being patient, it takes time but the biokineticist assigned me some exercises to strengthen the knee, which I do daily,'' said Ndlovu.
He is grateful to the assistance from Nkomo, with help from the club ensuring that he has little to worry about besides his return to full fitness. For fitness, Ndlovu jogs in the morning, does some ball exercises indoors but is yet to do intense training since he is not yet fully fit.
"Everything is taken care of, all I am focused on is getting back to full fitness and join the team as soon as possible."
The central defender picked up the injury in a training session ahead of his team's clash with Bulawayo City at Luveve Stadium. City and Talen Vision were involved in an intense battle for promotion to the Premier Soccer League. Without their team leader, Talen Vision, then under the tutelage of Mkhuphali Masuku went on to lose out to Amakhosi in the fight to play in the country's top flight league.
@Mdawini_29