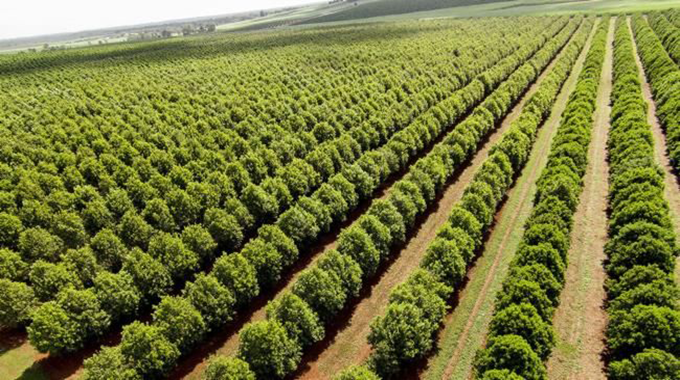 The Sunday News
Nkosilathi Sibanda, Farming Correspondent
ONE of the country's largest tea and beverage makers, Tanganda Tea Company is reportedly reaping benefits from its decision to diversify into macadamia plantation as it seeks to penetrate the food markets in Europe and Asia.
When the company made a decision to expand its product line a couple of years ago, it was considered risky given the volatile economy, but of late, given the high demand for the nuts, outlook for growth is positive.
The company's financial director, Mr Henry Nemaire, told Sunday News Farming that the idea to invest in macadamia nuts production was purely driven by the need to spur the company's profits through diversification.
He said already, this year, a total of 779 hectares have been put under cultivation at the company's Chipinge estates.
"Owing to the popularity and demand for the nuts globally, it was prudent for us to grow to get into macadamia nuts productions. Macadamia production is profitable. The world over it is known that there is an insatiable appetite for these nuts. The fact that big markets in Europe, China and Asia buy the nuts is in itself an indication that this is good business.
"We diversified into macadamia nuts also so as to sustain the welfare of our more than 5 500 employees when we are off season in our tea plantations. We are staying open minded, knowing fully that diversifying to macadamia nuts and this diversification will bear other beneficial ideas in the future," Mr Nemaire said.
The company has followed an acquisition-led growth to expand its present tea plantation business and had achieved substantial growth.
Globally, the tea plantation industry has been experiencing erratic weather conditions over the last decade due to climate change.
Apart from diversifying into the new business segment, Tanganda Tea Company is also planning to double its existing avocado tree production.
Mr Nemaire said after doing consultations, the company's agriculture experts are optimistic that the production will leap frog other macadamia farming countries.
"The system is there, so nothing can stop us from growing bigger."
He added that they will in future supply the local tourism and hospitality industry.
"Macadamia nuts are tasty and nutritious, I recommend them as they are a special dietary supplement. As a company that has a footprint in the food industry, we are geared to also have our new product locally in hotels and restaurants," he said.
Zimbabwe is the sixth leading exporter of macadamia nut in shells with experts saying the country has the capacity to increase its global market share of the multi-million dollar golden nuts trade.
Meanwhile, a host of farmers in the Eastern Highlands are taking up the cultivation of the macadamia tree. There has been a call by Government for farmers to start mainstream business in macadamia nuts.
In Zimbabwe, macadamia production started around 2000 in the eastern border highlands, although it can be grown in agro-ecological regions one to three.
Macadamia nuts can be processed into soap, body lotions and cosmetics while the crushed nut can also be put on cakes.