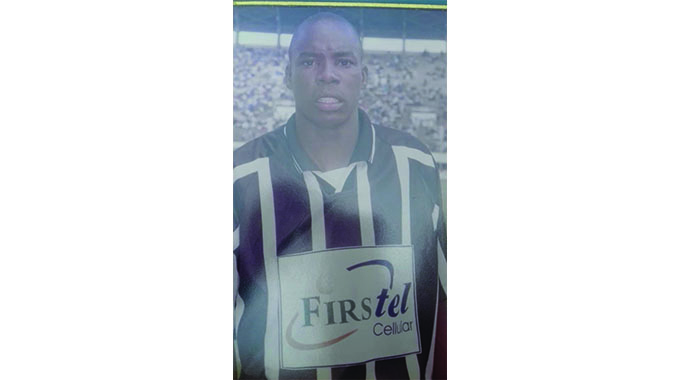 The Sunday News
GROWING up in Dete, Matabeleland North, Tapela Ngwenya never dreamt beyond the local boozers' team Hotspurs.
There was no television to inspire him nor a vibrant league to watch regular action. So it was the local side against select teams from neighbouring rural villages to watch beyond his plastic balls games.
Playing against his peers he would face Noel and Tendai Kaseke's team from across the railway line at the more affluent section of the railway town. The bullish centre back Boniza, former Hwange Raith Rovers striker Cephas Utete, Shweza Tshuma, a brilliant striker who played with the likes of Duly Ncube, Benson Soko, Francis Majamanda and Machona Sibanda in Hwange, former Highlanders FC, Hwange local sides Zulu Royals and Black Aces player Nehemiah Dube and Noel's father Josphat were among the inspirational star players for budding footballers. But it was until 1988 when he moved to Bulawayo that his football journey begun.
"I moved to Bulawayo in 1988 to learn at Thomas Rudland Primary School in Queens Park East. The sports master at the school a Mr Mafu forced me to play football for the school team. I would play for all age groups and at the same time run the 100m and 200m sprints," said Ngwenya.
Ngwenya was also good at tennis. He was second seed to Lloyd Mafi with Brian Kumire third ranked at the school.
"Our coach believed in me so much that he would throw me to play in any age group if the others were inactive," said the 44-year-old Gwayi born former striker.
During the holidays, Ngwenya would visit his relatives in rural Hwange where he would watch his uncles Lawrence Nyoni who played for Rusupuko in the Matabeleland North Division Two league and Zifa Southern Region. Nyoni, who was a police officer tried his luck at Black Mambas.
Another inspiration was former Marist Brothers, Dete utility player Vitalis Kamocha who had a chequered career with Hwange Football Club and Francis Ngwenya who was as good a winger and the 100m and 200m sprints.
"Whenever these guys played in the village, they played me as a goalkeeper fearing I would be injured because I was tiny. Yesteryear footballers were big," said Ngwenya, who now stands about 1.92m.
The gangly effect star proceeded to Northlea High School where he played for the school's Under-14 and 16 teams.
"I was the top goal scorer and we played in the Coca Cola tournament but failed to reach the regional finals," said Ngwenya.
He said his school qualified for the Peter Ndlovu Youth Festival Football tournament. Thrown into goal, he had a contrasting match, beaten six times by a rampant Mthala side which had likes of Malvern Ntini, Para Zivira and Thamsanqa Dube.
"I was man of the match. Our regular goalkeeper had been relegated to the bench," said Ngwenya.
Ngwenya was nearly lost by football after a misunderstanding with former University of Zimbabwe, Black Rhinos and Highlanders striker Nkululeko Malaba.
He switched to tennis. While at a tournament at Hamilton High School, Ngwenya was asked to drop his racket and go save his struggling Soccer side that was on the brink of exiting the CocaCola Cup.
Sadly, his presence could not save the situation. Then came his second Peter Ndlovu Tournament.
Seeded alongside Mthala, Highlanders and Hwange, it never was going to be easy. He started the first two matches in goal conceding a goal in each. In the last against Hwange, he played as a striker.
Ngwenya got himself extra hours of game time while playing for St Andrews Parish in the Christian Soccer League. The team did well to qualify for the preliminary rounds of the Zifa Cup.
"Player movement during those days was not so strict, I would play for Vera Trucking in Division Three."
In 1994 after completing his fourth form at Northlea, Ngwenya impressed at Zimbabwe Saints during trials.
"I did not last a week there because senior players came to training on Thursday and us who had trained from Tuesday were overlooked. I never went back after being told to train with the juniors. I felt was good enough for the first team," said Ngwenya.
He continued playing for Vera Trucking who had been promoted to Division Two and Christian League. A neighbour asked me to join Amakhosi who were coached by Cosmas Legion Thebe.
Among the players were Edmore Sibanda the former Highlanders goalkeeper, Themba Ndlovu, Francis Chandida and Tarisai Mwaitomupi.
"We were a force to reckon. If the team had good funding we would have gone places," said Ngwenya.
In 1996 Ngwenya attended trials at Jwaneng Comets. He made the grade and was due to be signed but the South African club coach had issues to attend to at home and the new management did not have plans for him.
"I was disappointed. I returned to Amakhosi and in 1998 I was signed by Saints. After a short stint, I got disillusioned and reverted to being an Amakhosi player. It is the same year that I joined Highlanders," said Ngwenya.
Settling at Bosso was very easy as there were guys he had played with before, Edmore Sibanda from Amakhosi, Eugene Langa and Joel Luphahla both of whom he had played with at Zimbabwe Saints and Noel Kaseke who he knew from Dete.
"Senior players Thulani Ncube, Zenzo Moyo and Simon Sibanda were very accommodating. Coach Rahman Gumbo had seen me playing for Amakhosi," he said.
Ngwenya said he felt lifted as his family came in numbers to watch his games. Ngwenya stayed at Highlanders up to 2003 winning league titles and the Dairibord Charity Shield and Independence Cup.
"I played in the African Champions League in matches against Young Africans of Tanzania and Costa do Sol of Mozambique. At Highlanders FC I averaged between 7-8 goals. I could have scored more but coaches preferred to use me as an impact player," said Ngwenya.
His first goal for Highlanders was against Black Rhinos in the 5-0 routing.
He rates Tongogara defender Ignatious Kapitapita as his most difficulty opponent.
"The best club I played for has to be Lancashire Steel, I stayed a long time there. I enjoyed a lot of success with Highlanders though," said the former impact forward.
Because of his pace and intimidating height, Ngwenya's presence would send panic waved in the opposition half. It was not easy being part of the Highlanders team as he had to contend with competition from Zenzo Moyo, Thabani Masawi, Sautso Phiri, Eddie Dube, Eddie Nyika, Joe Kabemba, Eugene Langa, Joel Luphahla and Darlington Phiri.
In 2003 Ngwenya, upon realising that he was getting less game time moved to Railstars who were under Cosmas Zulu and Lindile Dube. His debut season with Railstars landed him a runners up Zifa Unity Cup. From Railstars he moved to Lanacshire Steel and played under these coaches Fewdays Musonga, Willand Khumalo and Max Malume Moyo.
"I played with the likes of Steven Sande, Moses Mwafulirwa, Isaac Nyabvure, Dick Moyqna, Mishexk Kwangwari and Malvern Nyakabangwe. We reached the semi finals of the CBZ Cup. In 2008 I was selected to the Midlands Provincial squad that played in the Cottco Cup," said Ngwenya.
Ngwenya curses a life-changing opportunity he missed.
"I went for trials in Cyprus and made the grade. I had hepatitis and they could not sign me. I am still cursing my ancestors," said Ngwenya.
On his return from Cyprus Ngwenya joined BMC of Botswana.
"We were under Godfrey Tamirepi, the other players were Chenjerai Dube, Mlamuli Phakathi, Robson Chisango and Nicholas Gora. I also played for Killer Giants," said Ngwenya.
In 2010 Ngwenya he returned and joined Chikwata after Bosso failed to sign him. In 2013 Ngwenya joined Empumalanga FC and played for one season before retiring to take up employment at Makomo Mine.
He helped the mine team gain promotion into the Zifa Southern Region Division One. He works as a dump truck operator and is married to Netsai Chapungu with children Benita Anesu and Anotida Laura.