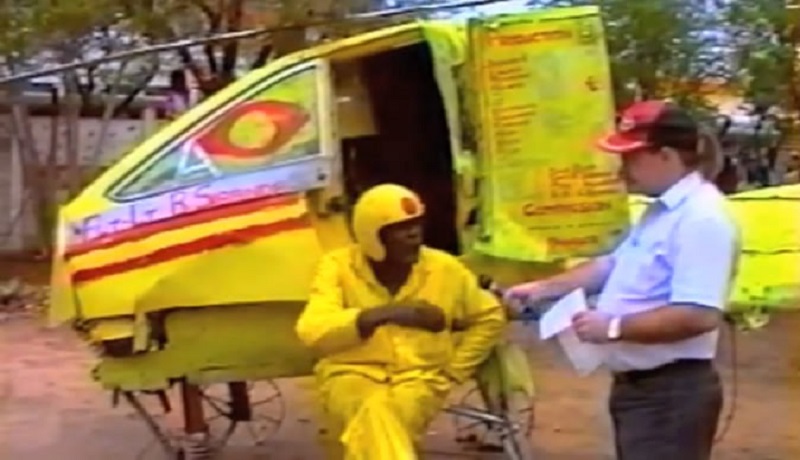 The Sunday News
Bruce Ndlovu
IN the 1990s Zimbabwe, Bulawayo in particular, became fascinated by the ambitions of Barnabas Sibanda, a former soldier in the Zimbabwe National Army who wanted to construct the country's first aircraft made from junk.
In the City of Kings, Barnabas' famed helicopter has been a source of both wonder and amusement ever since he announced his desire to take to the skies in 1994. To some it was no more than a joke, one man's ill advised attempt to defy not only the odds but the laws of gravity.
Perhaps to some Barnabas was an example of an underdog punching above his weight, proving at the same time that grinding poverty was not necessarily the death of scientific innovation.
Whatever the merits of Barnabas' "indigenous" aircraft, what cannot be disputed is that he was a larger than life character whose life was as interesting as the pieces of junk he assembled over a period of nine months into his famed Zimcopter.
Born Jackson Sibanda to a farming family in Gwatemba, Matabeleland South province, the self-styled aeronautical engineer and pilot grabbed the headlines in 1994 with his helicopter which he claimed had cost him $17 000. At the time, this was an astounding figure, with Barnabas claiming that all in all he estimated that the helicopter had set him back as much as $35 000.
"In hard cash it's $17 000. That doesn't count the material and the time that I took, the nine months of labour and the labour from the people in the community that were actually helping me," he said in an interview at the time.
While he was building his aircraft, the inventor's mother, Elinah claimed that he had quit his high paying job as the desire to take to the air became an obsession. Not only had he quit his job, but the man who claimed to have once been a part of the Ethiopian army had allegedly grew distant from his family friends.
In fact, his mother claimed, Barnabas was not his real name.
"Barnabas could've been his war name. His father and I definitely didn't give it to him," his mother said at the time.
The grapevine was rife with rumours that his mother was fuelling his ambition to fly by using proceeds from the family's 200-hectare plot in Gwatemba.
"I never sold any cattle for Jackson. It's not true. Besides, I've never seen the helicopter," she claimed.
For Barnabas, who had reportedly bagged eight passes at O-level, the helicopters were very much a reality. Although he had already been married and divorced three times at the age of 37, he seemed to only truly enjoy matrimony with his helicopters.
"I'm married to these helicopters, they're my wives because I work on them before sunrise till past sunset," he said.
At the least, Barnabas led a colourful lifestyle. In 1995 he had a brush with the law, which it was speculated had led to his dismissal from the army. After his departure from the armed forces, he had ventured into the rural transport and butchery business but emerged poorer as both ventures did not yield the desired results. He later set up shop with his 18 head of cattle at a farm near the City of Kings.
His first aircraft was condemned outright by the Civil Aviation Authority, leading to many back and forth battles with authorities as he prepared to make his second craft made from aluminium sheets. Whether it eventually took to the air it has never been clear.
"I was given offered land in Bhalabhala Estates. I was flight testing it (the aircraft) within the estates. First was 5kms then sometimes I would do 11 or 20kms. But I have not done a stretch of 65kms. I've done bits and pieces of trips that amount to 65kms," he said.
After a lull in his popularity, a city man claimed to have had a violent run in with the former Flight Lieutenant in 2014.
"I was today threatened with a knife by an apparently mentally-ill man near Renkini long distance bus terminus in Bulawayo," claimed Methuseli Moyo.
"The man looked like liberation war hero and retired Flight Lieutenant Barnabas Sibanda, the man who invented the famous Zimcopter he claimed could fly. I am sure that was him."
This week Sunday Life tried to pick up the Barnabas trail in Mpopoma, where he reportedly runs a granary but people were not sure of his whereabouts at the time of the visit.