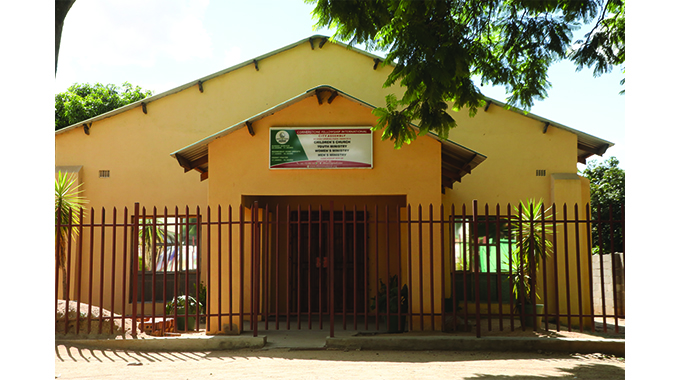 The Sunday News
Rutendo Nyeve, Sunday Life Reporter
JESUS said to them, "Have you never read in the scriptures: The very stone which the builders rejected has become the Chief Cornerstone; this was the Lord's doing, and it is marvelous in our eyes"
For those who believe in Christianity, this is one of the scriptures usually referred to when describing the projection of life. This verse has become a reality in Bulawayo when one focuses on the marvelous transformation of number 24A Fort Street in city's Central Business District.
Located at the Corner of Fort Street and First Avenue, number 24A which has over the years been known as 'ku24', a common brothel that recorded all sorts of criminal activity including murders, is now a place of worship.
'Ku24' was a brothel which not only attracted commercial sex workers from across the country as they would come and lodge at the facility to engage in their thigh business but also attracted criminals who would prey on their customers.
Located in a street that has a couple of lodges cum brothels within its vicinity, the area would attract more commercial sex workers during the first decade of the new millennium. So ripe and lucrative was the business 'ku24' that the commercial sex workers would even cash-in during the day from the so called 'walk-in' clients.
Sam Mpala (not real name) has worked at a restaurant opposite the building since its establishment and shared with Sunday Life some of his experiences while working next to the brothel.
"People died here my brother. You would see police coming to collect bodies after people would have stabbed each other in there either fighting for the prostitutes or otherwise. I do not know them in person but some of the commercial sex workers' faces are recognisable.
There were all sorts of drama in there. Robbers would prey on the commercial sex workers' clients during the night while numerous police raids were carried out there as well. This was the time when the Police Reaction Group would frequently raid this building as prostitution was illegal," said Mpala.
However, in a dramatic turn of events, the building which was probably rejected and shunned by those who found the activities done at the building inconsistent with their beliefs has now changed into a place of worship.
The former brothel now houses Cornerstone Fellowship International Bulawayo, a name that probably suggests that the building was once rejected by believers but now houses their place of worship. Led by renowned local physician consultant Dr Mbongeni Ndlovu, the church has grown with its Facebook following surpassing 450 followers. However, it still remains unbelievable to many who knew the facility as a brothel, that indeed, it is now a church.
"This was a lodge, but due to the fall in standards, commercial sex workers would come for 'short times' but some ended up being resident there. If I tell some of my colleagues who are out of the country, they will be shocked and might not believe that ku24 sokuyichurch," said a commercial sex worker who identified himself as Diana.
The reality however, remains that, the same building which some people lost their lives due to various reasons is the same building where some are receiving eternal life through repentance.
The street where ku24 used to be also houses six other churches within the approximately 500 metre strip. However, due to the dynamics of life, it also houses several lodges and is a hype of commercial sex work during the night. — @nyeve14