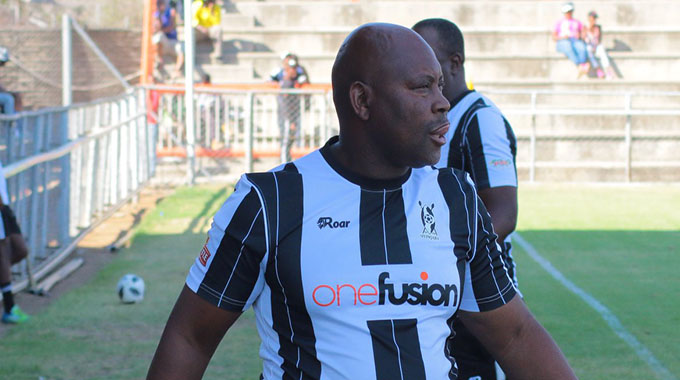 The Sunday News
Lovemore Dube
FOR the yesteryear Highlanders FC fan, the rallying call when the chips were down on the field of play was that at the hour of disaster (relegation) they would follow it to the lower rungs.
Even in the 1971 relegation Highlanders supporters rounded up each other and returned to back the club in Division Two. In numbers they went to matches and urged on their heroes Chris Bha, Benjamin Mpofu, Lawrence Phiri, Billy Sibanda, Nehemiah Dube, Jeffrey Mpofu and Ananias Dube.
The club finds itself at the bottom of the log seven matches into the 2019 race. Everything or everyone about Highlanders FC has had a chance on the blame game but without a clear cut solution other than that the boys must win on the field of play and there will be silence in the camp.
Opportunists find such times ideal to score cheap points or become relevant.
Winless both away and at home and yet to score a goal at Barbourfields Stadium in a dreadful start to the season, Highlanders FC is under pressure.
History however, says the club is not going through a rough patch of this sort for the first time.
Sunday News Leisure spoke to some of the players to serve at Highlanders FC at trying times who shared their experiences. All three shared one common thing they experienced during their time that fans remained adamant even at the darkest hour that the club would not be relegated.
Trust Moyo better known as Cotton because of his small frame in the early 1970s was part of the 1971 team that was relegated.
Highlanders joined the Rhodesia National Football League structures in 1969 and won promotion to the elite league in 1970.
The debut season was a disaster with the club just picking up seven minutes and rightly being relegated.
"It was a nightmarish season. We struggled all year and could not come to grips with the intrigue of professional football and we picked up just seven points.
"The fans were awesome. They rallied behind the team. Their support never waned and even after big margin losses they encouraged us to keep going. They vowed that they would even follow us to pitches like Greenspan whatever league we play in.
"Back then the supporters were not politicians. They loved the club and wished you well as a team and it really was not part of their business who ran the show," said Moyo who is one of the sons of former club benefactor and patron Taffi Moyo.
After being relegated in 1971 Highlanders worked on their set up in 1972 introducing a leaner and more effective executive and brought in Silas Ndlovu forced into retirement to take over as manager/coach the all powerful type of like in the British league set up.
Moyo remembers how supporters followed them all over the city at second division matches.
"They came in numbers, we had more followers than some big clubs back in the day. That urged us on and we qualified for the play-offs and in the final match against Mashonaland FC in a match that we needed to win to qualify for the national league, I missed a penalty. We however, got ourselves playing in the Rhodesia National Football League after North and South Leagues were introduced in 1973," said Moyo.
The North and South Leagues were created after strong lobbying by some political heavyweights who felt Saints were too big to play in the lower rungs made sure they stayed.
Madinda Ndlovu who has presided as coach was part of the 1983 side that had as of Game 12 won two and drawn two League matches in the Super League. That team was under Bobby Clark and many had written off.
The club had the previous year lost many stalwarts who included the late Tymon Mabaleka, Lawrence Phiri, Majuta Mpofu and Billy Sibanda.
"I remember vividly we had a new coach in Scot Bobby Clark. Some legends had retired as a block. Junior players Netsai Moyo, Willard Khumalo, Summer Ncube and Mercedes Sibanda were promoted to the first team and it took time for us to gel. At one time we were certain relegation candidates but things turned around and got together, we started hammering teams and finished strongly in seventh position.
"The fans were patient with the boys' progression and it is the same team that went on to win the Chibuku Trophy the following year," said Ndlovu.
The 1983 boys dominated Bosso up to 1990 winning the league title and several cup competitions in between with Alexander Maseko, Khumalo, Sibanda, Peter Nkomo and Madinda gracing the prestigious Soccer Star of the Year calendar.
Ndlovu believes in his charges and he says soon things will start happening. 
Highlanders finished in the top five of the Premiership.
Come 2019 the team is struggling for goals and wins. It is so bad that even at the club's fortress Barbourfields Stadium the team is yet to score a league game something rare. Peter Nkomo another club legend said in 1983 the club did not have ready cover for the retired legends. He said at times when a club loses players of good quality there is need to replace them with quality of equal measure.
The likes of Majuta Mpofu and Mabaleka were not readily replaced and there was a new coach adapting to a new culture.
"As players we held on and supporters kept on coming to our matches. We never stopped working hard as we had the self-belief that we would come right at some stage," said Nkomo.
Highlanders have of late found themselves backed by a volatile following. They have ceased to be good weather friends only cheering the boys in fits and drabs.
At times their violent nature disturbs their recovery when they are down.
Finances are scarce at the club and scatter brains that throw missiles cost the club a fortune that could be used to motivate players or pay part of the debts.
Many are of the opinion that board room issues and pre-season poor training after the players' strike are affecting the team and that they are just about to get it right.
Moyo whose retirement was forced by being posted to teach in rural Matabeleland emphasised that unity at the club would rescue Bosso.
He says today's fans must be as resolute as English fans who are very loyal even to their small village sides. They are prepared to sink with their teams and will never jump ship. Today Highlanders clash with Herentals with hopes high that indeed this afternoon is the turn around moment.
1983 Final log
          P     Pts 
Dynamos 26  36
Rio Tinto 26 36
Gweru United 26 36
Bata Power 26 36
Ziscosteel 26 36
Zimbabwe Saints 26 36
Highlanders 26 36
*As of game 12 Bosso had won two drawn two and lost eight to anchor the log