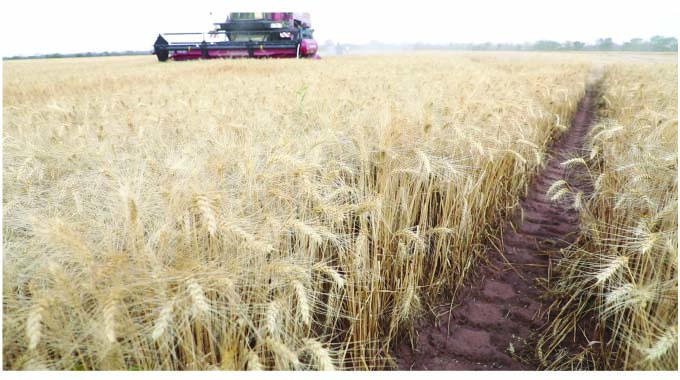 The Sunday News
Judith Phiri, Business Reporter 
THE Ministry of Land, Agriculture, Water, Fisheries and Rural Development has said it is rolling out training on wheat harvesting tips in all provinces as harvesting is expected to start at the end of the month. 
This comes at a time when the Government has availed 55 combine harvesters to be distributed across the country under the Cluster Winter Wheat Harvesting Programme aimed at improving production efficiency while also preparing for a swift shift to summer cropping. 
The cluster harvesting model entails having a combine harvester deployed to a particular area where it will be used before being shifted to a new site. 
The cumulative planted area for the 2023 winter wheat season is 90 192 hectares which is 100 percent of the target area of 90 000 hectares. As the country is targeting another wheat bumper harvest. In a weekly report, the Ministry's Agricultural Advisory and Rural Development Services (AARDS) chief director Professor Obert Jiri said the bulk of the crop was at soft dough stages and is in good condition. 
"Fifty seven percent of the crop is coming from A2, 13 percent A1 and 11 percent from large scale. This will ensure the attainment of the second wheat target of the 420 000 metric tonnes (MT) yield. Preparation for harvesting is underway with mechanisation taking the lead, working with wheat clusters," he said. 
He said harvesting of wheat was expected to start at the end of the month and training on wheat harvesting tips in all provinces was ongoing, while repair and maintenance of combine harvester was still needed.
Prof Jiri said cluster registration of expected date for harvesting in small-scale farmers and A1 farmers was ongoing and combine harvester service providers were to be distributed equitably.
Meanwhile, Prof Jiri said the Government has mobilised more than 13 000 tractors that will be deployed for the 2023/2024 summer cropping season, as the authorities pull out all the stops to secure yet another bumper grain harvest. This comes as the distribution of inputs to farmers is ongoing and has been intensified to ensure they reach farmers before the onset of the rains.
 "For the summer season preparedness for Pfumvudza/Intwasa inputs update, 23 271MT tonnes of basal fertiliser has delivered against a target of 167 022MT. Top dressing fertiliser that has been delivered is 9 393MT against a target of 167 022MT. 174MT of maize seed has been delivered against a target of 15 569MT with 819MT brought forward."
Prof Jiri said for sorghum seed's target was 15 370MT against a 24MT delivered and 255MT brought forward. 
In terms of Pfumvudza/Intwasa summer land preparation, 28 538 hectares have been prepared as 2 539 households have limed and 14 437 households have gathered mulch. Agronomists have said crop selection will be critical as predictions have indicated that El Nino effects were looming.