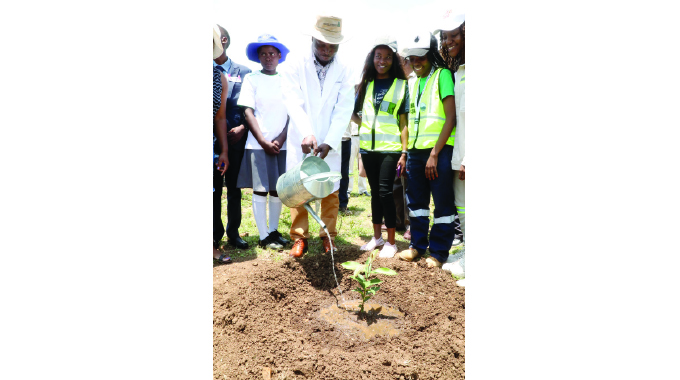 The Sunday News
Judith Phiri and Bruce Ndlovu, Sunday News Reporters 
THE Government has called on communities in the country to take stewardship of their local environment and ensure that areas under their care are reforested to restore degraded ecosystems, saying doing so will improve their economic prospects and livelihoods.
In a speech read on her behalf by Mrs Boetsoarelo Noko — a director in the Minister of Provincial Affairs and Devolution's office at Gampu Primary School on the occasion to mark the National Tree Planting Day yesterday, Bulawayo Provincial Affairs and Devolution Minister Judith Ncube encouraged parents to bequeath to their children a culture of tree planting and conservation. 
"Let us pass on to our children the culture of tree planting and forest conservation so that they embrace it as they grow and also pass it on to future generations. The tree is valuable for its many uses and services ranging from food, fodder, medicines, economic uses and ecological services," she said. 
Minister Ncube encouraged the planting of more indigenous tree species, as they were naturally adapted to the environment. This year's tree of focus is the Waterberry, which is also known as umdoni or imiswi in iSiNdebele and mukute in ChiShona. 
"We need to facilitate the restoration of degraded and destroyed ecosystems, along with fostering efforts to combat climate change, safeguard biodiversity, food security and water supply. Our commitment to ecosystems restoration will not succeed if we do not acknowledge that trees and forests are a critical component of terrestrial ecosystems. It is important to establish, conserve and protect these forest resources that provide a wide array of ecosystem goods and services," she said.
Minister Ncube said trees and forests also create economic opportunities, as fruits harvested from orchards could be sold, thus providing income, especially for young people. 
"Vocational training for youths interested in green jobs is also a great way to develop economic opportunities from trees."
A similar event was also held at Madlelenyoni Secondary School in Umguza District, where Provincial Affairs and Devolution Minister for Matabeleland North Richard Moyo, said the theme for this year's NPTD dovetailed with the economic vision of the Second Republic. 
"We commemorate National Tree Planting Day 2022 under the theme: "Trees and Forests for Ecosystem Restoration and Improved Livelihoods." This is a running theme for the years 2021-2025 in line with the National Development Strategy 1 (NDS 1) medium-term plan aimed at realising Vision 2030 while also addressing the global aspirations of the Sustainable Development Goals (SDGs).
"Environmental protection is a developmental concern and as such we need to put in place strategies to ensure a healthy, natural environment. This theme also reminds us that trees and forests remain an essential natural resource, which adds value to our lives in different ways. Our communities and industries derive their livelihoods from trees and forests, they provide basic food such as fruits, honey, mushrooms and medicines. Trees control soil erosion, provide shade from the scotching sun, clean the air by removing pollutants and provide oxygen that we breathe and are browsed by our livestock and wild animals," he said. 
Minister Moyo encouraged citizens of Matabeleland to complement the efforts of the Government, which this year has been hard at work implementing resolution taken at United Nations Climate Change Conference, which took place in Glasgow, Scotland, last year. 
"The year 2022 has seen Government putting into action agreements made at the Climate Change 26 Conference of Parties (COP 26) where leaders from 141 countries including Zimbabwe signed the Glasgow Leaders Declaration on Forests and Land Use. This declaration identified the critical and interdependent roles of forests of all yes, biodiversity and sustainable land use in enabling the world to meet its sustainable development goals; to help achieve a balance between anthropogenic greenhouse gas emissions and removal by sinks; to adapt to climate change; and to maintain and/or enhance other ecosystem services.
"Zimbabwe is currently in the United Nations proclaimed Decade on Ecosystem Restoration, which runs from 2021 to 2030, as a province we should strive to continue to be part of the effort to promote the environmental goals," he said.
Minister Moyo said as Zimbabwe was feeling the devastating effects of climate change, the country was determined to redouble its efforts in the conservation of forests, while renewing those that had been depleted through irresponsible environmental practices. 
"Zimbabwe has not been spared from the devastating effects and impact of Climate change on livelihoods especially as it pertains to food security. Tree planting is therefore a strategy to achieve both the enhancement of "Life on Land" as expounded through Sustainable Development Goal number 15, while food security and nutrition remains one of the main thrusts of the Government of Zimbabwe, addressing Sustainable Development Goal number 2 that commits to "Zero Hunger," thus ensuring improved livelihoods for local communities. The government is committed to renewed efforts to enhance the conservation of forests and other terrestrial ecosystems and accelerate their restoration. The fight against climate change, delivering resilient and inclusive growth, and halting and reversing forest loss and land degradation requires collaborative efforts," he said.
Zimbabwe has sat aside the first Saturday of every December as the National Tree Planting Day.