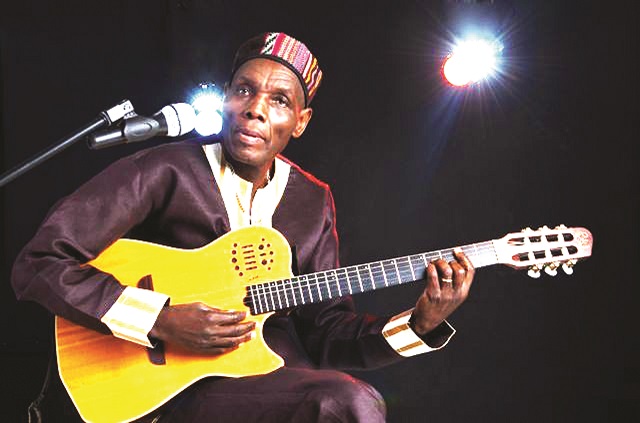 The Sunday News
Bruce Ndlovu, Sunday Life Correspondent
THE mere mention that Hany'ga (Concern) was to be Oliver Mtukudzi's 67th album, released at the ripe old age of 65, saw many raise their eyebrows as they wondered how the superstar had got the stamina to come up with such an impressive haul of music projects.
It seems almost beyond human ability that one man can have albums that outnumber even the number of years that he has been alive. It also takes superhuman effort to somehow convince people to give you an ear when they have heard your story before in 64 previous albums.
Yet somehow Oliver Tuku Mtukudzi, the decorated elder statesman of the Zimbabwean music scene, has managed to pull off that seemingly impossible task.
As his 67th album hit the shelves, he is still as relevant as he was decades ago when he stepped on the scene as a fresh faced, guitar wielding prodigy.
Ever since it got its first taste of Tuku music, Zimbabweans have been going back for more helpings from the jazz maestro. This time, over a year since his last album release, the musician has decided to serve a plateful of laidback, lyrically rich tunes.
Every Tuku album release is greeted with a flutter of excitement from music lovers and the reception of Hany'ga has been no different. The way the album has been released is perhaps telling of Tuku's standing and the position that he believes he occupies on the local music scene.
Instead of an extravagant album launch, something that has become synonymous with big name artistes in the country, Tuku held a private listening session, giving a few selected ears the pleasure of sampling his latest. This was in sharp contrast with the album rollouts of two young upstarts that are considered his staunchest rivals in the local music scene, Winky D and Jah Prayzah.
The launch perhaps, can thus be seen as a declaration by Tuku that, although he might be running the same race with the two young pretenders to his throne, he's doing so at his own pace. While they sprint for the finish line, he is jogging steadily, unbothered on a separate lane.
"It's an album I wrote last year after I realised that the world keeps getting tangled up in 'unnecessary' problems. All because we are focused on competing and being better than the next person. In so doing we keep stepping on each other's toes but that is not how God created us. God meant for us to compliment each other, that's why he didn't duplicate talent," he said in an interview.
The same could be said of Hany'ga as an album. It is miles apart from the music released by his closest rivals.
Firstly, it is important to acknowledge that Tuku does not make bad albums or terrible songs anymore. He's a now the seasoned chef who has simply spent too much time in the kitchen. Band members might change, drummers will come and go and guitarists might chose to graze where the grass is rumoured to be greener, but Tuku plays on. The pots might change but the chef's recipes do not.
Hany'ga finds Tuku at his honest and touching best. There's no desperate search for hits here. In that sense Tuku has become the wizened old head of African lore, dispensing wisdom we might not want to but need to hear. He is now the wise elder, pulling aside a wayward youngster aside in the midst of an adrenaline filled party for a quiet word of advice. He is now a master teacher, determined to use his music for positive change.
"Culturally, you don't get to sing a song when you have nothing to say. That's how it is supposed to be. You lose the purpose of a song if it says nothing, you must have something to share with the people who are listening. A song is what you are talking about, adding instrumentation, is adding flavour," he said.
One distinctive part of the album is the dominance of the saxophone throughout. The horn runs feels like distinctive thread running through the entirety of the album, weaving a beautiful yet sorrowful pattern through the ten track effort.
Songs like Shiringinya find Tuku is at his playful best, while Matope, dominated again by the saxophone, is bound to be a new favourite on festival stages. On Shiringinya in particular, Tuku sounds like a playful comedian moonlighting, expertly, as a musician. Such is the ease with which he seems to pluck out melodies seemingly from thin air. He talks about and analyses ordinary life in a way that is easy to digest.
However, one thing that critics will point out is that some of the songs here will remind them of some of Tuku's past efforts. This is when one realising that although releasing 67 albums is an undoubted blessing, it can be a curse as well.
For example, despite the intrusion of a mournful horn on Haasati Aziva one cannot help but think of Neria when listening to the song which carries a powerful message about child marriages. Clearly, there's a fine line between inspiration and repetition.
The songs would be fine if there were made by any other artiste but Mtukudzi has to compete with older, more innovative versions of himself. This is where Tuku's problem lies. He is a man who, at least in the ears of the listeners, has to be great to exorcise the ghost of his former self.
The past versions of Mtukudzi are still too alive in our minds for us to accommodate any lesser versions of him. As great as he is, it is perhaps asking a little too much to seek innovation from a 65 year-old that has released 67 albums.