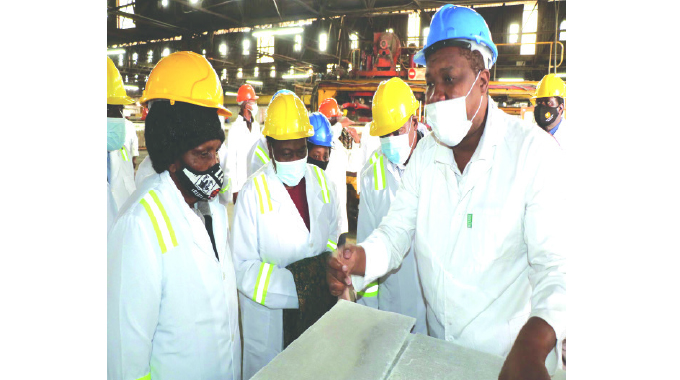 The Sunday News
Judith Phiri, Business Reporter
ZIMBABWE Stock Exchange listed concern and one of the biggest manufacturers of tiles and roofing materials in the country, Turnall Holdings is working on reinvesting and expanding their products to new technologically advanced ones such as glass (fibre) reinforced piping and solar systems roofing.
In an interview on the sidelines of a tour of the Turnall Bulawayo plant by the Minister of State for Bulawayo Provincial Affairs and Devolution, Judith Ncube together with the Joint Operations Command (Joc) on Friday, the general manager (operations), Mr Titch Makova said the firm was working on reinvesting into developing technologically advanced products.
"We are looking at reinvesting in the pipe plant to do glass reinforced piping which is a much more advanced technology in piping. These types of pipes will be composite material pipes consisting of a polymer matrix that is reinforced with glass fibres. They have very high corrosion resistance ability and thus used widely for low-temperature corrosion-resistant applications," he said.
Turnall Holdings which is operating at 100 percent capacity utilisation, controls more than 95 percent of the market in the asbestos sector in the country. Mr Makova said with the new pipes they were anticipating to attract new markets. He said they were in the process of procuring more equipment so that they could expand their production line, in turn grow their export markets.
"Once we acquire more equipment to increase our production capacity, we will then be able to expand our export markets. Currently we are exporting to South Africa, Mozambique, Zambia, Botswana and Namibia, and we have plans to go beyond that," he said.
Mr Makova said Turnall was in support of local companies with most of their raw materials sourced locally from companies such as PPC, Lafarge and Shabani-Mashava Mine among others, with the remainder being imported. He said their products were the best type of low-cost roofing.
Turnall Holdings sales and marketing manager Ms Charity Chanetsa said they were appealing to the Government to consider them for national housing projects as they had the capacity to deliver.
"We have been in existence for more than 75 years and as a local listed company we have got the capacity to deliver on any project, so we want Government to understand that we are the right organisation for national housing projects. Turnall Holdings can do housing using 70 percent of its products," said Ms Chanetsa.
She said with the organisation's two plants operating with about 480 workers, they had the capacity to double and create employment if awarded big national projects.
Ms Chanetsa said: "Our asbestos have got more than a 50-year life span, we make different types to cater for all people's needs. Some are synthetically manufactured and have been re-engineered using different types of synthetic asbestos fibres just for variety.
We are also working towards designing roofing that works with solar systems in such a manner that the roof should be able to give power as well. So, there are a lot of things that Turnall is working towards, but we also need Government to realise that we have capacity and we can actually do it."
Minister Ncube said she was impressed with the work being done at the plant and encouraged people to buy and support local companies.
"Together with the JOC members we want to appreciate what is being done here and it is an eye opener to see how much they are committed to their own country. Some people do not know that some of these products are exported to either Botswana or South Africa, they would then travel to those countries to buy these products which are produced here. We need to discover more of ourselves as people of Bulawayo and as people of Zimbabwe by supporting local companies," she said.
Reserve Bank of Zimbabwe (RBZ) Bulawayo regional office deputy director Mr Kasanda Sibanda said the bank will continue supporting the productive sector industry in a number of ways.
"The current support which is very apparent was the introduction of the foreign exchange auction system, in that particular system industry, corporates, SMEs have been given access to get foreign currency for productive purposes and also for importing raw materials. For SMEs we do have a $500 million facility to assist them. There are those which were affected by the Covid-19 pandemic and we are encouraging them to utilise the facility," he said.