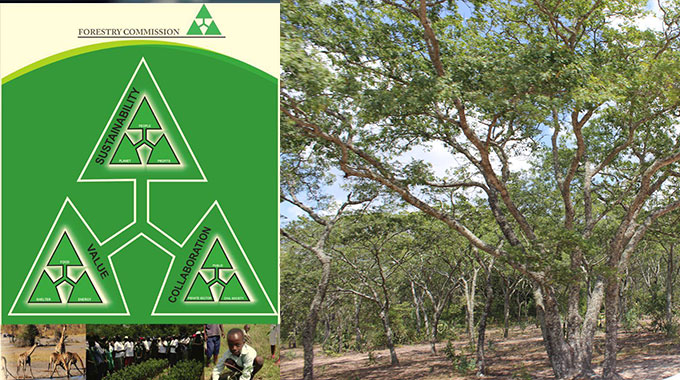 The Sunday News
Chrispen Gumunyu, Business Reporter
THE Forestry Commission Zimbabwe has received equipment worth US$25 000 from United Nations Development Programme (UNDP) for the purpose of supporting national forest monitoring programmes.
Climate Change Management Department director Mr Wellington Zhakata said the forestry inventory equipment donated by UNDP in partnership with the Russian Trust Fund will go a long way towards assisting the Forestry Commission to carry out data collection and sustainably managing the environment.
Climate Change Management Department is a unit under the Ministry of Lands, Agriculture, Water, Climate and Rural Resettlement.
"The US$25 000 equipment includes office hardware such as computers, laptops,  tablets and state-of-the-art field measurement utilities and accessories, which comes at an opportune time when Zimbabwe is in the process of implementing a raft of strategies to combat the effects of climate change which is negatively impacting on livelihoods and food security especially in rural communities," said Mr Zhakata. 
He said the equipment comes at a time when the country was facing challenges to mobilise resources to implement various forest management programmes.
"The forestry sector is faced with a number of challenges that are currently affecting the capacity of state authorities to implement programmes aimed at ensuring that forest resources are sustainably managed. Forestry Commission is mandated to carry out national forest inventories and satellite based land monitoring activities, which are critical in helping us generate information required in compliance with several multilateral agreements," said Mr Zhakata.
He said the equipment would also enable the Forestry Commission to quantify the country's forestry stocking.
"The Forestry Commission will now be able to quantify forestry reference level and also assist them to come up with proper definitions of forests, which have not been properly explored because each and every country has its own definition of a forest such as in Botswana where they might have shrubs, which may have a certain density they can be considered to be a forest because it is a desert country," said Mr Zhakata.
He said there was a need for concerted efforts from all stakeholders to guard against deforestation as it has adverse effects on climate and environment conditions. 
"The Forestry Commission will require additional support from both Government and the private sector to ensure enforcement of the forest laws across the country, including supporting local farmers with their tree planting and care programmes. Zimbabwe is one of the top 10 countries with very high deforestation rate previously estimated at about 300 000 hectares per annum . . . ," said Mr Zhakata.
Forestry Commission information and communications manager Ms Violet Makoto confirmed the donation further stating that it has played a pivotal role in capacitating the organisation.
"The donation is a welcome move as it will boost our capacity and enable us to send more people into the forests for research. This will also go a long way in increasing the knowledge about our forests because we can't measure what we do not know," she said. 
@chrispen_gee