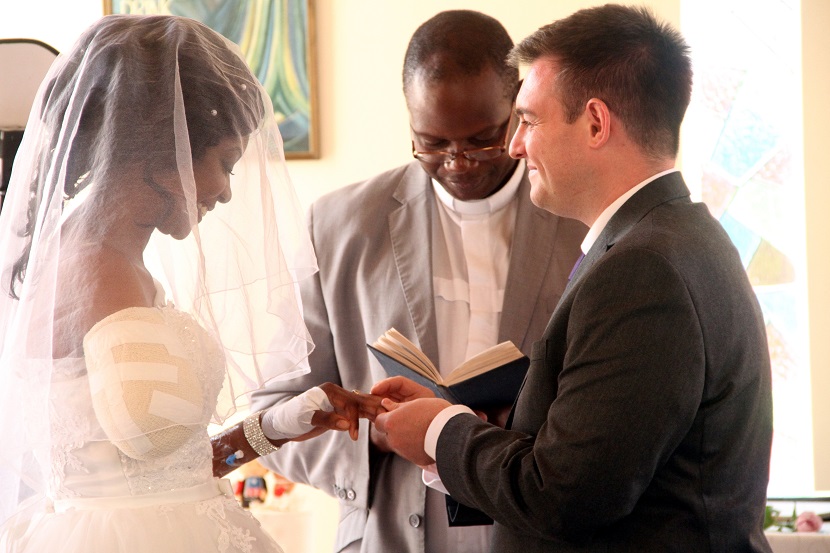 The Sunday News
Peter Matika, Senior Reporter
LOVE conquers all, so goes the dog eared cliché of improbable romantic scenarios encountered in romantic novels.
Borrowing a typical chapter from a Mills and Boons novel is a former Zimbabwean tennis player Miss Zanele Ndlovu who has lived to see another day, following a crocodile attack, where she lost her right arm, while canoeing in Victoria Falls last week.
Yesterday she tied the knot to become Zanele Ndlovu-Fox.
Zanele tied the knot to the love of her life Mr Jamie Fox, at a beautifully organised, heart-warming ceremony at Mater Dei Hospital in Bulawayo where she has been recuperating after losing her right arm to the crocodile. She could not allow the setback of the attack to affect her plans to wed her husband.
Mrs Ndlovu-Fox' arm, according to reports was ripped off by a crocodile while canoeing with her husband in Victoria Falls.
The crocodile is said to have attacked their vessel, which is said to be an inflatable boat, before attacking her.
"They were canoeing in the upper Zambezi and that is where most of that activity takes place. The boats used in that activity are inflatable and the crocodile attacked their vessel, in the process deflating it before attacking her. During the attack the crocodile gripped her arm and ripped it off while her partner made frantic efforts to save her. They are lucky to be alive though," said a family member who requested anonymity.
The lovers were joined in holy matrimony in a rather unusual phenomenon, through the benevolence of the hospital at the institution's chapel.
"This has never happened before and it is quite exciting. You can tell people are all excited about this," said a staff member from the hospital.
Sunday News witnessed the events leading to the wedding, where the hospital was abuzz and rather a hive of activity, with bridesmaids and close family members trying to make the lovers' day a unique and special one. The wedding was attended by close family members and friends. Although the family was shying away from the media they managed to create a special day for the two to make it a memorable one. Sunday News sneaked into the venue and witnessed the event although the news crew could not be allowed to talk to the newly weds. Mrs Ndlovu-Fox was bandaged on the arm that was bitten but from the happiness she showed as her husband put the ring on her finger, it was just unbelievable that her other part was in pain.