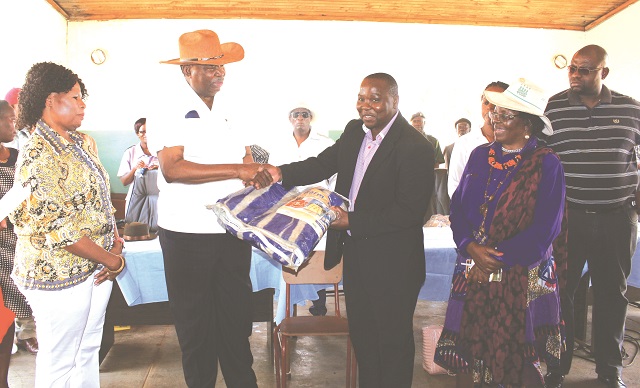 The Sunday News
Robin Muchetu, Senior Reporter
VICE-PRESIDENT Phelekezela Mphoko and his family have donated a consignment of 10 beds and 100 blankets to Nkayi District Hospital in Matabeleland North.
The Mphoko family who run Choppies supermarkets in the country said the donation was part of their business's corporate social responsibility programme.
"We are here to give back to the community which is in our midst. It is our responsibility to see that people are assisted where there is a need," said VP Mphoko yesterday while handing over the material at the hospital.
He said businesspeople should be able to give back to the communities that support their line of work.
"You the community are the ones that buy from the various shops that are around. So businesspeople should remove a little from those profits and give back to the community as part of corporate social responsibility," he said.
VP Mphoko said the beneficiaries of the donations should safeguard them jealously and said blankets should not be sold by greedy people to make money. Recently the VP repaired the hospital's washing machines and donated a new one worth $13 000.  He also donated glucometers that are used to check glucose levels of people with diabetes.
"These beds and blankets know no politics. No matter where one is politically aligned to they will benefit from them. They are for the people of Nkayi," he said.
He said the people in Nkayi North were lucky to have the Minister Sithembiso Nyoni (Small and Medium Enterprises and Co-operative Development) as their representative.
"You are fortunate that you have Cde Sithembiso Nyoni here, she assists you with various projects that aid you in your day-to-day lives. You should be doing all sorts of projects because you have the right person here at your disposal," said Vice-President Mphoko.
Minister Nyoni said VP Mphoko and his family were leading by example by donating to the people of Nkayi. She said VP Mphoko was assisting the community in various ways as he also drilled a borehole at Gwelutshena that is benefiting the community. The VP was accompanied by his wife Laurinda, son and Choppies country director Siqokoqela and his wife.
The Vice-President also seized the opportunity to once again blast management at United Bulawayo Hospitals (UBH) accusing them of being corrupt which was drawing back development and provision of quality health to the nation.
"I was happy to see the pharmacy here, things are in order. It is Government policy that if people are attended to at a health institution they should pay something. The hospitals use this fund to buy things like iodine, cotton wool and other drugs. Here in Nkayi I have seen that it is happening, the fund is serving its purpose. But in some institutions like UBH, officials lie and say the money is being taken to Harare yet there is nothing like that," he said.
He continued. "They do this so as to channel it (money) to their pockets. These officials at UBH are big thieves that are not embarrassed of what they do. They steal from the sick which is not fair. They will not succeed after all, such money will never bring wealth to these individuals."
He applauded the administrators at Nkayi District Hospital for being trustworthy and transparent. VP Mphoko said President Mugabe said a few days ago that thieves will not prosper. Last week VP Mpoko said all officials from Bulawayo's two central hospitals Mpilo and UBH must be investigated on allegations of failing to provide basic sundries. Some hospital officials are also accused of running businesses that are similar to their employers which he said is illegal. UBH has a private pharmacy that is run at the hospital but allegations are that the pharmacy is a project of the institution's top officials.