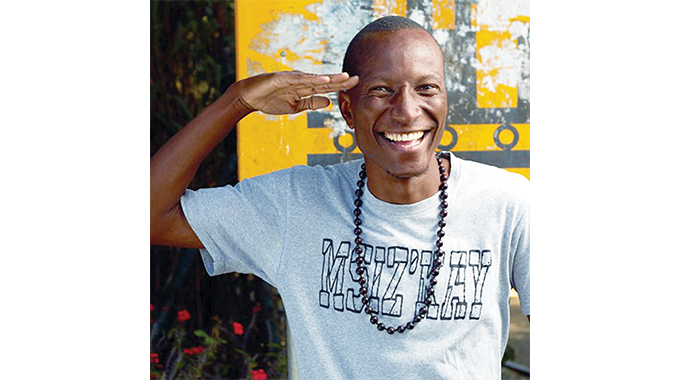 The Sunday News
Bruce Ndlovu, Sunday Life Reporter
THE reigning ROIL Bulawayo Arts Awards (RBAAs) Outstanding Male Artiste of the year, Msiz'kay says that the general public has stereotyped musicians as failures who only chose the arts after coming up short in other fields.
For so long, artistes have been largely maligned in a society where, especially for school-going children, arts are seen as distractive pastime that takes them away from the books, seen by many parents as a gateway to true lasting success.
Despite being a holder of a BCom degree in Accounting from the Walter Sisulu University in South Africa, Msiz'kay is one of those that have regular brushes with this stereotype. Such cultural perceptions, he told Sunday Life, were part of what was holding the arts back.
"A lot of the time, when people see artistes, they look and think of them as people that have tried a lot of other things and failed. So, they look at the arts and think this is easy. That is a challenge that a lot of artistes' face. A lot of people look at them as failures from the start. I do have a BCom degree in Accounting which is something that I was lucky to get to do at some point in my life. This was before I started pursuing music seriously," he said.
Despite being one of the brightest lights in a sometimes-bleak Bulawayo music scene, Msiz'kay said he had also faced resistance and skepticism from family members who would prefer to see him crunching numbers rather than spending time in front of a microphone.
"At first there was a lot of resistance mostly from parents and the family. They would prefer that Sizalobuhle becomes an accountant rather than he turns into Msiz'kay.  This is because they don't understand the music industry and what it entails," he said.
With a lot of musicians speaking out on their struggles within the Bulawayo music industry, Msiz'kay said the only way that artistes could feel the support they deserved was for the music industry structures to be revolutionised.
"What me might term support differs from person to person. Different people support you in their own different ways. For the most part a lot of people that are in the sector feel unsupported, not necessarily by the masses because sometimes the music does not even reach the people that we want to reach. Mostly we feel unsupported by the structures that are supposed to take our music where it's supposed to be.
"If we could go about changing the structures things would change. I'm talking about how festivals book the artistes that are to perform or how radios select the music that will be played. If we can fix the structures then we can fix the industry," he said.
As one of those that have found a relative measure of success in the music industry, Msiz'kay said an authentic sound is what had propelled him to the top.
"What I did was set out to make a sound that is uniquely African, more specifically a sound that is uniquely Bulawayo. I want to make something that when people hear it, they say that is Bulawayo. That's what set me apart from a lot of people" he said.
Despite his prowess with the pen, Msiz'kay said he surprised himself with some of the songs that he came up with.
"I like concept-based music so whether it starts with an instrumental or a tune you stick with the concept.
Sometimes you come up with a tune and say this tune works and you come up with the lyrics. No songs are ever done the same way twice. I surprise even myself sometimes," he said.
With the RBAAs once again on the horizon, Msiz'kay said he still remembered his moment of triumph last year, as it came at a time when he needed validation for his work and talent.     He won the ROIL BAA Male Artiste of the Year award.
"That was an amazing moment for me, for my career and for the brand Msiz'kay. At the same time, it also brought on a lot of pressure. I was at a point where I was saying I have been doing this for a while, and it felt like a great way to celebrate me and the work that I had been putting out to entertain the people of Bulawayo and the world. It meant a lot to me," he said.