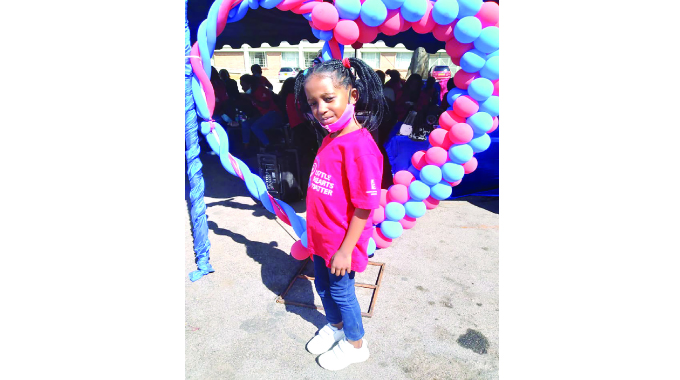 The Sunday News
Robin Muchetu, Senior Reporter
YOUNG Mikayla Sibanda (8) from Pumula South in Bulawayo looks like any other Grade 3 pupil, but she has two holes in her heart that need surgery to be corrected, but the life changing procedures are not coming easy for her and her parents.
According to medical reports, she has patent ductus arteriosus (PDA) and small secondum atrial septal defect (ASD), basically two holes in her heart that need to be corrected in order for her to lead a normal life.
Her condition is characterised by severe and frequent illness as she is affected by dust and is prone to infection easily. Sunday News spoke to Mikayla's mother, Ms Sicelo Malisa who was at pains to explain the condition and the challenges she faces.
"She was born in 2014 and soon after birth I noticed her heart was pumping fast and I took her to Mpilo Central Hospital and she was assessed as they said she had a murmur in her heart, they were hearing sounds that were not typical of a healthy heart.
She was then taken for an echocardiogram to ascertain the problem," she said. An echocardiogram is an ultrasound of the heart which assesses the overall function of the heart, determines the presence of heart diseases and also evaluates the effectiveness of medical or surgical treatments of the heart.
"The ECHO test revealed she had two holes and she started getting medication. She got better and the holes were said to have closed but in 2017 it started again and the murmur had returned," she said. The challenges she faced have been many in seeking treatment.
"I have faced many challenges in seeking treatment for Mikayla. The machinery was sometimes down and there was no other place I could afford to access the tests.
So many times, the machines would be down, or they would say they are fully booked with other patients so at times we would stay for four months without getting the test and the child would be deteriorating at home. So, it took me a lot of time to access it.
The tablets are too expensive too and it is a must that the child must have the drugs always," she said. She had to go to Parirenyatwa Group of Hospitals in Harare where the operations were done.
"I went to Parirenyatwa at one time when there were doctors who had come to screen children that they would then take for heart operations but unfortunately Mikayla was not part of the list.
Parirenyatwa said they were only able to do the PDA procedure and the other they were not capacitated to and I was referred to India and South Africa," she said.
Mikayla, according to her mother, lives a hectic life with simple things like dust having a grave impact on her health.
"Dust is her worst enemy, she has attended less than five days of schooling since the term commenced, she easily gets a cough and this disturbs the heart which starts to pump rather fast, she changes skin and eye colour.
Wherever she is it must be dust free and it was my wish that she had the opportunity to be in a place where there is no dust particularly at school.
She is also a picky eater and she does not eat many foods, she feeds on mashed potatoes, green salads, pure juices and chicken. It is even difficult to pack a lunch tin for her as she does not take much food," she said.
However, Ms Malisa said she is hopeful of getting assistance as she will be visiting Mutoko on Wednesday as she was invited for assessment for further treatment in Italy.
"We are going on Wednesday to All Souls Hospital Mutoko, we have an appointment on Thursday. I am hoping to get assistance so that the Italian doctors who will see her can operate on the two holes at one go, unlike having to do one procedure at Parirenyatwa.
I hope she will be selected for the operations as last time she did not manage to be selected as the doctors only take a specific number of children," she said.
Annually, Italian doctors visit All Souls Hospital to identify children most at risk that need the life changing heart surgeries and sponsor them to Italy for treatment.
Ms Malisa, a school teacher by profession and her husband Mr Remembrance Sibanda, a lecturer at Bulawayo Polytechnic, are struggling to raise enough money needed for their daughter.
Mr Sibanda said it took him five years to convince his wife's employer to transfer her from Matabeleland North Province to Bulawayo to be near hospitals.
"My wife was teaching in Ntabazinduna and we always were on the road bringing her and Mikalya to Bulawayo for treatment as she was always sick.
So, we tried to seek an audience with her employers to move her from there to Bulawayo so that she could be near health facilities but it took five years to be granted as we were always turned down.
"I used to drive them to Ntabazinduna early on Mondays and at times I would be called back the next day after she had fallen sick to bring them to town as they could not use public transport because of the fear of infections.
My wife could not also spend time in Bulawayo as she had to be at work so all the time, she was with an ailing child away from hospitals," he lamented.
Covid-19 also affected the family as Mr Sibanda and another relative resident at their home were forced to stop going to work as there was fear they could bring the infection home to Mikayla and the doctors advised them to stay home.
Ms Tendai Moyo an advocate for children with cardiac problems in Zimbabwe and founder of Brave Little Hearts has been instrumental in raising awareness on the plight of affected children despite the several challenges
"As an Organisation we have raised awareness to the highest levels despite many spanners thrown in our way from lack of support from various doors that we have knocked on, we have, however, united the major stakeholders for solutions, experts' organisations and NGOs."
The organisation notes that a shocking 4 450 lives are lost to cardiac problems annually but early access to medication and life saving operations can save lives.
The organisation is advocating for early diagnosis of children through mass screening, access to specialist care and medicines among other things.
"We can only hope that our concerns are heard and will be addressed with the urgency they deserve as unnecessary lives are lost in the name of protocols and bureaucracy." Ms Moyo said many children who are on medication are defaulting because of the high costs and they also lack nutritional support as their conditions require that they get adequate dietary requirements.
Parirenyatwa Group of Hospitals in Harare where open heart surgeries were done before, has since stopped with the last surgery having been done in 2017. – @NyembeziMu