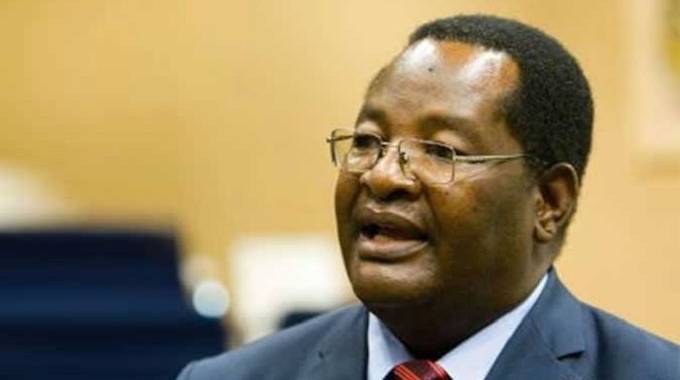 The Sunday News
TODAY we conclude our interview with former ZPRA guerilla and now Zanu-PF Secretary for Administration, Dr Obert Moses Mpofu pseudo name Cde Mzandeki. In a series of articles that we have published in the past editions, Dr Mpofu spoke about his initiation into nationalist politics while growing up in Jambezi in Hwange District, Matabeleland North Province before crossing into Zambia in 1967 at the age of 16 to join the armed struggle. He later received military training for nine months at the famous Morogoro Camp in Tanzania after which he was deployed into a ZPRA reconnaissance unit that operated along the Zambezi River and would on numerous occasions make incursions into Rhodesia. 
In the last part of the interview today, with our Assistant Editor Mkhululi Sibanda (MS) Dr Mpofu talks about his businesses and argues that he has been very ethical in his operations which has placed him as one of the top entrepreneurs in the country. Below are excerpts of the interview. Read on . . .
MS: You were talking about your time at Tregers where you said you played a prominent role in Zanu-PF acquiring those two entities. What about personal properties, how did you start your businesses?
Dr Mpofu: I need to put things into perspective. At personal level things started moving for me when I was at Tregers. At that time the Tregers Group employed more than 8 000 workers and I had brought new ideas to the company which I had found not performing so well. As I said, when we started introducing new products like the plastic bags, with our first order being four million bags, the company bosses were very excited. Abafana bakoTregers, Morris and Allan were so happy that they rewarded me with a house in the affluent suburb of Kumalo, a Benz and a pick-up iB2200 truck. This was in recognition of what I had done for the company. However, later on things turned sour as some within the party wanted me gone from the company. Things came to a head when I blew the whistle on the activities of some party officials with regards to what then became known as the Willowgate Scandal. The company boss, Eric Davies, who was very disappointed with the turn of events, then told me that they had been directed by Cde Enos Nkala to get rid of me. He gave me an envelope with a cheque. I looked at the amount which was a lot of money but I threw it back at him. Then there was a labour dispute. We took the issue further with my lawyer who at that time was Advocate Mordecai Mahlangu and sought recourse from the Labour guys where we won because there was evidence that I had been performing well. The company was ordered to reinstate me immediately but Adv Mahlangu then advised me that since there was bad blood already we should part mutually with the company. Mahlangu then mentioned the figure and I said double that amount, he said "aaah it's a lot, let's be reasonable" and I said we could not be reasonable with people who were being unreasonable. I remember he sent our demands at 10am and by 2pm the company came back to us and had given in to our demands. They had to pay. That is how I started my life and I have never looked back. 
MS: So that's how you started your business life? 
Dr Mpofu: Yes, that's why I always ask people ukuthi when have I ever been poor. That golden handshake changed my life. I then started my businesses. It was then in 1987 that I bought Green Haven from Dumiso Dabengwa who had just come out of jail. Green Haven had been operating under Anele Private Limited. When Dabengwa offered me the premises, there was not much there, kwakungela lutho, it was a bush. 
MS: You are a businessman with a number of properties around but people always talk about York House. When did you buy this building? 
Dr Mpofu: I am a politician as well as a businessman. I bought this building (York House) in 1998 (showing the agreement of sale). Abantu think I bought this building senginguMinister of Mines. I paid up the mortgage in 2002 as you can see, this building I got it for 30 million dollars. When I bought this building (York House) Old Mutual was demutualising and here in Bulawayo they had put on sale not only York House but others such as Trust House, Old Mutual Centre, and Kirrie Building. I was told about the sale of these buildings by Saviour Kasukuwere and I applied for a loan from CABS and I got it. That is the money that I used to buy York House. However, at that time I was already running businesses oGreen Haven, a chain of butcheries under the trade name Regen Butcheries and all. I also bought Corner Hardware that is Number 51 Fife Street from the late wrestler, Max Kutsanzira. I had already bought a farm, Auchenpeg Farm in Umguza District which people are always talking about it when they are lying about me. That farm was never part of the land reform programme. I sold it to the late local bus operator, Golden Ndlovu when I moved to rent a piece of land at the Cold Storage Company (CSC) Winter Block.
I am told the farm is now under opposition politician, Gift Banda who is said to have got it from Golden Ndlovu's family. The only farm that I got is an animal farm through a lease, leyana eseHwange eMatesti. It's a 25-year lease. As for the CSC we were renting in different parts of Winter Block labomdala uMsika, John Nkomo and Justice Maphios Cheda. But I have moved out of Winter Block after selling my livestock. So those were not my farms. The only farm I have is Esidakeni in terms of agricultural activities as the other one I am leasing is a conservancy. At the conservancy I am not enjoying the benefits as nobody is hunting in my farm because it's under sanctions. That's why President Mnangagwa said I should get a farm, wasetshela uMinister (of Agriculture)  ukuthi give Mpofu a farm. Before I was doing all my cropping at my homestead in Umguza which is a communal area ngekhaya khonaphana. But I was farming more than all the farmers around, I cleared over 30 hectares and will get more than 100 tonnes of wheat and maize. We are also doing chickens at our homestead. The piece of land I got at Esidakeni is 145 hectares, yiyo ehlanyisa uMalunga (Siphosami). 
MS: Going back to your journey as a freedom fighter, you were one of the comrades who started the war veterans' association. May you please tell us how that happened?
Dr Mpofu: I got into the war veterans association when one day then President Mugabe called me to Harare together with Cde David Chiweshe who was a personnel manager at Cotton Printers here in Bulawayo. Cde Chiweshe was also a war veteran. Before that in 1986 I had been appointed to the Defence Service Commission by the President while in 1987 I was appointed a non-constituency Member of Parliament. Coming back to when we were summoned to Harare, the President sent a car to come and pick us up loDavid Chiweshe. Before that there was a Government committee that was put in place to look into the plight of war veterans with Dabengwa and Solomon Mujuru heading it. I remember it was on a Saturday when we were hosted at State House, safica kulamanye ama-comrades from the Zanla side. When we got there the President said a committee yaboDabengwa laboMujuru had been set up but they had not done anything for the welfare of the war veterans. They have not even met them. So President Mugabe said to me "Mpofu I want you to mobilise ama comrades from the ZPRA side" while from the other side that is Zanla the task was given to comrades like Webster Shamu and now Supreme Court judge, Justice Charles Hungwe. We were told to unite so that we have an association that can easily be sustained and supported and that is how the current Zimbabwe National Liberation War Veterans Association (ZNLWA) was born. President Mugabe said, "Mpofu you are taking Matabeleland but we need to include uChiweshe because there are some Zanla cadres there. So we were given that mandate by the then President to go and organise war veterans into an association. That was meant to make it easy for the Government to support the movement. 
MS: Then when you came down to the ground how was that taken by the war veterans? 
Dr Mpofu: At first there was some resistance from the ZPRA side as some were not pleased that I had joined Zanu, but I pleaded with them, convinced them that President Mugabe wanted to take care of  former freedom fighters. At the end of the day yabuya i-gang enengi babuya oMlalazi, Nicholas Nkomo who is now a Senator for Matabeleland South and had been a senior field commander during the war and oJohn Gazi, one guy owayehlanya kakhulu. But Gazi we get along well. We chose the provincial chairpersons for Bulawayo and Matabeleland North, mina I took Mat North. As I was already a Member of Parliament I then decided to pass on the position to Cde Headman Moyo who was then my secretary. So some of us were instrumental in the formation of the war veterans' association which saw Justice Hungwe becoming the first chairperson. Later on came Dr Chenjerai Hunzvi and the other comrades came in and the freedom fighters started getting the payments. MS: Then take us through the build-up to the Unity Accord, by then you were on the Zanu side. 
Dr Mpofu: I was very instrumental on the Zanu side, mobilising abantu ngathi hayi madoda asihlanganeni. I joined Zanu because I had achieved what I spent my life trying to achieve which is one man one vote and majority rule, and now the people had indicated what they wanted which is what I wanted. I always tell people that I have never been recruited, I decide, that's why I don't regret my decisions. I make my decisions soberly, I make decisions consciously, so we united our people. That time I was the treasurer weZanu here working together with the likes of Hebson Nyashanu, Waniwa and Callistus Ndlovu who had also moved from Zapu. At that time I was also non-constituency MP that is between 1987 and 1990. Then came the 1990 elections but I didn't stand because I had not done much work on the ground. Instead I became a councillor under the Umguza Rural District Council where I did my ground work. People started supporting me and in the 1995 general elections I won the then Bubi-Umguza Constituency. I should mention that it was between 1990 and 1995 that I was part of several boards as I served at entities like Air Zimbabwe, ARDA, Defence Service Commission and so on. After winning a seat in the 1995 elections I was appointed Deputy Minister of Industry and Commerce. 
MS: Then came the 2000 elections . . . 
Dr Mpofu: I lost my seat to Jacob Thabane of MDC. The reason for my loss was because the campaign teams we had deployed were very violent. That did not go unnoticed and the person who came out and told me that something was wrong was the now late National Hero and former Zapu intelligence officer who served in the NSO during the armed struggle, Cde Swazini Ndlovu. Swazini said to me "Mpofu, people like you but your guys on the ground bazakuluzisa." It was an election full of drama of course as white farmers were on the side of the opposition as they brought logistical support, giving out foodstuffs then wena subuya ngesilogani. Like I said the situation was worsened by my team that used a wrong strategy, I didn't like the strategy, I told them. Ngathi no madoda of course amakhiwa they played a role but lani. Because babetshaya abantu bexotshanisa izinduna abantu bephuma ngamawindi ebusuku. Then ngathi no, I will do the campaigns myself, ngahamba ngixolisa ebantwini, ngathi sorry badala ngabafana abaphambanisileyo. In the next elections because I had been humble enough and apologised to our people it was smooth sailing as people voted for me in large numbers without coercing them. The smallest figure I got since then was 16 000. As of now I know each and every village head, councillor and headman in Umguza constituency. So ngiyabazi bonke, ngiyabalanda ngizihambela ngedwa ngoba ungahamba lama body guard abantu bayesaba. So that's part of my life.
MS: Anything you want to add to what we have been discussing?
Dr Mpofu: I have gone to school in between my political and business life. To my first degree I got in India during the war I have added a Masters Degree in Policy Studies which was a joint programme that was run by the University of Zimbabwe and Fort Hare of South Africa. I went further and earned a Phd with the Zimbabwe Open University. In business we have also been working hard as we are building a 60-room hotel in Suburbs here in Bulawayo. We started the hotel project 10 years ago and we are still pushing.