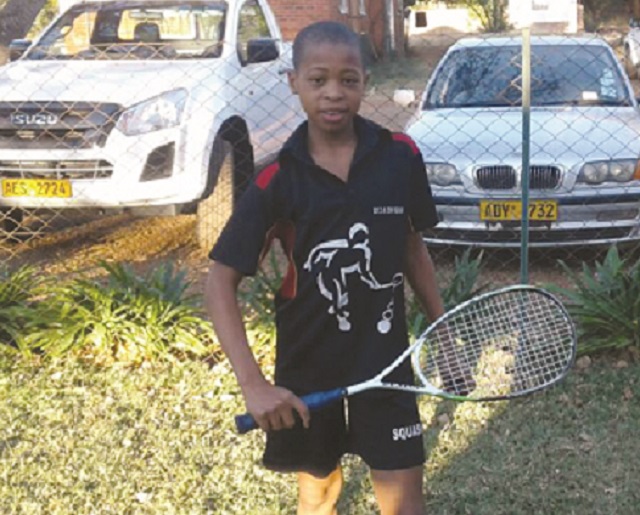 The Sunday News
Mehluli Sibanda, Senior Sports Reporter
BULAWAYO based budding squash player Ryan Gwidzima excelled in the three Under-16 tournaments he entered in South Africa during the school holidays, despite competing against much older children.
The 12-year-old played in tournaments held in Johannesburg, Cape Town and Port Elizabeth. Gwidzima won the Boksburg Open in Johannesburg where he triumphed in all the five matches he played. He took third spot in Cape Town having lost out in the semi-finals and went on to win the third place play-off.
Last week, Ryan, accompanied by his father Langton who is also his coach lost to South Africa's Under-16 champion Dean Venter in Port Elizabeth. He played four matches in the top section and won three of them with his only defeat coming against Venter. He lost the final 11-6, 11-9 and 11-5.
The grade seven pupil at Kumalo Primary School described his time in South Africa as enjoyable at the same time lifting his game since he played against players who pushed him to produce his best.
"It was very good, so much fun and it keeps your squash going up and you face some good guys that give you good games and sometimes it's good to lose, sometimes it's good to win but you learn from the other big guys,'' said Gwidzima whose desire is to become a professional squash player.
His mother Ennitah said she was delighted by her son's achievements in squash. She described him as being talented in the sport he took up at the age of five.
"I am very pleased with Ryan, he plays squash, he started playing when he was at a very young age, I think he was about five years. He plays with 16 year olds and even Under-19s, I am really proud of him,'' she said.
According to the mother, if all goes well the young Gwidzima could be relocating to the United Kingdom in September to further his studies while at the same time pursue his squash career. If that does not materialise, Gwidzima will most likely start his high school at Falcon College where his father is a squash coach.
Gwidzima has been representing Zimbabwe from the time when he was nine years old. He has donned national colours at Under-11, Under-13 and Under-16.
Last year, the youngster took part in the US Open Junior Championship in New England where he was ranked 17 out of 94 in the Under-13 category and won the Plate.
A Ryan Gwidzima Trust has been set up to fund the youngster's trips outside the country. The trustees are David Coltart, Promise Ncube, Trevor Williams and Michael Harvey.
Williams said they are working tirelessly to raise funds for Gwidzima's participation in regional and international competitions. Of concern to Williams is that they do not have enough funds to send Gwidzima to two tournaments in South Africa in August and they were appealing for funding to make sure the youngster's dream comes true.
Gwidzima's talent in the sport comes as no surprise as his father is a caretaker at Suburbs Squash Club which affords the youngster an opportunity to train on a daily basis. — @Mdawini_29