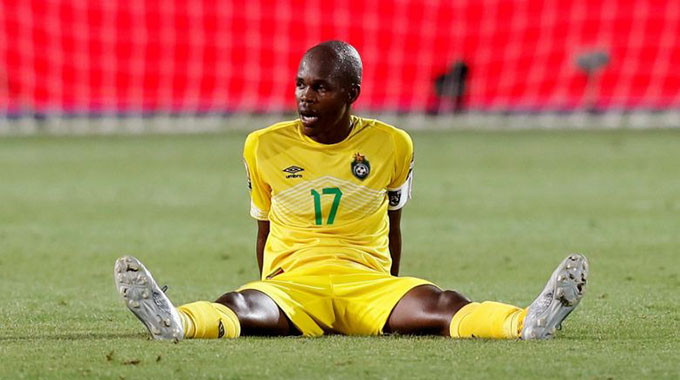 The Sunday News
Sikhumbuzo Moyo in Cairo, Egypt 
HE was on target when the two nations met in the 2019 Total African Nations qualifiers in October last year before being red carded in the 72nd minute but he had done enough damage as the Warriors emerged 2-1 winners in Kinshasa but skipper Knowledge Musona says that match is now history as the two countries clash tonight at 30 June Stadium.
Two ironic issues about tonight's Group A clash, that will determine if the Warriors progress or not, is that its being played on June 30 (same as the name of the Stadium) which also happens to be Independence Day for the DRC, who gained majority rule from the Belgians 59 years ago.
"We beat them before (in the qualifiers) but this a different environment altogether, it's a tournament but we are going to do our best. If we play like we did in our last game where we created chances but now we need to convert them I think we can get maximum points," Musona told the Zimbabwean media after their Friday evening training session at the El sekka-el hadid SC Stadium.
The Smilling Assasin, who missed some gilt edged  chances in the game against Uganda but was the architect of the Zimbabwe equaliser a few minutes before half-time that was scored by Khama Billiat, repeated the same enthusiasm at yesterday's official Caf pre-match press conference at the 30 June Stadium. 
"The spirit and morale is high for the game, we are fully focused for the game and we also know however, that it's not going to be easy but we are ready to fight," said Musona yesterday.
Speaking at the same presser yesterday, veteran gaffer Sunday Chidzambwa said the fact that they faced the same opponents in the qualifiers for this tournament makes tonight's encounter very difficult, not only for Zimbabwe but for DRC as well.
He said they intend to fight throughout the match for maximum points.
"We are facing a very difficult game, both teams haven't won a game. We were also in the same group in the qualifiers for this tournament and I think that on its own makes it very difficult, however, we are going to play a game of football for the entire 90 minutes and do our best and see what happens after those 90 minutes," said Chidzambwa. Hard working defender Tendayi Darikwa, who has established himself well at the right back position where he is also brilliant when overlapping, called for more goals that will cancel all possibilities of drawing of lots in the event Uganda lose by a one nil margin to the hosts nation Egypt at Cairo International Stadium.
He said there was need to convert the chances that come their way instead of repeating the same mistakes they did against Uganda where they created a glut of goal scoring opportunities but could only manage a 1-0 win.
"I think you might have seen the chances we created against Uganda but we just scored one goal, that's the most disappointing thing but I think the main issue now is looking forward to the game against DRC.
I am sure if we keep the same level of performance we showed against Uganda I am sure we can score more goals and get the three points," said the England-based defender where he plays for Nottingham Forest.
He said morale in camp was high and everyone was looking forward to the DRC game.
"Everyone is fine in camp, the spirit is great. Look, we are here to play football and I am not going to comment  on internal matters regarding Zifa and things like that. My job is just to play football and I am here to do that, I am sure we will be ready for DRC," said Darikwa.
Since 2000, Zimbabwe and DRC have met five times with the Warriors registering two wins while DRC won once in the Afcon qualifiers on June 17 where they beat Zimbabwe 2-1. The other two matches ended in one all stalemates.