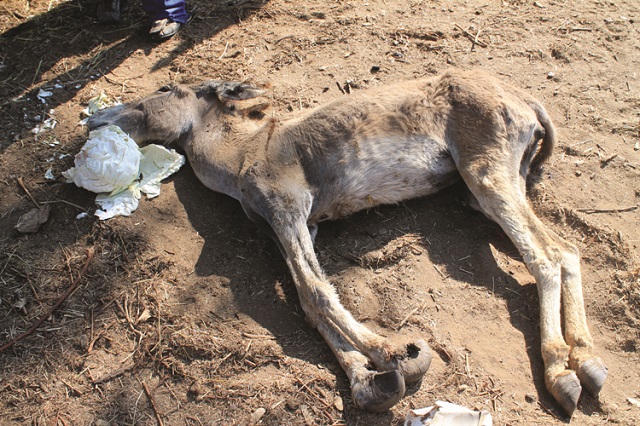 The Sunday News
Senior Farming Reporter
ANIMAL welfare groups are working on instituting legal action to bar a Bulawayo businessman who set up the country's first donkey abattoir in Bulawayo from operating.
Veterinarians for Animal Welfare Zimbabwe (VAWZ) animal welfare officer Mrs Mel Hood said a grouping of animal welfare organisations are engaging legal practitioners with a view of stopping Battlefront Investments' donkey abattoir at Waterford in Bulawayo from starting operations.
"We are pursuing the legal routes. Obviously there are ways we can put this on hold until everybody is consulted. We need to have community consultations. I don't believe the communities have been consulted and the whole picture put across, I think they have been told yes, we will pay you for your donkey but they haven't been told in five or 10 years time when the donkey population is gone what are they going to be using? There is a whole range of issues that need addressing here and for the communities and the donkeys themselves we need to sort this out properly," said Mrs Hood.
Mrs Hood who was accompanied by VAWZ animal welfare inspector Mr Bernard Ndlovu from the organisation's headquarters in Harare was part of a delegation that met Battlefront Investments' managing director Mr Gareth Lumsden on Monday last week.
After the meeting the delegation proceeded to a feedlot in Manningdale where the donkeys are being held awaiting slaughter.
The delegation condemned the conditions the beasts of burden were being kept under.
One of the donkeys was lying dead while another was visibly ailing with five of them with broken limbs and a substantial number also in bad condition.
"From the animal welfare point of view there are just huge issues here. We have seen four or five donkeys with broken legs, these donkeys are thin, they are blind, it's just cruel. These animals should be euthanatised, they shouldn't be left here, it is just not right.
"From the perspective of the whole project, I think there are effects on the donkey population but even worse on the community who rely on these animals. In the short term it's going to be dramatic, they are going to sell donkeys because it's a quick means of getting money . . . ," said Mrs Hood.
A caretaker at the feedlot, Mr Witness Ngulube said 21 donkeys have died since the animals started being moved into the feed yard in July.
"At the moment we have 175 donkeys, at one stage eight donkeys arrived here already dead while some of them died after sometime due to unknown factors, to date 21 donkeys have died. The problem is that they are just buying sickly looking and very old donkeys.
"However, a number of them are now in good condition. The donkeys we have here were bought from areas such as Kezi, Plumtree, Nkayi and Gokwe. We feed them using grass, molasses and residue from sorghum brewed beer," said Mr Ngulube.
Zimbabwe National Society for the Prevention of Cruelty to Animals (SPCA) official Mrs Beryl Oothuizen said the slaughtering of donkeys was taboo in Zimbabwe hence the abattoir should not be allowed to operate.
"First of all I don't believe we should have a donkey abattoir. It's not in the culture of the people of Zimbabwe and what I see here is worse than disgusting, the donkeys are fighting because they have just mixed the stallions and the females in one place and we understand 21 have died to date," she said.
Mrs Oothuizen said Mr Lumsden risks being charged on animal cruelty.
"We will have to put down all the injured donkeys because we regard this as animal cruelty and if he (Mr Lumsden) resists this he will be charged for animal cruelty. This is terrible. The whole set up is cruelty to the animals," she said.
Bulawayo SPCA veterinary surgeon Dr Anele Dube said there was no proper research on the impact the donkey project would have on communities.
"All that we know is that donkeys are not a source of anything apart from being a beast of burden in this country . . . when we hear donkeys are going to be slaughtered we think of the wrong thing . . . I don't think a proper analysis and research into the impact of all this to the community and country has been done," said Dr Dube.
Lupane Youth for Development director Mr Alfred Sihwa said the donkey project was started without proper consultations with communities.
"This donkey abattoir thing was an ambush to the communities which is likely to impoverish especially the women, youth and children. Donkeys are user friendly to these groups and they help in a lot of household chores.
"I also wonder how the already purchased donkeys were cleared as the policy is not clear on movement and clearance of the equines. This abattoir has to stop buying donkeys until all is in place. If ever there is going to be any," said Mr Sihwa.
Speaking to the delegation Mr Lumsden was adamant that the project would go ahead as planned.
"Basically ladies and gentlemen you are delaying the inevitable, those people who seem to be professing ignorance about it don't want to be seen as condoning it for whatever reasons but when I say up to the Ministerial level there are several that know about it as far as the veterinary and other authorities," he said.
Last week Agriculture, Mechanisation and Irrigation Development Minster Dr Joseph Made said donkeys were a major source of draught power in the agriculture sector thus the Government would not allow draught power to be undermined.
He said the abattoir would offer a proper facility for the slaughtering of donkeys.
"You need to understand that people kill the donkeys in the bush inhumanly. They tie them to trees, beat them, pull their skins . . .You need to know that's not what I'm about, that's not me, I'm a farmer, I've got my animals, I've abattoirs, now I have two abattoirs. It's not going to stop me from killing animals the way they are supposed to be killed.
"Just because someone out there is not doing it properly, it doesn't mean that I shouldn't do it in a great way. I am going to make sure it's done in a great way and I'm going to make sure if I am involved in it it's being done in a great way and steps are followed in the right manner," said Mr Lumsden.
He said most of the donkeys would be bought at livestock auction sales organised and conducted by Rural District Councils to guard against sale of stolen animals.
"The council members will be at that particular sale along with a veterinary officer for issuing a permit and along with a police officer or two that will clear that animal," said Mr Lumsden.