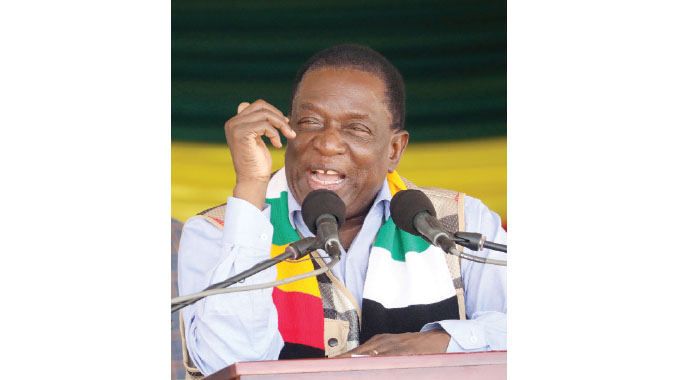 The Sunday News
Zimpapers Elections Desk
IN the aftermath of the August 23 harmonised elections in which President Mnangagwa and ZANU PF cruised to victory, there has been an all-too-familiar barrage of Western misinformation seeking to discredit the polls.
The skullduggery has come in different forms, through Western embassies such as the United States, European Union and a gamut of organisations and individuals linked to them.
Such machinations have been unrelenting in their attempt to smear mud on what was arguably one of the most peaceful elections to have been held in Southern Africa in recent years.
That the elections were conducted fundamentally in a violent-free environment left those that were anticipating anarchy, clutching at straws.
Of late, one of the leading voices who has been going hell for leather in support of Western machinations has been Dr Ibbo Mandaza, a well-known puppet of the West.
That Dr Mandaza is going gung-ho in his attempt to please his paymasters was not unexpected.
However, what has been shocking is that the so-called political analyst's belligerence has reached new heights, as he even argued that "this has been the worst election ever," in an interview with the private media.
"I met both heads of observers from the AU and SADC, and all were acutely embarrassed about what happened, Jonathan (head of African Union's Observer Mission former Nigeria President Goodluck Jonathan), Nevers Mumba, and the Namibian delegation, notwithstanding the grandstanding when they got back home and criticised the report. They all said this was the worst election they had ever seen. There is consensus about the election, it was incredible," Dr Mandaza said last week.
It can be seen that Dr Mandaza has been reading from the same script as Dr Mumba, the head of the SADC Election Observe Mission who came into the country having already compiled a biased and predetermined perception of the harmonised elections.
The likes of Dr Mandaza and his ilk need to be reminded that whilst they are busy in their attempt to discredit our elections, thought-provoking developments are taking place in the United States, related to ugly scenes that marred that country's 2020 elections, in which then President Donald Trump was defeated by President Joe Biden.
United State is one example of how the West have tied themselves up in knots, when it comes to Zimbabwe's elections.
Trump is currently appearing before a United States federal judge on charges of trying to overturn the 2020 election.
The aftermath of US 2020 elections was tainted by ugly scenes that culminated in the January 6, 2021 insurrection at the US Capitol Hill, which was linked to deaths of four of his supporters.
Many will recall those humiliating acts that put to shame America's claim to be a paragon of democracy after hordes of Trump's supporters invaded the American Government building to cause mayhem in dispute of the election results.
The riots also showed how deeply racist America still remains as Trump's supporters had flags, signs and symbols carrying racist statements and promoting white supremacy.
The Capitol Hill case is in fact just one of four cases of criminal investigations that Trump is facing including payments to a porn star and that he endangered national security by storing classified documents at his private beach club in Florida.
What is even more surprising is that having been involved in such despicable incidents, Trump still seeks to run for the US Presidency in the US 2024 elections.
All these ugly scenarios show that the West cannot claim to be champions of democracy because they have their own problems to solve in their countries.
They cannot thus impose their own will to the people of Zimbabwe.
In fact, even leading figures from America itself are worried about the trajectory that the country is taking.
A fortnight ago, concern over US' democracy was amplified after deep national polarisation provoked organisations that represent 13 former American presidents to issue a damning statement to the US government.
In the statement, they said they were worried about the depreciation of the principle of the rule of law in America.
The statement was signed by the Hoover Presidential Foundation, the Roosevelt Institute, the Truman Library Institute, the John F. Kennedy Library Foundation, the LBJ Foundation, the Richard Nixon Foundation, the Gerald R. Ford Presidential Foundation, the Carter Center, the Ronald Reagan Presidential Foundation and Institute, the George & Barbara Bush Foundation, the Clinton Foalong with the Eisenhower Foundation.
Released on September 7, the 13 presidential libraries, called out President Joe Biden's administration for trying to be world's police officer, when the America's own house is on fire.
The statement said Americans "have a strong interest in supporting democratic movements and human rights around the world because free societies elsewhere contribute to our own security and prosperity here at home. But that interest is undermined when others see our own house in disarray."
The West thus have no moral standing to judge that elections in Zimbabwe were not free and fair.
It is instructive that President Mnangagwa has not been deterred by these nabobs of negativity.
He is fully aware that the renewed mandate he was given to commence his Second term signals new measures that will propel the economy.
The President has shown that he is not swayed by ephemeral vicissitudes engineered by enemies of Zimbabwe's progress.
Speaking at a meeting with newly-sworn in Cabinet Ministers, permanent secretaries and heads of parastatals and local authorities on on Thursday, President Mnangawa said his second term in office will reflect the country's commitment to amplify the socio-economic development agenda through achievement of high impact results despite challenges posed caused by illegal sanctions.
Zimbabwe is forging ahead, and the West can never be qualified to lecture the country about democracy.