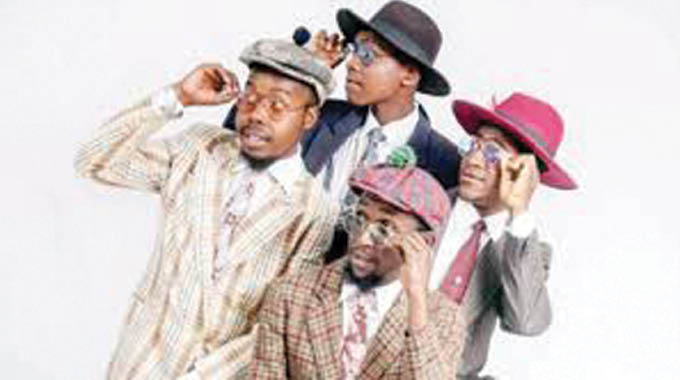 The Sunday News
Rumbidzai Mhlanga, Sunday Life Reporter
DETERMINATION and believing in themselves is what has afforded Bulawayo music group Western Khazins the attention they have been seeking for years.
The group officially introduced itself to the public after stealing the spotlight from Harare-based Zimdancehall chanter Enzo Ishall, and got people asking who they were and where they come from.
The group's spokesperson, Archibald Mumbamarwo, warmly known as Father K related the journey they have travelled since the group was formed.
"Initially the group was first formed in 2012, then they were known as the Four Khazins but the crew focused on fashion only, their street name was "Izikhothani" but they grew out of it as the trending dress code faded and three of them relocated to South Africa. Hence that saw the demise of the group in 2015. But the love of entertaining people in me did not die and I saw it fit with the encouragement of our fans, friends and family I had to reform the group.
"Even though it was hard getting new members who were as committed and passionate as the previous ones, the Western Khazins was birthed in 2016 with new members, focusing on a different angle as before we focused on fashion, this time we are focusing on music. And since Izikhothani dressing had faded we are now identified with our classical vintage wear. So basically, the idea of forming a group came from the Four Khazins but we are totally different from that group in many ways," said Father K.
The Western Khazins is now a group of relatives, an uncle and his nephews.
"Since it was hard getting people who are committed, I ended up recruiting my relatives because I know family sticks together. Recruiting strangers is the reason why it took us this long to be recognised because at first, Western Khazins had seven who all dropped along the way and I was left with my uncle. We are now four — Father K, Bruce Chirumba ''Uncle K'', Artwell Sibanda ''Brother K'' and Edington Sibanda known as Sonny K and I.
"We have not managed to produce an album because of a couple of constraints but we are working on it. We have tried getting some of our songs to be played on radios but they haven't been played because of errors we need to perfect. All those errors are a result of financial problems but we are working very hard to overcome that challenge. We have two finished songs ''Ibambe So'' and ''Indlovu ikhithikile''. We will release an EP with seven tracks mid-December. 
"Even though we have not achieved much yet, we have performed at over 40 shows that have given us the exposure we need. We have performed at countless weddings, Intwasa Bayethe Concert, Green Arts Festival and all the credit goes to Eziko Theatre Laboratory because it is where we learnt all there is to learn about music and performing," said Father K.
Like all other entertainers the group has a couple of shows lined up for the festive season. They will be hosting a vintage culture night party at Mqombothi Bar.
@ruekushie