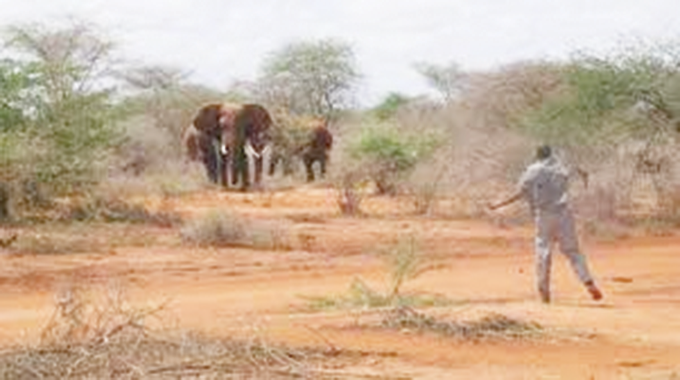 The Sunday News
Vincent Gono in Tsholotsho
FAMINE, hunger, poverty and malnutrition are among the first line objectives of the 2030 United Nations Sustainable Development Goals but they are likely to remain a permanent feature in some of Zimbabwe's communities if the Convention on International Trade in Endangered Species (CITES) remains deaf to the distress calls of people whose crops and livelihoods are destroyed by the growing number of elephants.
More than 70 percent of people in Zimbabwe rely on agriculture and scarcity of food is usually due to rainfall failure or too much of it, but this is certainly no longer the case with a number of villages in Tsholotsho and Hwange districts in Matabeleland North Province, Chiredzi in Masvingo Province and many others close to animal sanctuaries. 
In Tsholotsho and Hwange the villagers' food inadequacy which has become their permanent tag has nothing to do with whether or not it's a good season. It is caused by their proximity to one of the country's largest animal sanctuaries — Hwange National Park and the continued swelling of the elephant population.
The large animals that are almost doubling the national carrying capacity at 84 000 against a carrying capacity of 45 000 have caused a constant splitting headache in Tsholotsho as they often visit the villages in numbers of 50 to 60 leaving an undesirable evidence of their unpleasant stopover in villages such as Sibambene, Sithembile, Mpilo and Pelandaba that is not as much affected as the other three villages.
Whenever they visit they leave an unconcealed spoor of destruction in the fields and the environment in particular and villagers tell a sad story of how they have been made to beg and buy food after acres of land under the staple maize would have been razed to the ground by the jumbos.
"Each year we plant our fields but there is no time our crops grow to maturity before they are destroyed by the elephants. Their visibility has increased over the years and this year they have almost doubled. We have never seen so many elephants like the ones we see these days. The numbers are scary, they are just too much and we have been made perennial beggars for food," said Tsholotsho Rural District Council Ward 7 Councillor John Dube.
He said the swelling population and the nature of their travel in numbers made it a lot more difficult for villagers to drive them away. 
"It means when they attack the fields they are sure to leave them clean of crops," said Cllr Dube.
As a solution he suggested that the Zimbabwe Parks and Wildlife Management Authority should carry out an exercise of culling that they last carried out a distant number of years ago.
"We wonder why they are not doing it (culling). The numbers are just too much and because of that they are always advancing further into areas of human habitation harassing both communities and the environment. From what we hear it looks like there is some resistance from somewhere on how to control their population through culling but whoever is resisting should come and see what we mean when we say their population needs to be controlled," he lamented.
Tsholotsho Rural District Chairman Councillor Esau Siwela said a number of wards in the district were affected.
He said wards 1, 7 and 8 were the most affected and have been having very early problems of food shortages because their crops were always at the mercy of the wild especially the jumbos.
"We have been having this problem for a number of years now but it is heightening because the elephants are increasing in number every year resulting in the fight for space with human beings as they push to extent their sphere of influence outside the parameters of the Zimparks confinement," said council chairman Cllr Siwela.
He said wards 3 and 4 were not so much affected by elephants but by more aggressive and predatory lions, hyenas and wild dogs that prey on people's livestock living the villagers without the basic tools to fight poverty.
"Ward 3 and 4 are not spared by the visit of the jungle into the villages. They are equally affected. These ones have their livestock seriously decimated by lions, hyenas and wild dogs. As for hyenas they are really terrorising the villages, eating goats, donkeys and cattle without remorse," he said.
Villagers, he added, have learnt to live with it although they were soothed by the swift response from the authorities each time they raise alarm on invasion by the unwelcome jungle visitors. Cllr Siwela said there was however, no compensation whatsoever from anyone including Campfire for the affected villagers. 
"The sad ugly thing is that most villagers who have their fields destroyed and their animals preyed on by the wild animals are not compensated. This year it was worse. The elephants have become so many that they have seriously affected areas that they wouldn't normally reach. As it is we are grappling with a serious shortage of food. Everyone in the district wants food. Yes, there is drought but our situation is worsened by the elephants because where a person was supposed to harvest a bucket there is nothing," added Cllr Siwela.
He noted that the problem of human habitant invasion by wild animals was partly because of the search for water after Gariya Dam that used to provide enough water to all animals collapsed in 2014 and was never fixed.
"Gariya Dam collapsed and it was not fixed. So sometimes these animals will be looking for water and end up in villages. All we have are quotations and promises. We quoted its reconstruction to the tune of US$400 000. Zimparks promised to give us 100 000 Euro and we are planning to channel part of our Government allocation for devolution towards the dam as well," he added.
The problem of human-wildlife conflict is not confined to Tsholotsho alone as communities close to Gonarezhou in Chiredzi have a similar tale to tell also. Chief Tsovani told Sunday News in a telephone interview that they have similar unwelcome visitors from the jungle in their communities as well where crops have been destroyed.
He singled out elephants as most problematic saying they were the ones whose population outnumber other animals and whose level of environmental destruction was second to none.
"When communities are close to animal areas an abrasive relationship tend to happen. We have been having a problem with elephants because they are the one whose number is constantly growing although this is not to say some other animals like lions and hyenas are at peace with us. We are thankful to Zimparks for erecting an electric fence, such incidences have been greatly minimized but some patches still report destruction and sometimes human life loss. Such has been a part of our life and it's no longer surprising," said Chief Tsovani.
Chiredzi Rural District Council Environment and Agriculture Executive Officer Mr Chenjerai Zanamwe said in an interview that the district was an extensive agriculture and animal area and there was a lot of interference with each other.
"There has been massive crop destruction on the negative by animals, chief among them elephants that travel in groups. There has been reports of lions, hyenas and jackals attacking livestock in villages as well and in some cases human beings although rarely," he said.
On the positive, Mr Zanamwe highlighted how Campfire had helped improve communities with schools, clinics construction thereby bringing services to the convenience of villagers. Zimparks Director General Mr Fulton Mangwanya said he was aware of the untold suffering the country's communities were exposed to because of the swelling number of elephants.  He said they were going to push the Convention on International Trade in Endangered Species (CITES) to lift the ban in commercial trade in elephant ivory so that the elephants could fund for their sustainability and general upkeep.
"The elephant must pay for its upkeep is the motto we are currently running with and it is this motto that we want to sell to the world. We have 133 tonnes of elephant ivory. The stockpile keeps on increasing from natural mortality, problem animal control as well as those recovered from poaching. We last did culling in 1987 and since then the numbers have been swelling. However, if we can be allowed to sell our stockpile the proceeds will go a long way in developing infrastructure such as schools, clinics and other social amenities that are not available in communities close to wildlife areas," he added.
Mr Mangwanya added that it was sad that CITES had become a disabler of development as there was little recognition of the damage that a ballooning population of elephants was causing to the environment and the people in the unending circle of human-wildlife conflict as the fight for space ensued.