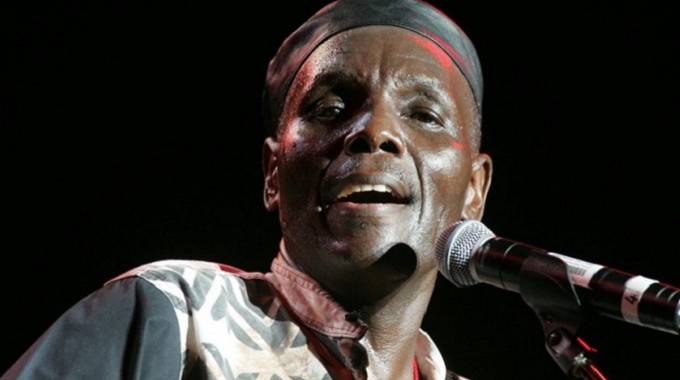 The Sunday News
Bruce Ndlovu, Sunday Life Correspondent
ON Tuesday last week Oliver Mtukudzi spoke from the grave. In a new video that would convince a conspiracy theorist that Tuku had not breathed his last at the Avenues Clinic on the night of 23 January. 
In the video, an upbeat Tuku can be seen moving and gesticulating as he invites fans to come and join him at the Cape Town Jazz Festival on 29 March. 
For those that have found it hard to let go of the legend, the video would have been a pleasant watch. It was as if the man, moving with rhythmic confidence, had come back for a second dance with life. It was just a 28-second video but so much of what defined Tuku over the 66 years of his life was all there — the energetic movements, trademark husky voice that seemed to crack as if burdened by the wisdom it had to constantly give to the world.
"Hey, let's make a date on the 29th of March 2019," said the man who died on 23 January 23. Dead man do not make promises but here was Tuku promising a date he could not deliver on. It is a touching video that tugs at one's heart strings and judging from the reaction on social media, many were also moved by this surprise reappearance of Tuku on their phone and computer screens. 
For that brief half a minute he was alive again and hundreds of likes and comments poured from the living who were only too eager to welcome him back. On the surface, the video of Tuku was innocent enough. The last man to manage his affairs when he was still alive Walter Wanyanya pointed out this was a gig that Tuku had signed up for before his passing. 
"The show was planned last year before the passing of Dr Mtukudzi so we're just fulfilling an already set plan. The Black Spirits will be travelling there alongside the likes of Mbeu who'll be part of the band," said Wanyanya.   
However, the video still has to be viewed in the context of what seems to be a running civil war in the Mtukudzi household. For music industry insiders, the video is merely a cheap sucker punch aimed at Mtukudzi's daughter Selmor who has been promoting a Tuku tribute show at the Andy Miller Hall. 
Selmor's gig is running under the theme "Tuku's music lives on" and will feature former Black Spirits members like Eric "Piki" Kasamba.
Selmor also managed to recruit a cast of heavyweight local artistes with Sulumani Chimbetu, Andy Muridzo, Jah Signal, Steve Makoni, Sasha and South Africa-based chanter Jah Seed expected to join her on stage.  
Meanwhile in Cape Town on the very same day, Soweto Gospel Choir, Shekinah, Tuku Music and Sho Madjozi, Mahube, Steve Kekana, Moris Goldberg, The Mill, Don Vino and BCUC among many more will perform at a gig held in celebration of Tuku's life and music. 
This clash seems to be giving weight to assertions by some that they have been cracks in the Mtukudzi family after his death. Over the last few weeks, it has become clear that Wanyanya, now seemingly the custodian of Tuku Musik, has aligned himself with Tuku's widow, Daisy while Selmor and her sister and manager Sandra are also running their own show. 
However, a closer look might show that the divisions following the death of Tuku were somewhat inevitable. On the sidelines of the great musician funeral, Selmor's mother and Tuku's first wife Memory revealed that she had never forgiven Daisy for snatching Tuku away from her. She also doubled down on her belief that when dust was piled on Tuku's grave in Madziva, he still had his love for her in his heart. 
"I will never forgive Daisy for that and maybe one day God will intervene, I don't want to lie that I have forgiven her, I have not. I gave birth to Selmor when she had come, I tried to hold on thinking she would let go of my husband but she could not and I decided to leave," she said. 
She also went on to suggest that some people had tried to drive a wedge between Tuku and his daughters. 
"Some people tried to sow seeds of division and a lot of things were said. However, Tuku realised that it was trivial and the relations were mended and from there they would meet," she said.    
The bitterness expressed, even at a solemn occasion, suggests that there is no love lost between the two women. Ironically, while Tuku's death brought together millions of Zimbabwe, it seems to have failed to mend the relationship between the two people who are crucial for his music legacy going forward. 
With the civil war ongoing, it seems there is now more than music at stake. Tuku's rich musical legacy was always going to provide a battle ground in the aftermath of his death but things appear to be personal when some of the concerned parties speak. 
If the women who once commanded his heart lash out harshly in public one can only speculate what they tell their children in private.  
Meanwhile, Selmor as the most accomplished musician in the family appears determined to continue her father's legacy. In one poster, she can be seen emerging from her departed father's shadow, as if notify the world that through her he will live again. 
The other camp does not appear to be ready to relent as well, setting music lovers for more battles to come in future. As the civil war rages on, it might become obvious to Zimbabweans that the loss Tuku's family suffered is greater than their own. While music lovers will continue to dance and sing, rejoicing at his infinite wisdom and music mastery, his family might have lost a voice of reason, a voice that could heal a house seriously divided, it would appear.