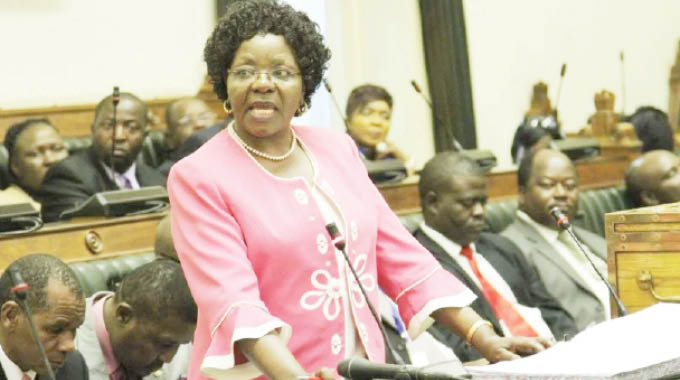 The Sunday News
Dumisani Nsingo, Senior Business Reporter
THE number of women accessing financial services through the formal sector has significantly increased since the opening of the Zimbabwe Women's Microfinance Bank (ZWMB) Limited last year, a Cabinet Minister said.
Women Affairs, Community, Small and Medium Enterprises Development Minister Dr Sithembiso Nyoni said the Government was satisfied with the impact ZWMB has made towards increasing financial inclusion of women.
"I'm very satisfied with the impact of the Women's Bank in enabling the financial inclusion of women. Due to its existence women's profiles in the banking sector has risen from 37 percent to 70 percent. Over the years most women were not banking but after the opening of the Women's Bank the trends have significantly changed, heralding the bank's importance and the impact it has had," she said.
In Zimbabwe, women are the majority constituting about 52 percent of the country's population, and their contribution is vital to the well-being of families, communities and the achievement of Sustainable Development Goals. Despite the important role played by women in economic development, the ­financial inclusion gender gap between men and women has remained at nine percent for developing economies since 2011.
Dr Nyoni said lack of full range of fi­nancial products and services, which are essential to facilitate graduation of women's income-generating activities from household survival to viable businesses, has over the years been a stumbling block.
"Over the years you will realise that banks didn't have products, which suited or were tailor-made for women. Now they are able to embark on various income-generating projects and be able to secure their funds or to apply for loans to grow their enterprises.
"Before the opening of the Women's Bank, women lacked acceptable collateral security such as title deeds required by most financial institutions. Lack of collateral is further compounded by traditional property rights which are skewed against women but the Women's Bank doesn't consider this," she said.
Dr Nyoni said Savings and Credit Co-operative Societies (SACCOS) most of which are made up of women have played a pivotal role to bridge the gap of ­financial inclusion gender gap between men and women.
"Of course most SACCOS are made up of women and through these SACCOS we have seen most women channelling their savings to the Women's Bank. They don't have to put their savings under the pillow but deposit it into the bank with the intention of embarking on viable projects," she said.
The National Financial Inclusion Strategy (2016-2020), seeks to increase fi­nancial inclusion levels in the country through interventions targeted at minimising the barriers to fi­nancial inclusion for identifi­ed priority segments that include women, MSMEs, youth, and rural and smallholder farmers. 
As part of the implementation of the National Financial Inclusion Strategy, the Women and Finance Development thematic working group was constituted with a core mandate to promote and develop innovative fi­nancial products for women and facilitate capacity building programmes for women to complement access to ­financial services. 
Under the 2030 Agenda for Sustainable Development, Sustainable Development Goal number five speaks to "Achieving gender equality and empowering all women and girls".
Access to formal ­financial services by women is instrumental in helping to achieve gender equality and women empowerment. The goal is to ensure that women and women-led businesses have access to and are able to use multiple ­financial services as tools to develop their fi­nancial freedom and allow them to contribute meaningfully to economic growth.
@DNsingo