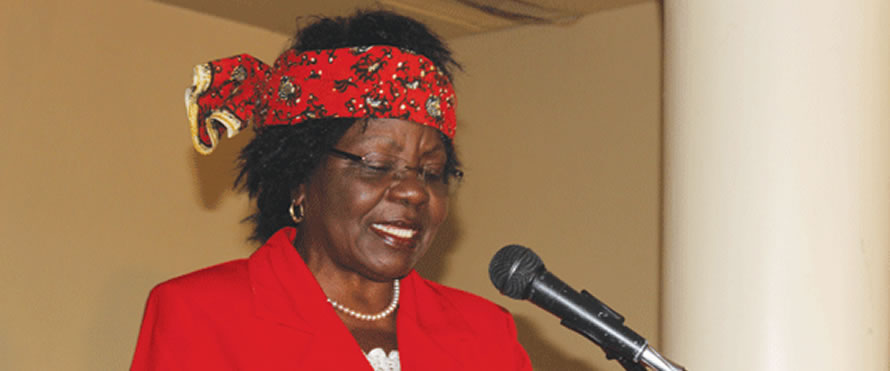 The Sunday News
Vusumuzi Dube Sunday News Reporter
THE Zanu-PF Matabeleland North provincial executive has demanded that Politburo member and Nkayi North Member of Parliament, Cde Sithembiso Nyoni, apologise for her utterances in the media where she labelled the provincial leadership as "shallow". The PCC also accepted former MDC legislator, Cde Believe Gaule's re-admission into the party after he had made an application through Tsholotsho district, which had accepted his application.
The province will now forward their recommendation to the Politburo for consideration.
Cde Gaule is a former Senator for Tsholotsho. He quit the then Professor Welshman Ncube-led MDC in April last year noting that the party was losing focus as a political movement. Cde Gaule was a Zanu-PF District Co-ordinating Committee chairperson in 2005.
The Matabeleland North provincial executive led by Cde Richard Moyo had attempted to block Cde Nyoni's nomination to the party's Central Committee, along with Cdes Jacob Mudenda, Fathi Mpofu and Elias Mavule.
In the latest development, the provincial co-ordinating committee met yesterday in Lupane and resolved that Cde Nyoni, who is also the Minister of Small and Medium Enterprises and Co-operative Development, should be summoned before the committee, issue an apology for her utterances and explain herself.
Minister Nyoni did not attend the meeting.
The provincial chairperson, Cde Moyo, confirmed the committee's resolutions saying party members were bitter over the conduct of Minister Nyoni and wanted her to be brought to book over her utterances.
"Members were particularly bitter over Minister Nyoni's remarks that the Matabeleland North leadership is made up of shallow-minded people. The feeling was that she should do as Cde Mpofu did, that is come to apologise for making such mischievous utterances.
"The meeting noted that we accommodated her as a province when she came begging us after Bulawayo Province had chucked her out for whatever reason. We did not even ask her to explain what had happened. Now she goes on to call the leadership names, hence we agreed to at least give her a chance to explain and apologise for her conduct," said Cde Moyo.
Minister Nyoni yesterday said she had not been informed or invited to the meeting, and was disappointed by the fact that the provincial leadership was reacting to a news article without consulting her.
"I was neither invited nor aware of such a meeting. All the Politburo members that I spoke to were not invited. How can they go by a newspaper article? How can they go to town with that? They must base their decisions on facts.
"Bulawayo did not chuck me out, I transferred and the transfer letters are there. I voluntarily did that because Nkayi is my home area. Where is the evidence that I was chucked out? They must prove that I was chucked out," she said. Speaking to our sister paper, the Chronicle, on the sidelines of the 6th Zanu-PF National People's Congress, Minister Nyoni said the provincial leadership was taking decisions based on "rumours".
She accused provincial treasurer, Cde Stars Mathe, of fabricating allegations, that she was sponsoring a faction led by former Vice-President Cde Joice Mujuru with vehicles.
"I think I'll start by saying Stars is a liar. She fabricated an allegation against all the Nkayi people, myself, Cdes Mavule and Charter Mguni but there was no proof to her claims. Even so, the province needed to ask me and I respond to the allegations before making a decision.
"Our province should be more mature than that. They should investigate things and not base on rumours. It shows the provincial leadership is shallower than I actually thought," Minister Nyoni was quoted as saying.
Meanwhile, Cde Moyo revealed the PCC had also discussed the issue of some senior members in the province who assisted some individuals to attend last month's congress under the provincial ticket when they were not accredited in the province or on the list of delegates.
"We also updated members on progress made in the construction of the provincial offices where we have already completed the purchasing of all the material, which is already on site, we expect to commence construction work soon," said Cde Moyo.