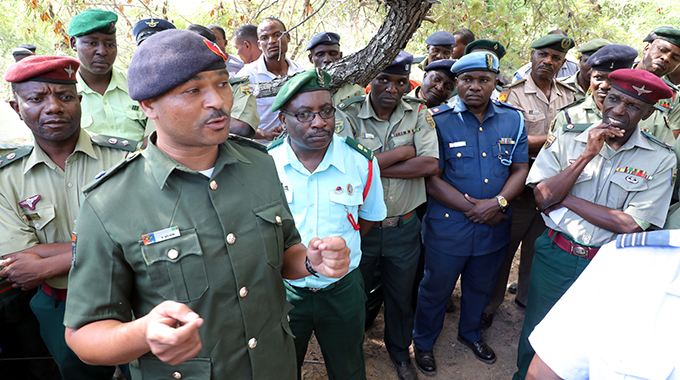 The Sunday News
 Ezekiel Hleza
Continued from last week
The barrel had also a bayonet extending from beneath. The gun had a magazine fitted on it with two more magazines attached to it with black rubber. He had other bullet magazines on his breast pouch made of military canvas and two hand grenades and two military water containers. 
He looked very calm and collected and serious. There were other four like him who included Makwesha, Magedleni (Mdubani Tlou, Erington Dliwayo (Ubokwe Ndebele) and Ncube. These other four I did not see closely. I watched that human mass as it moved in a south easterly direction until it disappeared into the mopane , mokguana and acacia woodlands of Madipuduhudu. 
The five guerillas were part of the group of guerillas which had heightened the recruitment drive in Gwanda, Beitbridge, Kezi from late 1976. The most spectacular of the recruitment was the Manama drama. This opened the flood gates of the most massive recruitment by Zipra in the history of Zimbabwe's liberation struggle whose corridor was in Gwanda, Beitbridge and Kezi, with Gwanda forming its epicentre. 
By December 1977 there was almost nobody to recruit from Madipuduhudu and the surrounding areas. Until the end of 1975 or January 1976 only three residents from our village had joined the armed struggle, they were Kgotso Ndlovu and my uncles Jonas Mnyamana Hleza and his younger brother Elijah Ndlovu but by the end of 1978, 69 had joined the struggle from a small village of 27 homesteads with two homesteads including my own home having given away to Zimbabwe's liberation struggle six of its members.  
Other homes in other villagers could have even contributed more than six. Mdubani Tlou's family was one such that contributed almost the whole family, numbering above 10 members. My attempt to leave home for the struggle, which was the second attempt, was in late December 1977 or early January 1978. I had watched the mass of people passing close to our home accompanied by a number of Zipra guerillas. I felt it was my chance to leave. 
I borrowed aunt Judith's tennis shoes which she gave me. They fitted well which added to my confidence as I followed the group until I caught up with the train about a kilometre from home. They were taking a rest. I tried to surreptitiously join the group. No sooner had I sat down among the recruits than one of the guerillas rose from his resting position and adjusted his AK-47 and shouted at me to leave. 
"What do you want here, go back". It was him alone who spoke, no one else. I wept but that did not change anything. I returned home and removed the tennis shoes I had borrowed. 
Gogo Lomalanga felt betrayed by my attempt to leave since to all intents and purposes I was the only one left. When her Mlilo brothers from Manyane at Sihwaba learnt about my failed attempt to leave they condemned me and wished misfortune to befall me if I tried again. I never did. 
Un beknown to us back home, sister Reginah had been struck by a very serious illness from a misstep when they jumped into the Shashe River while crossing the border river into Botswana. Mother who was working in Botswana was informed of the development by Magedleni ( Mdubani) leading her to join her at Selibe Phikwe Hospital. 
Her condition needed an operation which necessitated her being transferred to Princess Marina Hospital in Gaborone. Mother received financial support from Zipra guerillas to the tune of 100 Rhodesian dollars which was handed over to her by Ncube who was the most senior. From that amount she paid $12 as hospital fees when Reginah underwent an operation at Princess Marina in Gaborone. The operation was conducted in December 1977. 
She returned to Selibe Phikwe where on January 17,  1978 she celebrated her 18th birthday at the hospital. Her condition worsened. On 17 February 1978 sister Reginah who had been born at Madipuduhudu on 17 January 1960 breathed her last under the care of her mother Selina Mlilo. The support mother received from Zipra and the Zimbabwean community in Botswana was overwhelming.  
On Sunday 19 February 1978 Reginah was laid to rest at Selibe Phikwe cemetery. Her fellow comrades from Motoutsi Refugee Camp came in large numbers to bid her farewell. Mdubane's father, Mavovela Nyathi, Moyo, all from Makokwe attended the funeral. The Mayor of Selibe Phikwe who was a lady also attended Reginah's funeral. She said to mother: 
"Mme you are very lucky because you have seen your daughter, we bury a lot of children from Rhodesia, their parents think that their children are alive."
With the status of a freedom fighter, Reginah was given free medical care at Selibe Phikwe Hospital while her grave was paid for by the town council.  As the Rhodesian Army celebrated its pyrrhic victory after a seven hour battle with Cde Mphini and his 11 comrades, Zipra's sharp and keen war eyes were tracking the head of the white military establishment, Lt-Gen Peter Walls himself, tracking from Salisbury; Wankie, Victoria Falls up to Kariba on Monday, 12 February 1979 and finally back to Salisbury. Consequently a Surface to Air Missile from a Zipra Northern Front 3 position brought down Air Rhodesia flight 827 from Kariba to Salisbury. 
Lt- Gen Peter Walls had given up his seat on flight 872 and boarded the second flight which landed safely at Salisbury Airport. 
In retaliation to the flight 827 disaster the Rhodesian Airforce carried out a bombing of the Boma Zipra training camp in Angola on 26 February 1979. About 2 000 Zipra cadres were already decamping with military vehicles lined up. Thus caught flat footed, close to 200 cadres were killed. 
Back to the Southern Front 3, Putso Sijiye (Mma Kelebile) had a phantasmagoric experience of the war on 22 June 1979 on her way to Mapate, her work place as a shopkeeper at Liketso Sijiye's shop, her brother's shop. 
As she got to the Mbizo, Kafusi-Manama and Gungwe Road T-junction, two Rhodesian army vehicles with the mine sweeper in the lead followed by the Puma truck were passing. The soldiers knew her and exchanged greetings. 
As the vehicles passed she continued with her early morning journey on a bicycle. 
" Lala phansi!!" came a fierce voice from about 40 metres from the road. No sooner had she thrown away the bicycle and got flat on the ground then a deafening thunderous automatic gun fire which was punctuated with two apocalyptic blasts from the RPG7 shoulder fired rocket launcher each of whose double echo was received and returned at Makokwe Hill, Mawaza Hills, Dautsoe Mountain in Magweni and in Halisupi tore the morning peace. It was then the controlled roaring bursts from the Gorenoev that followed. All were aimed at the Puma truck while the mine sweeper was allowed to pass. A cloud of black smoke shot up to the sky and was seen from the surrounding villages.
 A shop keeper and the bag of money are hard to separate, they are welded to each other by a metallic bond that only the fire of sulphur and brimstone can make them part. Mma Kelebile left everything on the ground, not only the bicycle but also the bag of money when the hellfire was over. No one ever tampered with both the bicycle and the bag filled with Rhodesian dollars. 
I wonder how she would have faced her brother Liketso. She wanted to prove that she was still alive and normal and you do not do that by touching a bag of money or a bicycle either. You do that by running away. 
That was the Southern Front 3. Grandmother Lomalanga Mlilo had asked this question after Reginah and others had gone when she saw people passing by our homestead almost every day facing the direction of Shashe River border with Botswana " kanti lapha okuyiwa khona kakukagcwali yini?" 
The answer came towards the end of 1978 that Botswana, Zambia and Angola were full to the brim to take anymore. The Southern Front 3 had made a fair account of itself in this massive recruitment drive. 
Rtd Brig-Gen Mazinyane summed it up with a strategic eloquence at the very site where Cde Mphini fell when he said: "The most stupid mistake the Rhodesians made was to count the bodies of the guerillas they killed to measure their success, here they killed 11 guerillas but we were receiving 200 new recruits in Zambia everyday." 
He was wearing a T-shirt emblazoned with the picture of Alfred Nikita  Mangena in military fatigue carrying an AK 47 folding butt.
The Zimbabwe Staff College came all the way from Harare to Ratanyana, Ratabanyana, to hear and cherish the echo of the SF3, the echo of the battles that Mphini and his comrades fought in Beitbridge, Gwanda , Kezi, Bulilimamangwe, which echoed even in the Northern Front and in the rear. 
They came to re-unite not only the people of Ratanyana with their history, their heritage as Honourable Edgar Moyo stated in his key note address, but the whole of Zimbabwe. 
That is why Ratanyana, Ratabanyana, matters.
– Ezekiel Hleza is an educationist, historian and author of the liberation struggle literature.  He can be contacted on 0778683291.