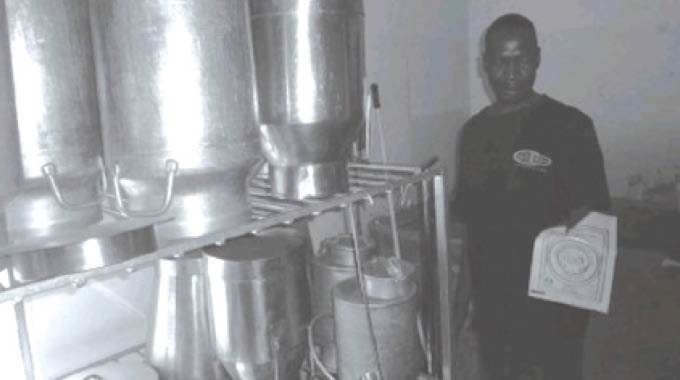 The Sunday News
Dumisani Nsingo, Senior Farming Reporter 
UMZINGWANE Dairy Co-operative Society Limited  (UDCL) has said beneficiaries of the Zimbabwe Dairy Industry Trust (ZDIT)'s Dairy Revitalisation Programme are contributing significantly to milk deliveries at its milk processing plant, Umzingwane Milk Centre in Esigodini.
UDCL chairperson Mrs Sheillah Lupuwana said two of the co-operative's members that benefited high yielding dairy cattle cross-breeds through ZDIT's loan scheme two years ago have been the major contributors of milk deliveries at its processing centre.
"Two of our members who benefited under the Dairy Revitalisation Programme have been our biggest contributors of the milk that has been collected at the centre last year," she said.
The dairy loan scheme saw 10 farmers from Umguza and Umzingwane districts in Matabeleland North and Matabeleland South respectively benefiting heifer progeny from Tuli and Afrikaner cows bred with semen from Holstein and Jersey bulls at Matopos Research Institute.
At its inception in 2001 the co-operative consisted of 60 members and at its peak it used to produce about 5 000 litres a month producing pasteurised milk, sour milk, yoghurt, ice cream and dairy juices from its processing plant.
Late last quarter of last year milk deliveries had significantly plunged with only 255 litres being collected in September, October (1 285), November (1 595) and December (1 299). Currently only pasteurised and sour milk are produced at the Centre. 
Zimbabwe Association of Dairy Farmers (ZADF) has attached a dairy expert in the Matabeleland region as part of its efforts to improve dairy animals' management and production.
"ZADF seconded an expert to us who will be offering professional guidance to us on various dairy production issues including assisting us to set up fodder plantations. The presence of the expert will have a huge part in improving milk production in the region," said Mrs Lupuwana.