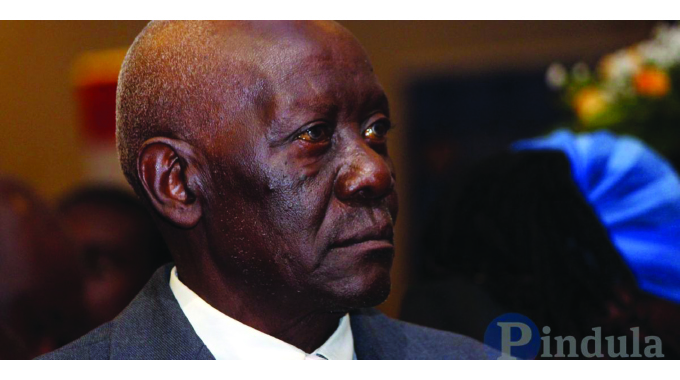 The Sunday News
ON Monday 23 August 2021 the curtain was drawn on Zimbabwe's most decorated footballer George Shaya as news of his death engulfed Zimbabweans all over the world.
An iconic figure who was celebrated around the country, Malawi and South Africa during his days, still commanded legendary status.
Shaya swept all silverware to contest in Zimbabwe as an individual and his beloved Dynamos. While there is always debate as to who are the country's real football legends, there has always been unanimity about George Shaya as the best ever footballer to come out of Zimbabwe.
Sunday News Sport last week spoke to those that played against him in a career that spun two decades and ended with a championship win at Independence in 1980.
Glowing rave reviews of the Mastermind is all Sunday News could get about a great player, a gentleman and sporting genius whose five Soccer Star of the Year gongs is a feat many believe will not be reached. Successful as an individual player, George Shaya also led Dynamos to a very big medal haul and helped build the brand the club has lived to be.
So popular was the man that several companies used his image rights to advertise their products. Former Bushbucks, Black Chiefs, Eastlands and Highlanders striker, Cosmas Zulu, a man who after his playing days acquired legendary  status as a coach mourned Shaya saying he was a rare breed of a player.
Zulu recalls while turning out for Eastlands literally taking time off during the game just to watch Shaya and marvel at the way Mastermind went about his business.
"As a player I once stood on the field while I was also in action as I watched George play. I am sure there were others as well who could just stand on the pitch and watch just like spectators George Shaya display a top drawer performance.
"He was no ordinary player. He was the kind that every coach wanted to give an example about anything good about the game," said Zulu of the Dynamos wing wizard who was also effective as a midfielder.
Zulu said Shaya was about the definition of skill in football which is the application of technique on demand.
"Mastermind was good with his first touch, he knew when to chip the ball, flick it on, back heel, nutmeg, control it, pass first time and when to dribble and time his pass and weight a cross to perfection or even run off the ball," said Zulu.
He said like Lionel Messi who is regarded as the best player of his generation, the former Bosso coach said did not need training. He could stay many months and still return to the field and be lethal.
"Ronaldo trains to perfect his skills, he works hard on that but with Messi it comes out on its own like George Shaya used to do. He was an immensely gifted footballer," he said.
Zulu listed a number of some of Zimbabwe's most celebrated footballers considered to have been very intelligent on the field and skilful. He said they were no way near Shaya and probably were a third of his brilliance.
"Joel Shaya, Stix Mutizwa, Willard Khumalo, Stanley Ndunduma, Archieford Chimutanda, Tito Paketh and William Sibanda were very good players but were just about a third of how brilliant George Shaya was. Shaya was very humble on the field and even if you gave him a hard kick, he would still keep his cool," said Tsano as he is known by his former teammates and fans.
Zulu said later generations of footballers were unfortunate not to watch the Mastermind. He said this would have made the job of coaches easier as players would have had a real role model to want to emulate on the field.
The football veteran who is celebrating 40 years in coaching this year, said Shaya was a national football hero and deserved burial at the Heroes Acre.
The Ngezi Platinum FC assistant coach challenged Government to create opportunities for former sportspersons and to come up with land where the country's best in sport would be buried. He said the shrine would also serve to inspire younger generations of sportspersons adding that the Halls of Fame for cities, clubs and national associations were taking far too long to take off.
Shaya was so good that he would even be allowed time off during the game. He could squat on the field with teammates, opposition and fans debating whether he is injured, resting but for the adoration they had for him, the combined reasoning was that he would be thinking and reading the game, also plotting what to do next. When he stood up he would hold the game by the scruff of the neck, carry the burden of the whole team on his shoulders to deliver a positive result for Dynamos.
Highlanders FC legend Lawrence Phiri described Shaya as the best footballer the country ever produced.
"I consider him the very best player ever produced in this country, he was very gifted, a total footballer with great skills, a football brain, good temperament and a gentleman off the field too. I played against him for many years and he stayed humble," said Phiri of the troublesome on the field winger.
He recalled one match where Bosso assigned Billy Sibanda to monitor Shaya on the field. Sibanda did a perfect man marking job but that did not stop Dynamos from hitting Bosso for six.
"With the score line now 6-0, we then decided that it was useless to continue playing Billy on trekking Shaya. As Billy stuck to him, he created opportunities for his teammates to strike and when we dismantled that we were able to score a consolation goal with an improved performance," said Phiri.
Ebson "Sugar" Muguyo, a Kaizer Chiefs and Zimbabwe Saints legend said once again the nation had been provided an opportunity to grandstand at the death of a football legend. He said it was unfortunate that their relevance in society only came when death struck as people would all want to be heard to speak good at the top of their voices on a former player they never cared for.
"We continue to be celebrated in death, why not when we live. Why should our bodies be driven to stadia where we stopped being welcome the day we retired? Honestly former footballers, worse still legends deserve better. Being invited to a football match at some of our ages is therapy and could help us heal, football is what we love and have lived for," said Muguyo, who many fans from the 1980s remember him for his overhead goals and booming shots for Eagles.
Muguyo said among the challenges were that the sport was getting too many Johnny Come Late at clubs and national administration levels who did not value former players and administrators as part of institutional memory and wealth. He said characters of that nature tended not to know the club culture and team legends hence they were not being accorded roles to play with people strengthening their hold through engaging people on partisan grounds.
Highlanders FC and also a true Warriors legend, regarded as Mr Highlanders of the 1980 era, Madinda "Khathazile" Ndlovu spoke glowingly about the doyen of the right wing George Shaya.
Ndlovu who is spoken of among the best the country has ever had, was humble in his views about the legendary Shaya making no comparison with his (Madinda) generation with the departed Mbare hero who was born of Mozambican roots.
"It is very sad that we keep losing great minds like this. The passing on of Mastermind is a great loss to the country at large, we will never have a person of his qualities ever. We all played football but no one ever compares to George Shaya, I say rest in peace my legend," said Ndlovu.
On what he picked up from Shaya's play and added to his game, Ndlovu said the Mastermind was a fearless forward.
"He didn't fear any opponent, no matter the size, he would come to you head on and dribble past you no matter what the situation was. He was like a sharp knife cutting through butter. I learnt how to be brave no matter your opponent's stature," said Khathazile, a nimble-footed winger of repute during his playing days.
On 11 August Ndlovu was among a number football personalities invited to preview the George Shaya Documentary set to hit the silver screen on 4 October.
Celebrated soccer commentator and analyst Charles Mabika had this to say about Shaya: "For me  the greatest footballer ever produced in the country. A bull terrier on the pitch because of his meticulous and unbelievable vision and creativity for clubs Nimfa Rovers, Dynamos, St Paul's Musami and Mashonaland United (Zimbabwe Saints) . . . and a perfect gentleman off the pitch. The best penalty spot kick, specialist in the business, scoring 30 penalties out of 31 in an illustrious career spanning just over 15 years, he also shone for the national team which he captained from 1977-79."
Seasoned women's football administrator Cecilia Malunga commended Government for according Shaya a State Assisted Funeral. She said Shaya by far the finest football out of Zimbabwe, deserved recognition as he had set an example and inspired generations of footballers.
Former Wankie fiery striker Jimmy Sibanda also praised the Government for honouring Shaya.
"It was good news to me to hear that the late George Shaya has been granted a State Assisted Funeral. At least we have people like Honourable Kirsty Coventry who understand the plight of sportspersons in Zimbabwe," said Sibanda.
Shaya (77) was buried at Warren Hills Cemetery in Harare yesterday. He died last Tuesday after battling illness for a while, a reason doctors recommend that his left leg be amputated in 2019.