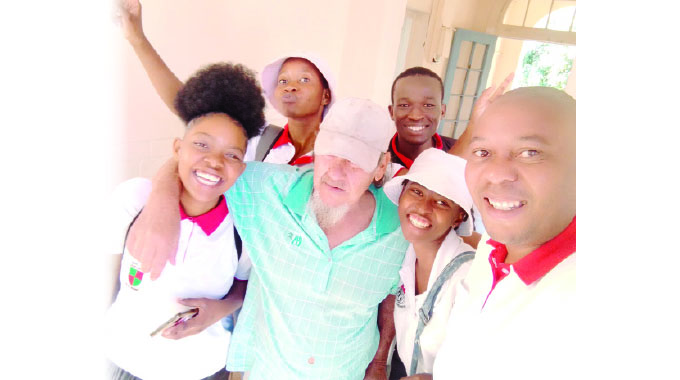 The Sunday News
Natasha Sipindiye, Sunday News Reporter 
IT was all smiles as inmates at Ralstein Old People's Home in Bulawayo had a rare opportunity of getting the feeling of being young again after they spent time with students from Zimbabwe College of Professional Studies who manicured, pedicured, massaged and served them African food just a day before Africa Day.
The college gave back to the community in a special way by showing love and pampering the elderly therapeutically while perfecting their skills in a relaxed atmosphere. The geriatrics at the home were full of praise for the initiative and thoughtfulness of the college authorities.
Students from the various academic departments of college took turns to get in and serve the inmates with the chefs from Hotel and Catering making lunch at 12 noon and serving them. The dishes were mostly African. Joy could be read from the senior citizens' wizened faces when they saw the students coming in with a steaming but hearty scrumptious meal which was balanced and less fatty consisting of veggies with peanut butter, beef, chicken, coleslaw salad and butternut. One old man said he was very happy that they were eating something different as they are always eating sadza and mince meat. 
"I am happy. We don't usually get such visits where people spend time with us and serve us in such a relaxed atmosphere. Most of the visits that we get from the outside world are formalised but this is just different and therapeutic," said the senior citizen at the home. 
It was however, the second group that comprised of beauty therapists that proved popular with the female inmates. The grandmothers were given warm massages and their nails were neatly polished and those who wanted their hair done were neatly served. A heartfelt relationship emerged between the old people and the beauty therapists as they were very friendly towards each other.
"I had a beautiful relation with my client, she was very understanding and said she loves being here at the home. We enjoyed each other's company and she gave me very good life advise which can change my life. Spending my time with her made me realise how important the elderly are in our communities. 
"They are bastions of our culture and tradition and we need to appreciate them," said one of the student beauty therapists.
A teacher at the college, Mr Jack Chimusoro, thanked the authorities at the home for affording them an opportunity to spend time with the elderly.
"We would like to thank the Ralstein Old People's home for accepting and welcoming us into their home to spend the day with our lovely old people and getting to know them and also playing our role by engaging in conversation with them and meeting their small needs," said Mr Chimusoro, a teacher in the hotel and catering department at the Zimbabwe College of Professional Studies.