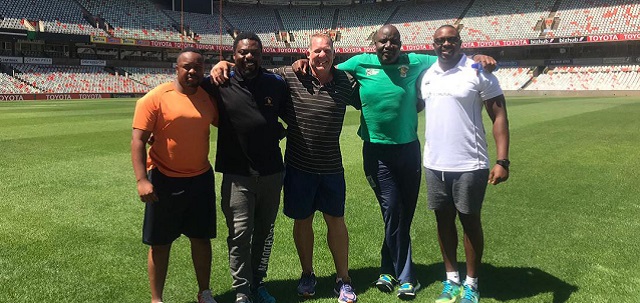 The Sunday News
Mehluli Sibanda, Senior Sports Reporter
FIVE Zimbabwean coaches recently spent a week at South African rugby franchise, Toyota Cheetahs.
The five, Brendan Dawson, Gordon Pangeti, Brighton Chivandire, Derek Chiwara and Leonid Chimbuya were in Bloemfontein from 22 to 28 October with the attachment facilitated by local sports agent Gerald Maguranyanga.
While the others stayed behind to watch the Cheetahs take on Cardiff Blues in a Guinness PRO14 clash at the Toyota Stadium last Saturday, Dawson missed the match since he had to return home to attend the Falcon College sports awards in Esigodini. Dawson, the national Under-23 head coach said they learnt a lot on how the professional rugby teams conduct their business.
"We started on Monday and finished on Sunday, it was the five of us, Gerald facilitated the attachment just for us to see how the professional rugby teams operate. It was an interesting and good week, we learnt a lot from that. It was a good opportunity to see how the professional world works. Others stayed to watch Cheetahs play Cardiff Blues but I missed that as I had to return home for the Falcon College sports dinner," Dawson said.
The five coaches paid for their own flights to and from South Africa with the Cheetahs taking care of accommodation in South Africa. Dawson described the time they spent with the Cheetahs as a wonderful experience, with the local mentors getting an opportunity to attend the Cheetahs training as well as video analysis sessions.
"It was a very good experience, we watched all their training sessions and attended video sessions,'' said Dawson.
All five coaches are involved with Zimbabwean schools and some of them also coaching junior national teams, which means that the local game stands to benefit a lot from the time they spent with the Cheetahs.
— @Mdawini_29