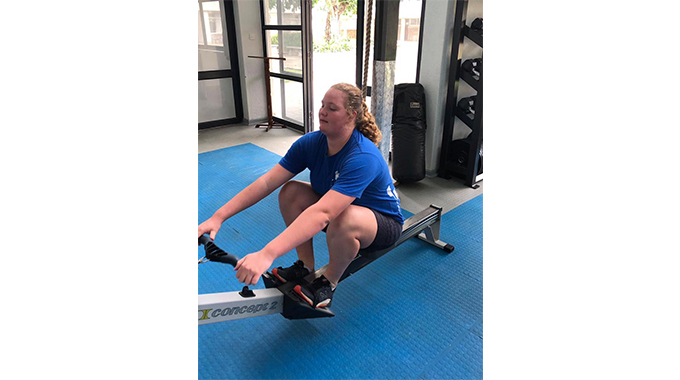 The Sunday News
Mehluli Sibanda, Senior Sports Reporter
ZIMBABWEAN rower, Danielle Kaschula is gearing up for the 2021 World Rowing Indoor Championships which are running from Tuesday to Saturday where she is competing in the 500metres at Under-19.
Because of Covid-19, the event is taking place virtually where competitors will take part from various locations around the world. It is the first time since the World Rowing Indoor Championships began four years ago to gone virtual.
The 13-year old Kaschula, a form two pupil at Peterhouse Girls in Marondera set world records through the qualification rounds. She entered the Americas qualifier and won the Under-19 500m in a time of 1:32.8. While she was not eligible to earn the Americas continental qualification place in this event as a Zimbabwean, Kaschula submitted her score into the open qualification pathway to earn a place in the final.
This not only qualified Kaschula for the World Rowing Indoor Championships but set a world record in the 13-14-year-old age group.
Kaschula also rows on the water for the Peterhouse Boat Club and in the lead up to this qualification event, she competed in the African Indoor Rowing Championships and the Irish Indoor Rowing Championships, all virtually.
The Bulawayo born Kaschula is thrilled at the same time anxious as she prepares for the World Championships. "I feel a bit nervous but really excited about competing,'' Kaschula said. Her preparations involved rowing on the water for two hours, four times a week and twice a day on the ergometer.
Her goal is to finish first in her category and if that fails, she indicated that she would be happy with a place in the top three.
Kaschula has aspirations of not only competing at the Olympics in future but wants to pick up the gold medal at the biggest sporting event in the world.
"I would love to one day compete in the Olympics and get a gold medal,'' said the teenager.
Kaschula took up rowing in 2019 when she was doing grade seven at Petra Primary School. At that time, she was intimidated since she was competing against high school girls but encouragement from her mother, a teacher at Peterhouse has given her the confidence to excel in the sport.
One of the challenges of setting up a global virtual event has been the differing time zones around the world.
"This is one of the many unique aspects of live virtual racing, all athletes race live and in real time. Instead of traveling to one place and adjusting to the local time zone, athletes compete from home, but possibly at unusual hours.
Final race days will start at noon Central European Time,'' said World Rowing sport manager Liz Soutter While racing, competitors will know their placing as their indoor rower will be running in 'race mode'.
This will allow them to see their position in a race on the rowing machine's monitor. They can also have a live race tracker set on a laptop or external [email protected]_29