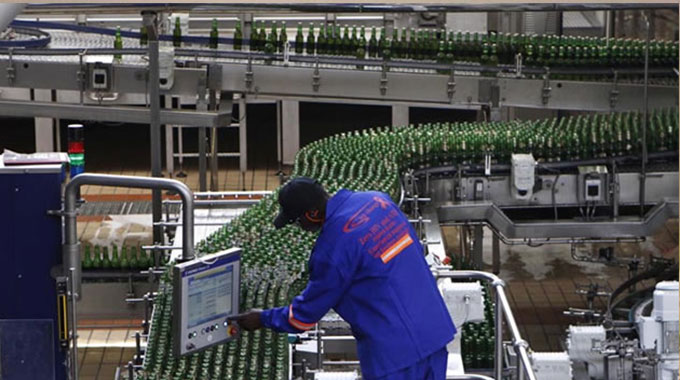 The Sunday News
Munyaradzi Musiiwa, Midlands Correspondent
THE country's sole producer of flint glass, Zimbabwe Glass Industries Limited (Zimglass) is set for a complete overhaul as the new owners, Brainman will install new and modern equipment to meet the changing requirements and demands of the market.
Before its closure last year, Zimglass had some of its products rejected by their largest consumers, Delta Beverages, after they failed to meet minimum standards as prescribed quality assurance organisations.
Brainman acquired Zimglass — previously owned by the Industrial Development Corporation of Zimbabwe — for US$22 million.
The company used to produce glass materials for bottling beer, soft drinks, food and pharmaceuticals, among others. In an interview with Sunday News Business, Brainman director Mr Douglas Kwande said the company has assembled a team of experts in glass production to assess the current machinery as well as proffering other possible new technologies for the production of glass.
Mr Kwande said once the Covid-19-induced travel restrictions are lifted, the technical team will go to China and other European countries on a fact-finding mission to observe how other global players are producing glass using modern technologies.
"There are a lot of things that need to be done before we start producing at Zimglass. We need to rebuild the blast furnaces. We also want to install new and modern equipment that is being used by big international glass producers. The main objective is to offer the local market a standard product that also has a competitive price. So our prices should be lower than the imported product albeit being of the same or better quality. The main objective is to also reduce import bill by producing some of the products locally. Once the lockdown is over, we are going to travel to China to see the best equipment that is there on the market as well as the new technologies that are being used to produce glass," he said.
Mr Kwande said the company was also looking at an alternative power source to reduce costs of production. He said the company's subsidiary, Industrial Sands was now operating at full capacity.
Zimglass which initially closed in 2010 before resuming production of flint glass in 2012 and was set to produce about 12 600 tonnes of the product annually. This was after it underwent refurbishment of its blast furnace as well as replacing outmoded equipment.
The company had received a US$7 million capital injection by the company's parent company, Industrial Development Corporation of which US$5,5 million was supposed to go towards the completion of the refurbishment exercise, while US$1, 2 million would be working capital.
The company then ceased operations in 2014. The opening of Zimglass is also expected to reduce the country's import bill as well as generating foreign currency.