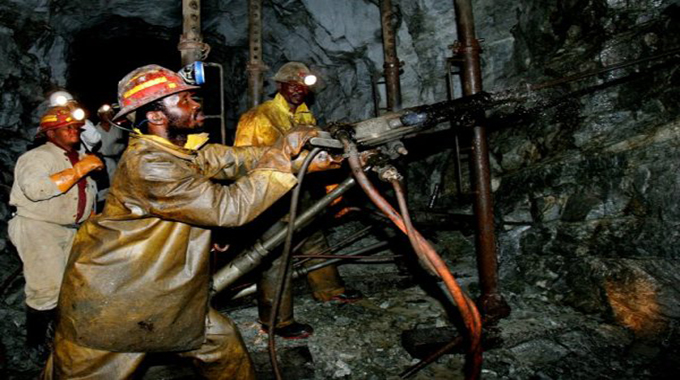 The Sunday News
Dumisani Nsingo in Zvishavane 
ONE of the country's biggest mining associations, Zvishavane-Mberengwa Miners Association (ZMMA) says there is a need for big mining houses to assist small-scale miners to improve their production and contribution to the growth of the economy.
ZMMA chairman Mr Thembinkosi Sibanda said as part of ensuring improved mineral output in the country there is a need for the country's big mining companies to capacitate small players.
His sentiments come after most members of the association have managed to grow their mining concerns and enhanced their production after getting sponsorship from platinum producer, Mimosa Mining Company in 2015.
"In 2015 we asked for assistance from various organisations and big mining houses but it was only Mimosa which came to our rescue by donating 10 compressors, a Mahindra pick-up truck and accessories to us," said Mr Sibanda.
The donation was part of Mimosa's corporate social responsibility programme.
Since receiving the donation the association has been delivering an average of 50 kilogrammes of gold to the country's sole gold buyer, Fidelity Printers and Refiners (FPR) per year.
The association accounted for 52kg of the yellow metal delivered to FPR in 2016 with its three members involved in the mining of chrome managing a production of 37 000 tonnes. 
In 2017 the association contributed 62kgs to the country's gold reserve and recorded an output of   69 000 tonnes of chrome,
Last year most members refuted submitting their production claiming that in most of the times releasing their output has culminated in them being entangled in mining disputes with some "greedy" individuals.
"After the assistance by Mimosa our production experienced a significant growth and in 2017 when small gold producers delivered more gold to Fidelity our association was the biggest contributor with one of our members delivering 37 kilogrammes," he said. Both primary and small-scale producers in 2017 delivered 24,8 tonnes of gold to FPR up from 21,4 tonnes in 2016. 
Of the total gold produced last year, 13,4 tonnes came from the small-scale miners.
Mr Sibanda said the association managed to purchase a hammer mill and three compressors to add to the 10 that were donated by Mimosa through the revenue realised from hiring out the equipment to its members and non-affiliated members.
"Through the cash we realised from hiring out the compressors we managed to raise enough to buy a hammer mill as well as three more compressors, an indication that if we are empowered and capacitated we can be able to sustain our operations on our own," he said.
The donation by the platinum giant also saw some of the association's members retool their mines through the returns realised from improved productivity on their mining operations. 
"We have 15 of our members that have managed to buy compressors with some even developing their mines through buying equipment such as jack hammers. Three of the members that bought compressors are chrome miners and they have done amazingly well and managed to empower themselves," said Mr Sibanda.
He urged other big mining houses to emulate Mimosa's stance so as to enable the mining sector to play a pivotal role in the growth of the country's economy.
"We will be forever grateful to the part played by Mimosa in ensuring our growth. We have quite a number of big mining companies dotted around the country and we urge them to emulate Mimosa so as to ensure improved mineral production," said Mr Sibanda.
Mining generates more than 60 percent of Zimbabwe's export earnings. It is estimated the sector accounts for between 12 percent and 16 percent of the Gross Domestic Product. 
The Government wants mining to anchor economic growth and transformation towards its Vision 2030 of making Zimbabwe a middle-income country. 
Mr Sibanda said the association has over the past few years covered enough ground to reduce fatalities at its members' mines.
"From time to time we engage technical people from a number of non-governmental organisations such as PACT, Zimbabwe Environmental Law Association and Centre for Conflict Management and Transformation to educate us on how to avoid accidents, proper mining operations as well as to enlighten us on various mining regulations. 
"We also hold monthly meetings where issues of safety are emphasised including complying with standing regulations. Our members haven't recorded any fatalities for the past five years because we consider mining as a business and don't want to be called by derogatory names such as omakorokoza," he said.
ZMMA committee member Mr Leny Dziviro said the association has also played a huge part in ensuring the effective participation of women in mining.
"We have made significant strides towards emancipating women in mining because we believe they are more vulnerable compared to their male counterparts. For instance some of them are beneficiaries of land under the land reform programme who went on to discover claims within their farms and we usually protect them against unruly elements that might want to invade their concessions," he said.
Mr Dziviro also said the association has over the years been encouraging youths to take up mining as part of its efforts to empower them.
"We are also encouraging youths to venture into mining to improve their livelihood and one of the initiatives we have taken in that regard is to take some of them to be trained in blasting and explosive upkeep by the Shabanie Mine technical working committee," he said.
The association's secretary, Mr Stephen Nyathi, said there was a need for FPR to come up with a flexible loan facility so as to capacitate small-scale miners to enhance gold production.
"We are calling on Fidelity to come up with a flexible loan facility targeted at capacitating small-scale miners. The facility should come without any form of collateral but one should access funding based on gold deliveries," he said.
Founded in 2003 ZMMA, is one of the oldest mining associations in the country. It was actively involved in the formation of the country's small-scale miners representative body, Zimbabwe Miners Federation.
It also played a significant role in persuading Government to recognise the importance and contribution of artisanal miners at a time when most of them were being arrested between 2005 and 2007 under a police operation code named Chikorokoza Chapera/ Isitsheketsha Sesiphelile.